The Pioneer Spas: Esalen Institute
---
According to Gordon Wheeler, president of Esalen Institute, Esalen's mission is still in line with what it was when it was founded 50 years ago: to "further the human potential for creativity and evolution, through opening a venue for the exploration of all that was excluded from mainstream universities and research institutes, on this remote and magical site where the majestic surroundings favor stimulation and sharing of new thinking and new cultural forms and practices."
Big Sur, Big Insight
Situated in spectacular Big Sur, California, Esalen considers itself to be more of an educational organization than a spa. Its mission is to develop the mind, heart, body, spirit and community as an integral whole, and every one of Esalen's courses and programs is geared toward that purpose.
While the Esalen Institute was founded in 1962, its famed hot springs and mineral baths, which still bubble up cliff-side, on the edge of the Pacific, have a long and powerful history. According to campus archeological records, Wheeler says, the baths have been in ritual and healing use for at least 6,000 years by the Esselen Indians and their forebears.
Beyond Vacationer—"Personal Retreatant"
At Esalen, today's guest or student seeks more than just a passive, resort experience. "With the emergence of the 'cultural creatives' demographic, comprising some 30-plus percent of the population in the developed world, we see travelers in search of deepening experiences, combining personal renewal and health practices with stimulating new ideas, practices, and spiritual and relational explorations," Wheeler explains, adding that Esalen played a large role from the beginning in supporting and promoting today's idea of complementary medicine, which combines and integrates the best practices of mainstream medical interventions with mind and body, integral health, and practices from alternative and indigenous traditions.

In addition to their transformative courses or conferences, Esalen's students and "personal retreatants" now have even more activities to choose from, with everything from "Dance Church," yoga, meditation, tai chi, expressive movement, and more.
Ahead of the Curve
"Down through the past half century, ideas and methods first pioneered at Esalen have continued to go out into wider mainstream culture, giving us many of the tools and skills we need for meeting the challenges of today and tomorrow's world," Wheeler says. "Thus the cutting-edge keeps moving forward, and the curriculum of Esalen moves with it—and as ever, ahead of it."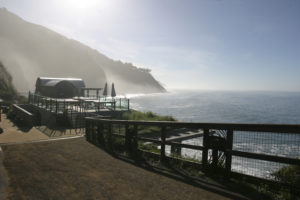 Going forward, Esalen will continue its leadership role in developing holistic, integral leadership training for the active culture leaders of today and the youth leadership and change agents of tomorrow, Wheeler added.
"This means we will continue to stand for development of all dimensions of the human potential, and the human experience, as keys for promoting a sustainable, humane world," he explains. " To deal with the complexities and challenges of our world now and in the future, our leaders must have more than technical expertise:  they must develop fully as embodied, relational, and spiritual beings, exploring neglected aspects of their personal development as keys to full empowerment as agents of creative cultural change."
Our 25th Anniversary Celebration continues with more Spa Nostalgia Slideshows >
---