The Pioneer Spas: Green Valley Spa
---
Recently voted among the "Top 10 Spas for Hiking, Weight Loss, and Favorite Spa Treatment" in our 2011 Readers' Choice Awards, Green Valley calls itself "the original hiking spa." We love it for that and so much more, including its stress reduction and weight-loss programs, award-winning sports programs, mind-melting treatments, beautiful Red Rocks location and warm spirit.
"Our greatest satisfaction is seeing people rediscover themselves," says Carole Coombs, who co-founded destination spa Green Valley with her husband, Alan Coombs, 25 years ago. Through Green Valley, located in St. George, Utah, the couple has dedicated their days to helping people find a lifestyle that allows them to experience a full enjoyment of life.
"Green Valley's vision was to mend the heart and heal the body with programs and treatments set in the great outdoors," says Mrs. Coombs. For Green Valley, the great outdoors is one of the world's most spectacular natural settings; Utah's famed Red Rock Country, where Coombs introduced spa-goers to the wonders of hiking in this magnificent terrain.
The Coombs have also led the industry and stayed true to their original vision by offering constantly evolving wellness programs and experiences, including integrated treatments for the mind, body and spirit; medically supervised weight loss and stress-reduction programs; and organic, locally grown cuisine and products before "organic" and "indigenous" were buzzwords.
New Directions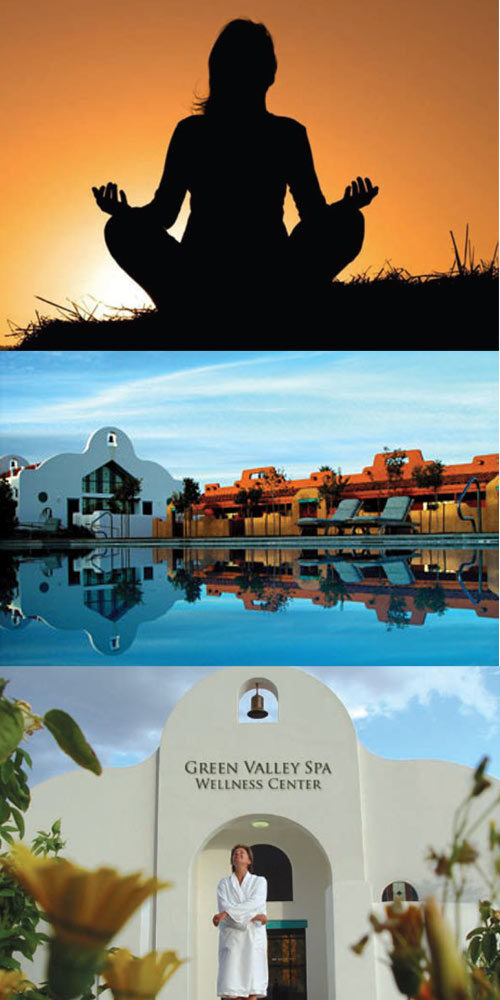 Mr. Coombs connects the evolution of Green Valley (and the spa industry) to cultural trends and historical events that impacted people around the globe. "The New Age revolution added a spiritual component to spa, and Green Valley, under Carole's guidance, became a leader in offering treatments that she describes as addressing people's invisible health and feelings."
He notes that the 9/11 tragedy had a tremendous impact on travel and hospitality, and that Green Valley responded by pioneering the "flexible stay," moving away from a policy of requiring the traditional seven-day stay.
And while the recession has reduced the number of people who may be able to afford a spa vacation, Mr. Coombs points out that there are still many individuals who suffer serious health concerns. "In 2009 we began offering professional programs for obesity and/or depression," he says. "The number of guests discovering our life-altering programs has returned our enrollments to 2007 highs, with 50 percent coming for outdoor hiking, outstanding treatments, and Four-Diamond accommodations, and 50 percent who need assistance solving health problems." Green Valley was awarded its AAA rating for exceptional accommodations in 2001 and still holds the honor.
Giving Back
The Coombs family gives back to their guests 365 days a year but they're also important contributors to their community. Most recently, they began a program to help veterans retuning from war zones—who often suffer from post-traumatic stress syndrome— reconnect with their families and begin healing during a free weekend at Green Valley. "We try to assist as many families as we can," says Mrs. Coombs. "We want to help these men and women, who have given so much, rediscover themselves and begin a new life."
The Coombs have also given back to the destination spa community. In 1995 they organized the Destination Spa Group, which helps the press and public differentiate between day, resort, and hotel spas and destination spas.
The Future Is Tomorrow
The Coombs dream of a future where they can continue to introduce new healing treatments and wellness programs to new generations of spa-goers. Mrs. Coombs is especially interested in the potential of "frequency medicine," which uses sound and light waves, while Mr. Coombs is looking forward to more involvement in Green Valley's veterans program.
"Spas were created to help people become healthier and happier," Mr. Coombs says. "Our family is proud to play a part in connecting people with broader, richer lives."

Our 25th Anniversary Celebration continues with more Spa Nostalgia Slideshows >
---