The Pioneer Spas: The Heartland Spa
---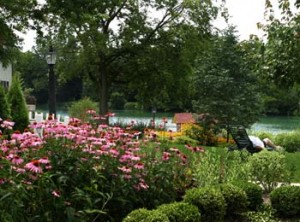 On the site of a former dairy farm, Heartland's simple, rustic environment lends itself to the stress-free, natural experience it has strived to provide for almost 30 years. It's all-inclusive spa and wellness packages are wonderfully conceived and all-inclusive. It's no surprise to us that 70 percent of caring spa's clientele are repeat customers.
Since 1983, this bucolic location in Illinois farm country has evolved into an all-inclusive, 32-acre destination spa dedicated to helping guests jumpstart and maintain a healthy lifestyle. And with their motto, "Coming home to Heartland," guests know they're in for an unpretentious retreat with a familial vibe.
Located 90 miles south of Chicago, along the shores of a spring-fed lake, Heartland combines a program of rejuvenating spa services with a mostly vegetarian menu; nutrition, fitness and stress management education; and exercise pursuits for all levels and goals.
"Back in the day [when Heartland first opened], there weren't day spas as they exist today or even fitness/health clubs," says Heartland Spa President Harold Lebovic, "so a spa and fitness healthy vacation was a true destination retreat vacation. Some of them were more for the rich and famous…now it's part of everyday life for people who want a restful vacation, and it's also a good value because they're usually all-inclusive."
Healthy Living, From the Heart
When Heartland was founded "it was more of a fat-farm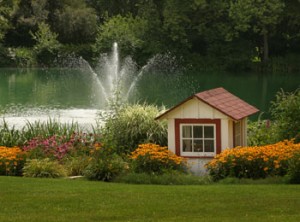 type of place," with weight loss being one of its main concerns, Lebovic says. Now cultivating a positive lifestyle is the key focus, as the Heartland's caring staff of professionals commits itself to assisting visitors on how to evaluate and make meaningful habit-forming adjustments to their lives through efforts like assessments and consultations, cooking demonstrations, and workshops such as metabolism and stress management.
"It's more educational. We disguise the educational part in the vacation part. You go home with reinforced knowledge that is really priceless," Lebovic says.
Not overly concerned with the cutting-edge, "the Heartland Spa has never in its history chased the latest fad diet, lotion, potion or pill. We've always just tried to follow the laws of nature and keep things simple. We're not extreme in any direction," Lebovic says. Onsite fitness programs (such as the ever-changing menu of workout classes, from tai chi to cardio kickboxing to the High Ropes Challenge Adventure Program) and spa and salon facilities (including the expanded barn-cum-3,400-square-foot fitness, spa and salon complex with Olympic-size pool) are "head and shoulders with anybody in the country," he adds.
Spa, Midwest-Style
With just a 32-visitor capacity, the Heartland's intimate, communal vibe, with personalized attention that considers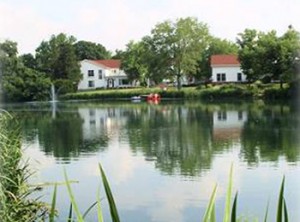 every guest's fitness level and objectives, draws a loyal audience. In fact, about 70 percent of the Heartland's clientele is repeat customers, Lebovic says, undoubtedly comforted by Heartland's stress-free environment, with its 2:1 staff-to-guest ratio, building-connecting tunnel that makes the Midwestern weather a non-issue, and even the attire—guests are recommended to pack light and have the option of wearing spa-provided workout clothes, which are laundered as many times as desired.
"Kind of a camp for grownups," is how Lebovic describes the Heartland. "It's rustic, out in the country and shows getting back to nature is beneficial."
Our 25th Anniversary Celebration continues with more Spa Nostalgia Slideshows >
---