Rancho La Puerta Introduces New Cooking School and Culinary Center Executive Chef
---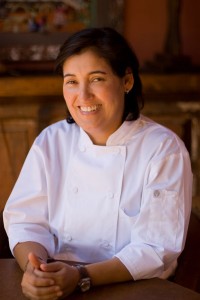 This month, La Cocina Que Canta, the Cooking School and Culinary Center at Rancho La Puerta in Tecate, Baja California, announced the arrival of Executive Chef Denise Roa.
Located in the midst of Rancho La Puerta's six-acre organic farm that climbs a fertile hillside at the foot of Mt. Kuchumaa in Baja California (not far from San Diego, California), resort guests can enjoy a variety of cooking classes taught by guest instructors like Rick Bayless, Deborah Madison, Patricia Wells, Jon Ash, and now Chef Roa.  In addition to teaching, as the executive chef of La Cocina, she will also oversee the school's renowned guest instructor program, and create—along with the farm's founder Sarah Livia Brightwood—a new line of organic culinary products such as preserves, dressings, and seasonings.
Born in Miami of Mexican descent, Chef Roa is keen to fuse the culinary and cultural heritages of her own life with the healthful "spa cuisine" dining pioneered by Rancho La Puerta. Instead of obsessing over calorie-counting, the resort celebrates seasonal produce from its own farm and organic-produce suppliers with a cuisine that is colorful, zesty, and satisfying – fitting for a life of vigorous exercise and activity. The cooking classes also highlight the joy in using fresh, organic ingredients, and one-day programs are available for San Diego and Tijuana residents as well.
While Rancho La Puerta's cuisine is semi-vegetarian, featuring an abundance of organic fruits and vegetables, fresh seafood from the daily catches of boats at the port of Ensenada, Baja California, allows the Ranch chefs to offer seafood dishes five times week. All meals offer both vegetarian and modified-vegetarian alternatives.
Chef Roa began her culinary education at Johnson & Wales University in Miami and graduated with double associate's degrees in Culinary Arts and Baking and Pastry. She moved to San Diego in 1998 and began a successful career working for several of the region's best known and respected restaurants, including Pacifica Del Mar, Crescent Shores Grille, Del Mar Racetrack Turf Club, Hilton Torrey Pines, and La Trattoria—a restaurant she owned and operated for six years.  Most recently she has been an instructor at the Art Institute of California in San Diego, to date training approximately 500 students in essential culinary skills.