SpaRahRah! Editors' Pick: Eden Andalou
Published: Tuesday, January 10th 2012
---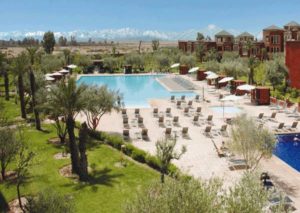 We think the SpaRahRah!™ team has outdone itself this time: To help ring in 2012, SpaRahRah!, along with the five-star Eden Andalou, has created an incredible travel deal that combines spa, wellness, culture and indulgence (plus affordability!) in the faraway, enchanting location of Marrakech. Make this Moroccan adventure a goal for the New Year — details of our SpaRahRah! Editors' Pick for January are below:
Who: Eden Andalou in Marrakech, Morocco
What: A six-night stay at a five-star resort (for $775 — that's only $129 per night!), with suite accommodations based on double occupancy, a special welcome of tea and cold towels, one 20-minute massage for each person, a daily hammam ritual for two, daily breakfast, one buffet dinner for two, an excursion to the Medina souks with an English-speaking guide and more.
Why: This deal's a no-brainer — it's just $775 for a six-night stay (a savings of 67%) at a five-star spa and resort in Morocco.
There's even more amazing SpaRahRah! deals to check out! And, of course, if you have any spas or wellness locations you'd like to see as part of the SRR program, let us know in the comments!
Most recent from Editors' Picks