SpaRahRah! Editors' Picks: Canyon Ranch
Published: Monday, November 21st 2011
---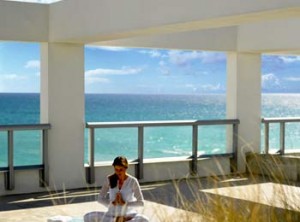 In the mood for a great deal? We couldn't agree more. We here in the SF office are always on the lookout to help you find the most fabulous spa and wellness promotion or discount around – and we don't have to look far! Our SpaRahRah!™ division is designed to help find and create the best spa, wellness and travel deals at a feel-good savings.
Each week our editors will pick which SpaRahRah! deal we deem the ultimate. Our first pick? Read on!
Who: Canyon Ranch, Miami Beach
What: Limited-edition three-night package that includes accommodations in a Carillon King or Queen Suite, Ocean Palm, or Ocean View Suite, complemented by daily breakfast, a selection of 40 workout classes, one wellness lecture daily, plus two spa treatments from a select menu per package, including the Aquavana™ thermal circuit.
Why: It's a chance to visit one of the iconic Canyon Ranch locations – in sizzling Miami Beach, no less – and you'll save up to 29%.
Check our more amazing SpaRahRah! deals. And if you have any spas or wellness locations you'd like to see as part of the SRR program, let us know in the comments!
Most recent from Editors' Picks