Our 10 Favorite Websites to Connect with Nature, Virtually
Published: Tuesday, February 26th 2013
---
By Lavanya Sunkara
The best way to connect with nature is through physically being outdoors, but admittedly, there are times when days at the office can get too busy and there are no vacation days in sight. If you can't physically get to a spa or wellness resort like Rancho La Puerta in Mexico or COMO Shambala Estate in Bali, sometimes the next best thing is to simply look at pictures of the great outdoors, and feel a sense of peace. Thankfully, the web offers an array of choices for us to connect with nature virtually. Just a few minutes of looking at photos of natural beauty can give our eyes a break, relieve stress, and bring positive energy.
Here, we've put together a list of websites for your viewing pleasure, so you can connect with nature through photos from your desk (and hopefully be inspired to plan your next getaway!). Be sure to click the images to get the full viewing experience!
1. The Farm at San Benito, Batangas, Philippines
At the eco-friendly Farm at San Benito, holistic health is the mantra. Clicking on the website is like entering a sacred natural temple, one with pristine untouched beauty waiting to be experienced. Find pictures of misty magical mornings, lounging peacocks, lush landscapes, and aqua green natural pools.
2. COMO Shambhala Estate, Bali
Full-length pictures of the COMO Shambhala Estate take you right to the middle of a jungle in magnificent Bali. Verdant landscapes, flowing rivers, manicured lawns, and a sparkling pool encircled by swaying palm trees are just a few of the jewels awaiting you on the pages of COMO Shambhala Estate's website.
3. Green Renaissance, Inspired by Nature on Facebook
With the goal of getting people inspired by nature, Green Renaissance offers relaxing videos and spectacular imagery from places you probably never heard of, bringing something far out of our reach to our computer screens. Visually soak up the sun in Krabi, Thailand, or imagine relaxing in the hot springs in Shirahone, Japan. It's no wonder this page has more than 240, 000 "Likes."
4. Red Mountain Resort, Ivins, Utah
On the website of the Red Mountain Resort—our Wellness Week Connect with Nature sponsor, and deemed "World's Best" by Travel & Leisure—spectacular views of red rock cliffs and canyons in Southern Utah set against the backdrop of clear blue skies will brighten your screen and uplift your spirits.
5. Tabacon Grand Spa Resort, Costa Rica
You can almost feel the warmth of the natural hot springs when you visit the calming website of Tabacon Grand Spa Resort. Located at the foot of majestic Arenal volcano, images of natural pools and waterfalls have a calming influence and instantly bring you to a place known for its exotic beauty.
6. Amazing Nature Photography on Pinterest
Photos from around the world by talented photographers await you at the online bulletin board Pinterest. Sit back, relax, and enjoy the delectable treats nature has to offer, from panoramic vistas of National Parks to close-ups of the cutest critters on the planet to amazing night skies.
7. Vivanta by Taj, Kerala, India
Be transported to an otherworldly place within seconds on Vivanta by Taj's website. Embrace nature as you virtually travel on a houseboat in the waterways of Kerala, India, dubbed "God's Own Country." Thousands of palm trees line the banks of the backwaters and sunshine is plenty. You might just need shades to look at your screen, but you're not going to want to keep away.
8. National Geographic Travel and Animal Photos
Whether you are in the mood for cool underwater animal shots or breathtaking images from a far off corner in the world, National Geographic is the place for a quick respite. Make sure to check out the Animals and Travel sections for slideshows of the best images from award-winning photographers.
9. Rancho La Puerta, Baja California, Mexico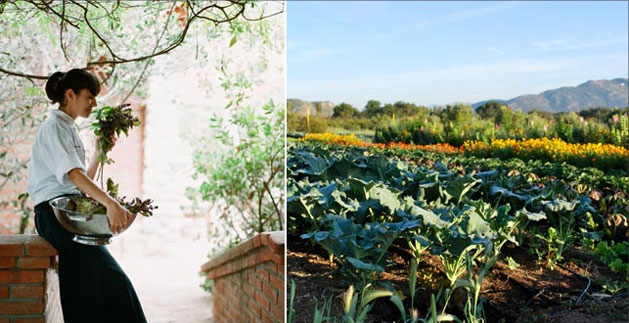 Rancho La Puerta is located on 3,000 acres surrounded by mountainsides and meadows in beautiful Baja California. A slideshow of the resort's natural offerings from vibrant flowering gardens, vineyards, and hammocks swinging from trees to winding paths and organic vegetable gardens brings you closer to serenity.
10. Earthly Nation on Tumblr
With simply "EARTH" as its title, this visual blog on Tumblr covers a wide variety of wild things—from beluga whales to exotic birds to baby bears and everything in between. A feast for the eyes awaits you on this colorful and constantly changing blog. A note—make sure you set aside some time because it is hard to tear yourself away.
*    *    *    *    *
You might also like:
Connect with Nature: The Physical & Mental Benefits of Getting Outdoors & Outside of Your Comfort Zone
Give Yourself the Gift of Silence Through Ayurveda & Shirodhara
Change My Breakfast: 3 Deliciously Healthy Oatmeal Recipes
The Power of Touch: 8 Tips to Embrace the Healing Benefits of Touch
6 Yoga Poses to Improve Memory & Help Combat ADD