April Spa Getaway – Grab Your Birkenstocks and Head to Stowe, Vermont
Published: Saturday, March 20th 2021
by Spafinder
---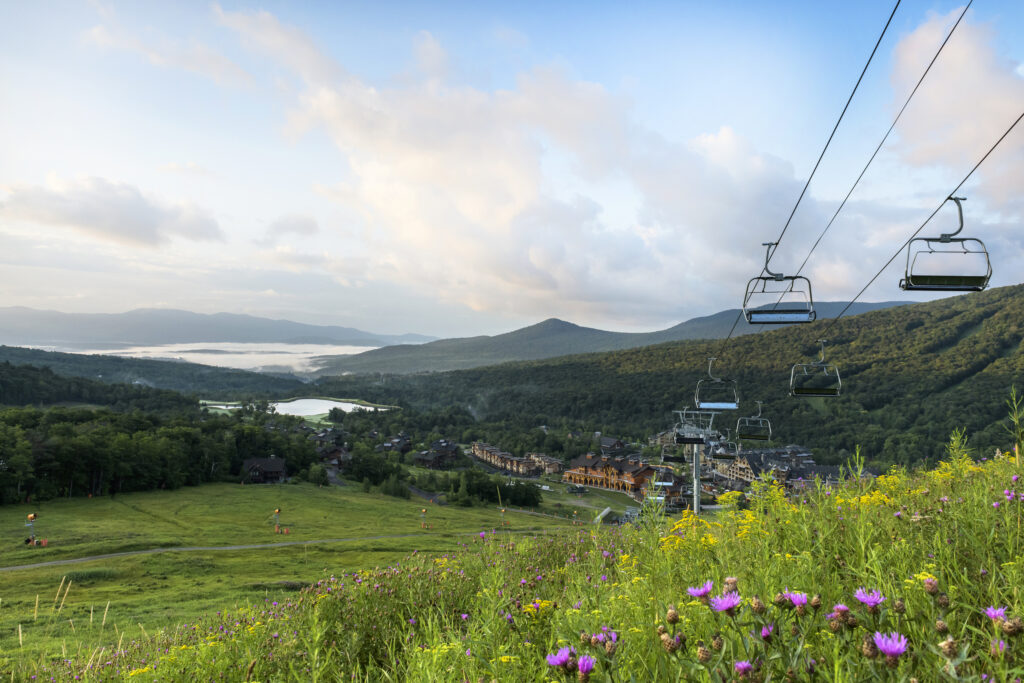 We have the perfect antidote for your tired muscles and exhausted mind – an unforgettable April spa getaway at The Lodge at Spruce Peak in beautiful Stowe, Vermont. With over 20,000 square feet devoted to spa and wellness, this AAA Four-Diamond Lodge combines luxury, leisure, year-round activities and nature for your much-needed, and well-deserved, spa escape. We're dreaming about outdoor hikes, campfires, smores and breathing mountains of fresh air.
Start your massage dreams by watching this video by The Lodge at Spruce Peak.  
Get ready to be enchanted. During your stay at The Lodge at Spruce Peak, you will be surrounded by breathtaking vistas from windows that soar from ceiling to floor. Your suite includes a flickering hearth that bathes your room in warm, golden hues, and dining options are exceptional. Plus, the spacious Spa and Wellness Center offers serious relaxation with signature treatments. And then there are the outdoor experiences…
Hike in Majestic Vermont Mountains
Hiking options around The Lodge are astounding. Choose from a relaxing walk on a nature path or climb the challenging Mount Mansfield Summit. Fifteen minute hikes or full-day adventures are within a short walk or drive – and April is the perfect month to begin life anew in the outdoors. Learn more here.
Stowe, Vermont Was Made for Cycling
The Lodge at Stowe Peak is surrounded by breathtaking scenery that makes cycling an unmitigated joy. There are experiences for all levels, including challenging hills for  accomplished cyclists and family-friendly outings for beginners. The good news: Vermont drivers are used to sharing the road and are courteous to cyclists. Read more about cycling in Stowe.
After Your Adventures, It's Time for Spa
The Lodge at Spruce Peak is ready to help you unwind after a day in the fresh outdoors (or a year of being cooped up inside!) This special April getaway offer is aptly named "Retreat Yourself in the Heart of Vermont," and it includes just what you need to feel inspired and alive. Here are the details:
Choose Two treatments for $231
Refresh and relax the mind and body with a 50-minute Swedish Massage. Sculpt and tone with Cryo T-Shock, a non-invasive, all-natural approach to body contouring. Or recover and restore with a 50-minute facial customized to the needs of your skin.
Treatments include a complimentary glass of champagne, access to the Sanctuary Lounge, complimentary access to any scheduled fitness or wellness classes, and access to the outdoor heated swimming pool. A 20% gratuity is included in price.
How to Book: Call the Spa Concierge or book your retreat today.
Terms and conditions: Subject to availability. Book between April 1-20th, for retreats booked from April 1 through August 31, 2021.
This beautifully designed spa brings the outdoors in, and a designated children's spa caters to the little ones. The Spa at Spruce Peak features traditional spa therapies, along with wellness offerings designed to you discover healthier nutritional and fitness routines. Treatments and services include a wide range of massage, facials, body treatments, hair, nails and waxing services, energy work, and fitness and activities (golf, personal training, hiking, Pilates, yoga).
BTW, Pups Deserve a Spa Break Too in Stowe, Vermont
We can't think of anything more enjoyable than taking your favorite furry friend on a spa getaway in Vermont. (Well, maybe a hot stone massage…) The Lodge at Spruce Peak welcomes dogs and pups of all types. There is a dog fee of $125 per stay, which includes a doggie bed and chew toy at check in. And you'll have the fun of watching your pup rejuvenate on wonderful hikes and walks in the fresh mountain air.