BeSu Salon on Celebrity Apprentice!
Published: Wednesday, May 4th 2011
---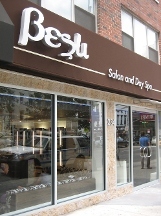 Do you watch Celebrity Apprentice? While Donald Trump may be getting more than his fair share of attention these days, we're thrilled that new SpaFinder partner Besu Salon will be sharing the spotlight with him when they are featured in this coming Sunday's episode of the Donald's reality show!  Since opening approximately eight months ago, the Gramercy-area spa and salon has brightened its Third Avenue block−just around the corner from SpaFinder's offices!  Offering a full range of organic hair care products, Besu Salon is surely fit for celebrity visits. Who knows, they might even be able to help Mr. Trump out with some of his hairstyling needs.
Watch some video of Besu Salon featured on Celebrity Apprentice here.
Via: NearSay.com
Most recent from Travel & Play