Discover Paradise at The Palm Beaches in Florida
Published: Wednesday, August 22nd 2018
by Spafinder
---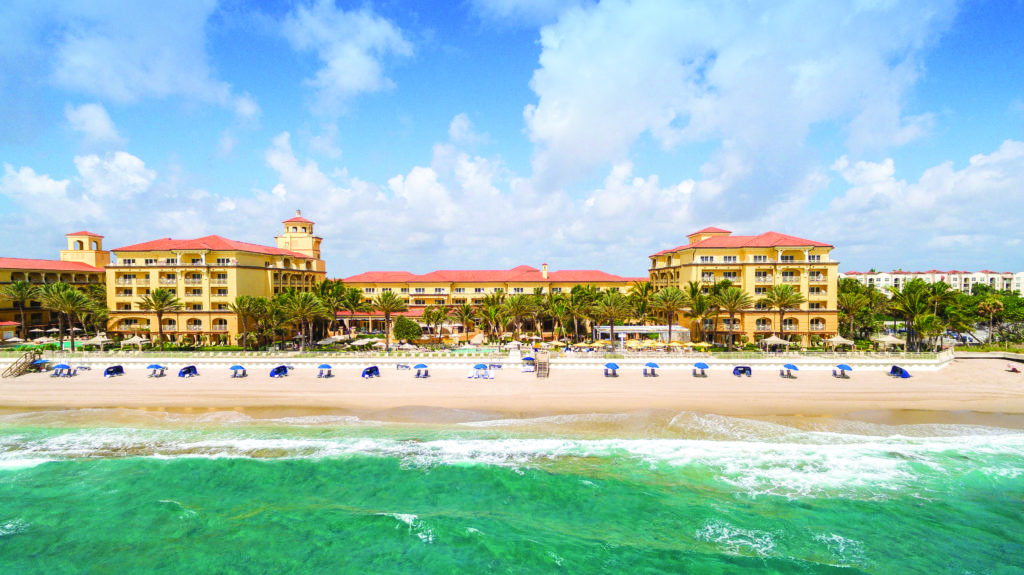 Massage with an ocean breeze. Yoga on a secluded beach. Gorgeous weather. Exquisite dining and shopping. There's a lot to be said for perfection – and it's alive and well on The Palm Beaches in Florida. The Palm Beach area is also famous for its spas, from icons like The Spa at the Breakers to intimate retreats like Kaffee's Garden Spa in West Palm. At The Palm Beach, you'll discover indoor-outdoor treatment areas, mineral springs and water circuits, magical pools and sumptuous gardens.
Plus, this October, the vacation geniuses at The Palm Beaches will present the third annual, month-long Spa & Wellness Month. And that means luxurious spa packages starting at $99–along with wellness experiences–all in support of Breast Cancer Awareness Month. We think doing well by feeling good is an ideal combination.
Your Discovery Begins
Some of the most famous resorts in the world are participating in Spa & Wellness Month. The historic Breakers Palm Beach is located on 140 acres of oceanfront property (yes, 140 breathtaking acres!) and offers everything you'd expect in an AAA Five Diamond Resort. Think championship golf, 10 tennis courts, four pools, a private beach, amazing food–and a sumptuous indoor-outdoor spa.
Eau Spa is a stunning spa wonderland at the gorgeous Eau Palm Beach Resort and Spa. (top featured image). The spa is known for its cool, social vibe, where guests can drift away under heated waterfalls or swing in chairs suspended over reflecting pools. The oceanfront hotel features delectable spa cuisine, an expansive fitness center, tennis, oceanfront pools and nearby water sports.
With five 18-hole golf courses, Palm Beach's PGA National Resort & Spa is a golfer's dream. The menu of PGA's European-inspired spa – recognized as one of the top in the U.S. – features 100-plus body and skin-care treatments.  And the famed "Waters of the World" mineral pools offer the ultimate in healing and luxury.
And if you're looking for a spa day or special treatment, discover Kaffee's Garden Spa in West Palm Beach. The innovative spa offers dry salt therapy, boasts a salt therapy room and is favorite escape for locals and visitors.
New Discoveries, New Delights

This year for the first time, Spa & Wellness Month includes District Fit, a spectacular, multi-day wellness festival focused on mindful-movement, fitness and preventative care. Lined up with a variety of wellness programs plus classes and more than 50 pop-up retail experiences and interactive classes situated around West Palm Beach, the festival is a fully immersive experience. District Fit is hosted by CityPlace and Hilton West Palm Beach and was inspired by the new transformative wellness travel trend.
As the experts at Spa & Wellness Month recommend, it's time to put down your phone, disconnect from the hustle and bustle of daily life and treat yourself to a special spa or wellness experience. We couldn't agree more and hope to see you at The Palm Beaches! (We'll be sipping something cool under a swaying palm.)
Sign up to receive more insider tips and special offers.
Celebrate you with a Spafinder Gift Card!