Eco-Leisure + Local Dining at Ritz-Carlton Orlando, Grande Lakes
---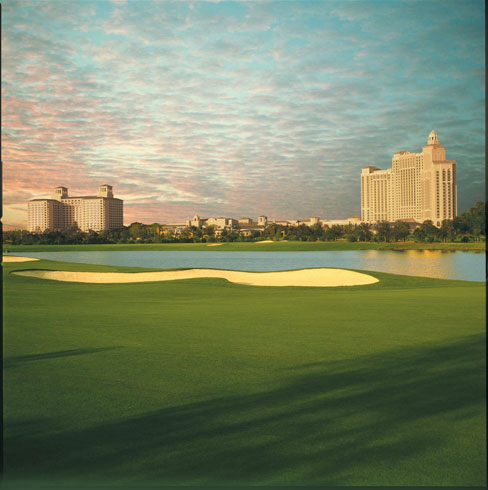 Renowned as the home of Epcot Center, Disney World, SeaWorld Orlando, Universal Studios Orlando and now, The Wizarding World of Harry Potter, Orlando has its fair share of tourists throughout the year. While these attractions are more than appealing to children (and admittedly, to many adults as well), what else does Orlando have to offer those looking to take a break from Mickey and Voldemort during their visit?
During my stay at the luxurious Ritz-Carlton Orlando, Grande Lakes, I had the chance to learn how to golf with the prestigious Golf Magazine-recommended Advantage Golf School, fly fish and kayak with Adventure Experiences, relish in deliciously gourmet and locally focused dining and experience the signature Eco-Hammock Massage at the three-story Ritz-Carlton Spa. Nestled at the headwaters of the Florida Everglades and located about 10 miles away from both the Orlando airport and Epcot Center, this five-star resort has something for everyone.
Nature Calls: Kayak Shingle Creek & Fly Fish for Bass
Being part nature-lover, part luxury-lover, the Ritz-Carlton Orlando, Grande Lakes, offers the best of both worlds. The resort's natural surroundings will give guests a taste of old Florida's natural preserves, and the guided eco-journey on Shingle Creek is a must.
Beautiful towering trees and calm quiet waters of the creek create an awe-inspiring experience, and not to mention, kayaking can be a great workout for the arms! Led by Grande Lakes Adventure Experiences' extremely knowledgeable and personable eco-tour guides, the tour is not only fun and safe, but educational and interesting; learn about the history of Shingle Creek, and hopefully you'll catch a glimpse of one of the area's native species, such as alligators, bald eagles, osprey and barred owls in their natural habitat.
I also received a lesson in fly fishing, something I've always wanted to try. Starting out on an unused portion of the 18-hole Greg Norman Signature Golf Course, we were taught how to cast out in the safety of an open space. Once we got the hang of it, our fabulous eco-tour guide and fly-fishing instructor drove us out to the 40-acre Shingle Pond (parallel to Shingle Creek), where we got the chance to catch bass in the most remote section of Grande Lakes.
Tee Time: Golf with the Pros
Golf aficionados and those wanting to learn have everything they need with the 18-hole Greg Norman Signature Golf Course on site. With the help of The Advantage Golf School, I received my first golf lesson, learning how to putt and chip.
Beyond detailed and personalized instruction, John Hughes, PGA master professional and vice president/national director of instruction, also videotaped my technique, sending a clip via email after the instruction with his comments and tips on how to improve my game. According to my video clip, my instructor taught me well!
For the Kids
The Ritz-Carlton Orlando, Grande Lakes, doesn't forget about the kids either. In addition to specially appointed kids suites, an arcade room and the Ritz Kids program, which offers a variety of supervised physical and creative activities designed especially for children ages 5 to 12, kids and adults alike will have fun floating down the neighboring and connected J.W. Marriott's 24,000-square-foot, winding lazy river pool. Outdoor play areas and dive-in movie pool parties are also available at both hotels, and families can enjoy croquet, volleyball and biking.
Local Flavors Amidst Luxury Dining
When you've had your fill of outdoor activities, satiate your hunger at one of the nine on-site dining options available to you between the Ritz and the J.W. Marriott. From the classic Vineyard Grill steakhouse touting an extensive wine selection at the Ritz to J.W.'s Primo by Chef Melissa Kelly, which serves up contemporary Italian dishes using fresh ingredients from the property's organic garden, be prepared for innovative excellence among the Grande Lakes resort's talented culinary team. Also, all of J.W.'s restaurants are working to make sure that at least 75 percent of its seafood is sustainable.
In addition to the Vineyard Grill and Primo, we had the honor of dining at the Chef's Table located back in the kitchen of the Ritz for an intimate experience fit to make any foodie keel over in excitement. As we savored a scallop mousse, morel mushroom, bacon leek fondue and pea ravioli dish to tiramisu with house-made chocolate fudge, chocolate gelato and a crisp Velrona swirl, Executive Sous Chef Melissa Lee talked to us about the dishes, the restaurant's local food philosophies and more. The Chef's Table is available to rent for guests as well.
A Different Kind of Spa Experience: Eco-Hammock Massage & Scrub Bar
And, last but not least, I had to experience the Eco-Hammock Massage at Ritz-Carlton Spa, which is located and shared between the Ritz and the J.W. Marriott. The spa houses a steam room, sauna, whirlpool and 40 treatment rooms, including two VIP suites appointed with hydrotherapy tubs, Vichy showers and balconies overlooking the hotel's golf course.
Held on the intimate eco-rooftop, which features pots of fresh herbs and benches made of salvaged wood from Hurricane Katrina, the signature treatment began with a foot soak while sipping on some iced tea. After I was given a pair of eco-friendly goggles to shield the bright sun from my eyes during the treatment, I lay down on the hammock horizontally, and my therapist began to work her magic starting above me, then laying down on the ground underneath me, combining cranial sacral, reflexology and shiatsu techniques on my back. It was amazingly relaxing to be outside with the faint breeze in the air and soft music playing as my body swayed in the hammock to the rhythms created by the massage.
When back inside, with the aid of the spa mixologist at the Scrub Bar, I took the opportunity to create my own body scrub made with sea salt, fresh herbs grown on the rooftop and essential oils. Guests can personalize their own scrubs, which are even jarred in TSA-friendly sized containers! Spa cuisine is also available at Vitale Spa Café, where I enjoyed a delicious blue crab salad and smoothie out by the 4,000-square-foot outdoor heated lap pool.
The Ritz-Carlton Orlando, Grande Lakes, is truly unique with its wide range of available activities combined with its appreciation for nature and local foods, all of which left me relaxed, rejuvenated, full of good food and inspiration and with newly learned skills. For an escape from your theme park vacation, or a getaway to experience fine local dining, tranquil nature and indulgent spa all in one place, the Ritz-Carlton Orlando, Grande Lakes, fits the bill to a tee.