Finding Inner Peace in Paradise: A Retreat at Jamaica Inn
Published: Wednesday, September 30th 2015
---
by Sarah Greaves-Gabbadon
I want to feel the magic.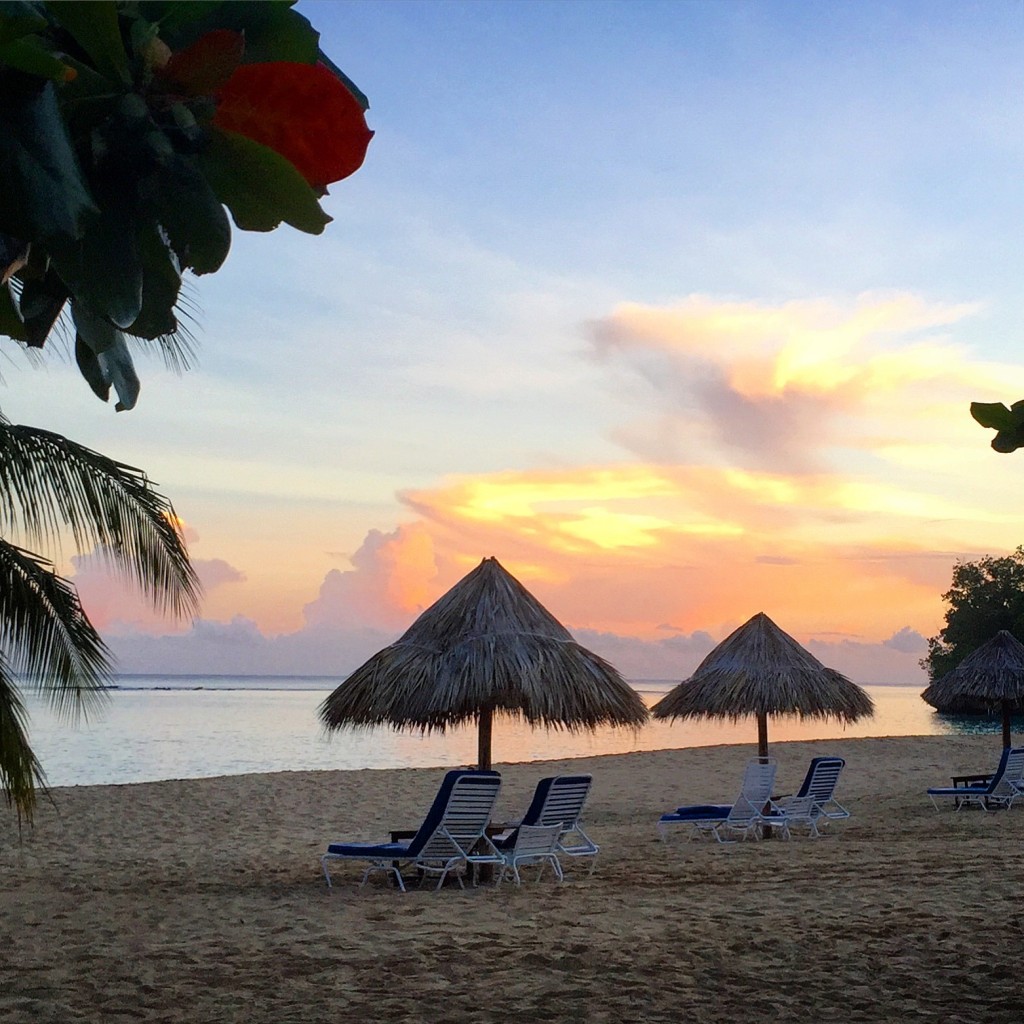 That's what I'm thinking as I settle myself onto my mat for sunset yoga practice. It's day three of the Inner Peace in Paradise retreat at Jamaica Inn, an intimate and idyllic beachfront cloister in Ocho Rios, on the island's north coast. I've joined 10 other yoga students for a five-day journey into ourselves led by yoga teacher Sarah Yukie Gingrich. Although we come from wildly diverse backgrounds we've all bonded quickly, becoming fast friends over plates of fresh-caught seafood at the beach barbecue, shared afternoon dips in the shimmering crescent of Caribbean that laps the resort, cups of lemongrass tea on the sun-dappled terrace of the Ocean spa, and twice-daily asana sessions on a breezy oceanfront pavilion.
It was during these sessions that Sarah encouraged us to find our own "magic," that sacred place in the sweet spot at the edge of our emotional and physical comfort zones where opportunity for growth exists. As we moved in unison, breath and bodies in sync with the ocean beyond, she and her teaching assistant Christina offered firm but gentle hands-on adjustments to our postures, coaxing movement further toward our limits. As we hovered and stretched, bent and contracted, we'd tremble with the effort, beads of sweat blossoming on our brows. But so far all this physical work had done for me was to make muscles I hadn't known existed ache, and to bring emotions and insecurities I'd been completely unaware of rise to the surface. So much so that I'd spent the previous evening beating myself up about the inner fears that our practice had illuminated.
Where's the magic in that?!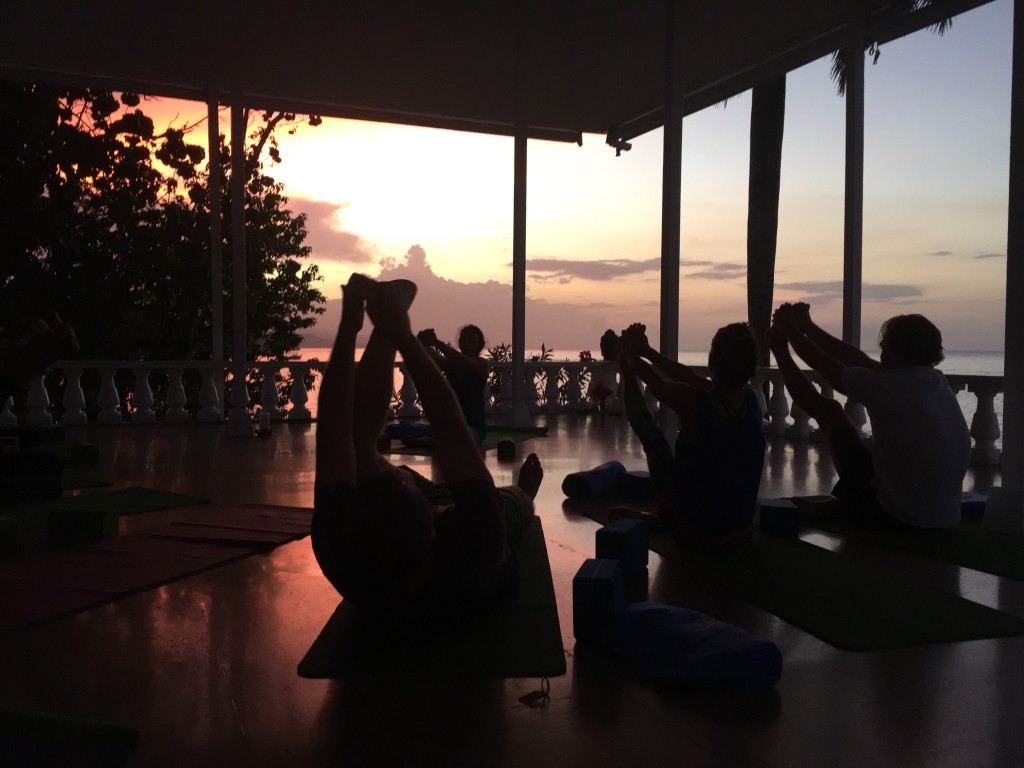 I'm still thinking about my shortcomings as practice begins and Sarah moves nimbly around the room, her soothing voice guiding us deeper as strains of sitar music and the scent of incense washes over us. But as I bend into forward fold and exhale slowly and deeply to increase the stretch, Sarah says something that resonates: "Fear and excitement are really the same emotions. It's all about how we choose to label them."
I take a moment to let it sink in. As someone who travels multiple times a month, constantly meeting new people and exploring new places, I experience excitement and anticipation frequently. In unfamiliar places it never occurs to me to be afraid; I'm always instinctually excited, confident that the outcome with be positive (which, nine times out of 10, it is). How interesting, then, that when faced with unfamiliar emotional territory, my reaction is just the opposite! Could I choose instead to approach new situations the same way I do new places, with eager anticipation instead of dread? To trade my fear for faith? It won't be easy. But something inside me tells me its possible.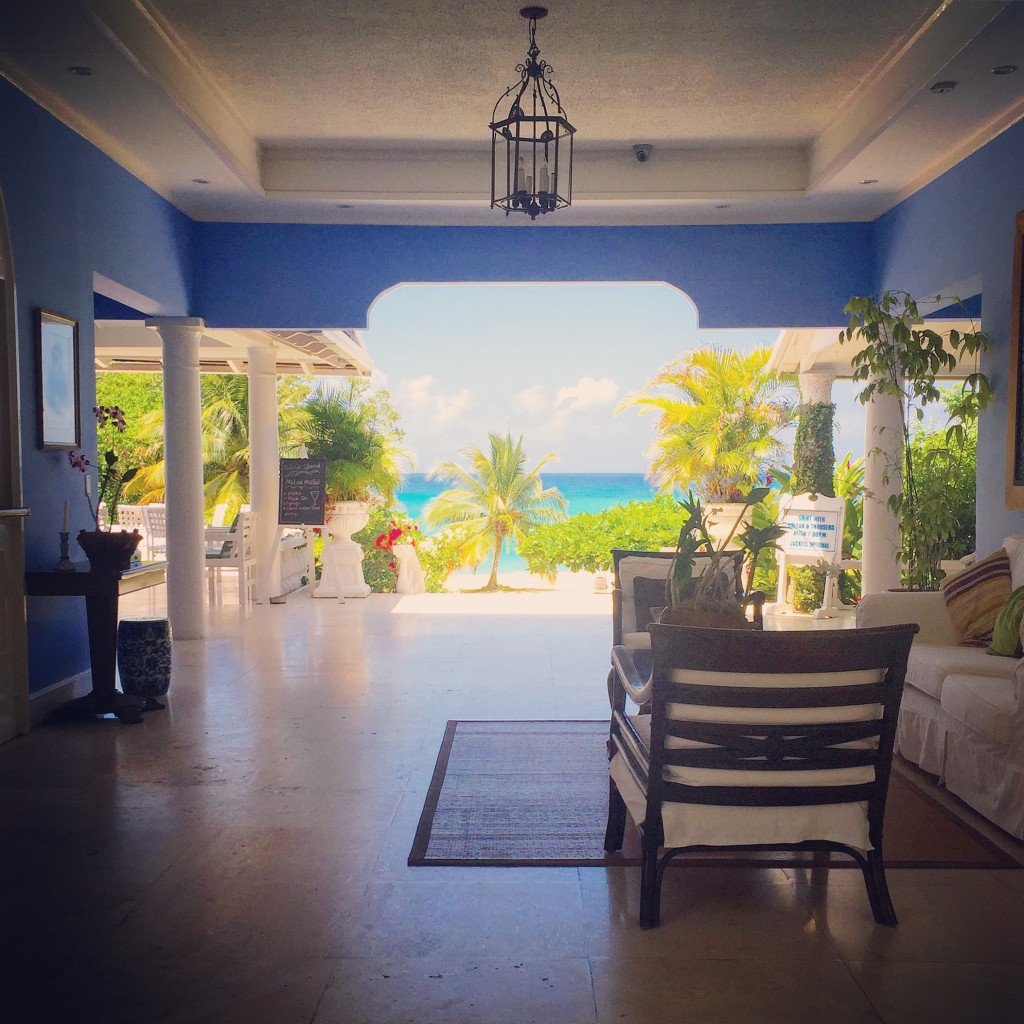 We move through downward dogs, crescent moons, and cobra poses, and by the end of the class, as I melt slowly into savasana, I feel as if a weight has been lifted. As the sun dips below the horizon it takes my tension with it, assisted by a delicious evening breeze that soothes both my skin and my soul. And in this moment I finally feel the inner peace the retreat has promised. At last I've found my magic. It was there all along.
STAY Jamaica Inn's Inner Peace in Paradise retreat is held annually in September. The four-night package includes round-trip airport transfers; an ocean-view room; three meals daily; two daily yoga classes; two excursions; complimentary water sports; and a massage. Prices start at $1,445 per person. Find more info and 2016 dates at jamaicainn.com.
 SPA Perched on a hillside, the Ocean Spa is an intimate, open-air sanctuary with a cluster of cabins overlooking the sea. Treatments incorporate local ingredients and the seaweed-based Repêchage line. Therapist Sabeina's massages are pure magic.
SNACK The retreat includes a trip to the local farmers' market to see and sample local produce. Accompanied by the resort's chef Maurice, you'll sample exotic fruit such as mangerines and naseberries, swig coconut water fresh from the nut, and, when you get back to the hotel, enjoy a private cooking class and tasting.
 SEE Hop the resort's boat and sail along the coast to nearby Dunn's River Falls, a 600-foot-high cascade that's a must-do. Bonus: You'll get there before or after all the cruise-ship crowds, so you'll have the iconic waterfall all to yourself.
Sarah Greaves-Gabbadon is a Caribbean travel expert, award-winning travel journalist, and TV personality. As jetsetter-in-chief at JetSetSarah.com and travel editor of Caribbean Journal, Sarah ventures to the beach and beyond, sharing the diverse culture, relaxed lifestyle and colorful people of the world's favorite warm-weather destination. Follow her adventures on twitter and Instagram at @JetSetSarah, and at Facebook.com/JetSetSarah