Ganbanyoku: Japanese Rock Beds and their Benefits
Published: Monday, July 25th 2011
---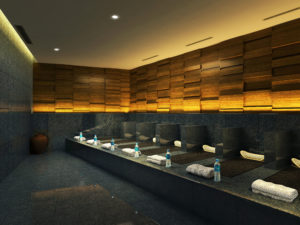 We've been learning a lot about infrared saunas lately—we know that they have great restorative properties and help to increase the body's circulation, speeding up the metabolism and healing capabilities. While infrared technology may be somewhat new to the American spa scene, in Japan Ganbanyoku, translating to "stone bed" in English, has been delivering its benefits for some time. The Spa at Aria Las Vegas is currently the only American spa to provide this form of infrared relaxation.
Ganbanyoku beds are heated black mineral slabs installed into the floor. The stones, made of tenshoh seki, or black silica, and black silica lava rock, are heated to just over 100˚ F and emit far infrared rays as guests lay atop a towel or wrapped in a robe on the bed. Michelle Wilkos, spa director for The Spa at Aria, suggests that guests lay on the beds, first on their stomachs so the healing properties begin in the body's core, and after about 15 minutes rotate to lay on their backs. The Ganbanyoku meditation space at Aria is a great alternative to unwinding in a relaxation lounge after a treatment, since it has its own health benefits and really is an extension of whatever spa services a client may have had. Getting comfortable on the ground is no problem—pillows are provided for your head and towels can be used to elevate knees or lower back!
To learn more about Ganbanyoku and the spa, visit Aria Las Vegas's website!