Get Fit Package with Reality Star Ruby at Cinzia Spa
Published: Wednesday, March 3rd 2010
---
Discover the weight loss program that helped Style Network's reality star "Ruby" lose close to 550 lbs.
Cinzia Spa's own Get Fit for Life program is available for 25 participants from March 20 – 26 at the North Beach Plantation, on South Carolina's pristine Atlantic coast.
Join Ruby Gettinger, star of the reality series "Ruby – The Inspirational Weight Loss Journey," for the last leg of her journey to wellness through this incredibly nurturing, proven, all-inclusive, weeklong program.
Renowned fitness expert Denny Starr developed the Get Fit for Life program with Ruby, helping her create a lifestyle that is healthy and rewarding and which has allowed her to achieve such a dramatic transformation.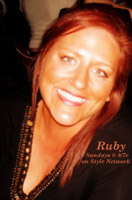 In addition to the fitness program, a nutritionally balanced and calorie-conscious meal program "Ourlife Fresh," developed by Dr. Paul Bradley, is a key ingredient in the success of the Get Fit For Life program. Off site weigh-ins and consults take place during the week and continue throughout the year.
"The difference with Ourlife Fresh is it teaches variations of healthy food and portion sizes and truly changed my palate – now I crave healthy foods! And the bonus is that it is made by chefs and delivered right to you," Ruby says.
The all-inclusive program includes accommodations at North Beach Plantation – a 60-acre luxurious residential resort on the sunny shores of South Carolina's coast.
Other program highlights include:
Group training on the beach
Nutritional classes and seminars
Fitness classes
Introduction to Pilates
Spa treatments at Cinzia Spa – a 17,000-square-foot spa and wellness complex with 15 treatment rooms, a Turkish hammam and scrub room, Vichy shower, and an indoor/outdoor meditation lounge
Satori Therapy at Cinzia Spa (assisted meditation)
Establishing habits needed to maintain health, fitness and wellbeing
Camaraderie of 25 other participants seeking a lifestyle change