Sand. Sea. Spa in Dominican Republic's Resorts.
---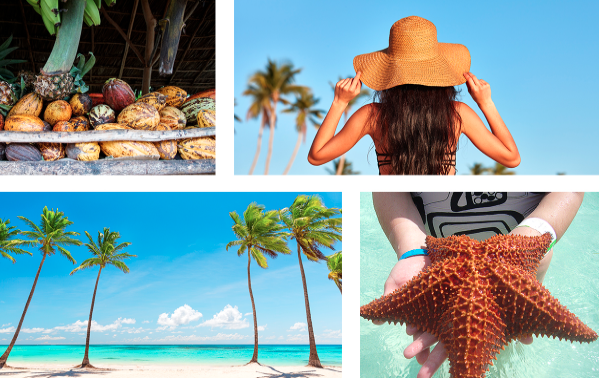 These Dominican Republic getaways give Holistic wellness spas a new twist. Most visited island in the Caribbean and speckled with top Golf Courses, the Dominican Republic is taking a swing at Spa. With white sand beaches combed with azure waters, the Caribbean's vacation getaway resorts give guests a serving of five-star spa.
In the Dominican Republic, resorts pride themselves on top tier customer service and now, wellness. Below, we've vetted top destinations where wellness is primary focus to ensure guests not only enjoy the beautiful beaches but delve into a culture of physical well-being.
Casa de Campo
La Romana

Firstly, let's begin at Casa de Campo Resort & Villas, the 7,000-acre luxury destination where the key focus is on health and well-being of all its guests.
Before treatments, guests are encouraged to stroll through the healing labyrinth. Designed to set the tone for the spa experience, this ancient pattern is 4,000 years old. Therapy rooms serve as individual sanctuaries. Treatments incorporate indigenous skin care selections made from edible local ingredients, including sugar cane and Dominican coffee beans.
Ayurvedic techniques and local organic ingredients detoxify, regenerate, and renew. Meanwhile, therapists melt away tension with soothing hot oil treatments. The Spa at Casa de Campo rejuvenates the mind, body and spirit.
Nearby, guests can opt to visit Alto de Chavon. Nostalgically, this artisan's village modeled after a 16th century Mediterranean town is an affiliate of New York's prestigious Parsons School of Design.
The Yin Yang Health and Wellness Spa at
Lifestyle Tropical Beach Resort & Spa  
Puerto Plata DR (NorthEast of DR)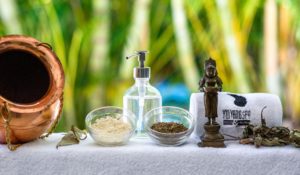 First, this beautiful resort spans 1.5 miles of golden sands at Cofresi Beach, the jewel of the Amber Coast. Secondly, balance meets relaxation at this spa. Finally, cutting edge technology and treatments couple with a professional educated staff cater to your every wish.
Created with the mystic energy of an Asian temple in mind, enjoy an array of the best of eastern style massage techniques. This luxury spa known as a detox destination possesses specialized packages that includes a dietitian.
If your goal is to kickstart change in your life, whether it is to look good, feel good, lose weight or improve your health, a stay at this spa may be step one. For current specials, click here
The Punta Cana Triage
U Spa, Hotel Barceló Bávaro Grand Resort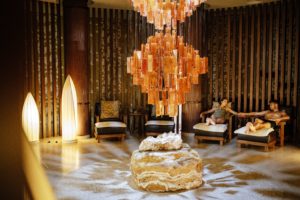 Primarily, incense and essential oils set the ambiance for this experience. Because this is a premier diving destination, the U Spa at the Hotel Barcelo Bavaro Grand Resort helps recuperate from these excursions. Due to bamboo massages, where bamboo is used as the extension of your fingers to Lomi-lomi Hawaiian healing traditions, stave away stress. Treatments are all flavors.  Serve up chocolate, mud or seaweed in a wrap. Honey, trace elements and mineral salts are also ingredients to these peaceful treatments.
From varying facial types to sports massages, spa activities reset visitors from the outstanding golfing, diving and sunbathing on pristine beaches.
YHI Spa at Paradisus Palma Real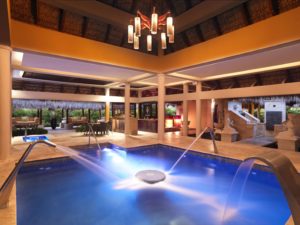 Equally enchanting, is the elegant Asian-themed YHI Spa. The YHI Spa is a seductive oasis of luxury for energetic experiences in beautiful natural surroundings. Similarly, high quality service and personal well-being is the focus of this beautiful setting.
In this retreat, awaken your senses away from bustling cities. Whether your visit entails rejuventation, a step towards detox or you've decided to immerse in activities, dabble in a little of everything. From treatments like the Dai Di Body Healing Treatment to Ayruvedic Shirodara Experience, reset at this getaway. Somehow, somewhere between the scrubs, the massages, and the Thermal Circuit, you will feel different. Ultimately, reset, renewed and refreshed.
Additionally, activities include the fitness center, with yoga, steps, spinning, meditation, Pilates, weights and nearby golf.
Oriental Gardens Spa Inspired by YHI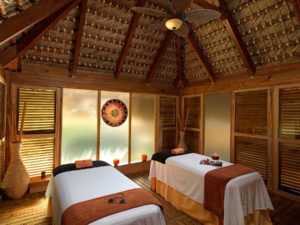 Within the YHI Trio, this Asian infused sanctuary combines the latest wellness therapies designed to heal your body and soul. Guests relax in an Oriental Garden meditative setting. For couples and families this is exactly the type of escape meant to de-stress everyone. Place your worries away as you enter this oasis.
Uniquely, the Oriental Garden Spa's selective menu focuses on four healing programs: Soothing, Pain Relief, Detox and Invigoration. Each program includes massage, body wraps, exfoliations and facials, to heal your body. Due to the surrounding activities, enjoy the special and signature massage, Oriental Fusion. It mixes a Philippines and Indonesian technique from a specially trained therapist. Also, the Classic Thai and Bamboo Massage are favorites. Furthermore, body scrubs and energy healing is available at this holistic getaway.
Idealistically, this getaway boasts an extraordinary variety of dishes, bars and international themed restaurants for a unique culinary experience. Luckily, this includes a Signature restaurant from Martin Berasategui, a 7 Michelin Stars chef and considered one of the world's top chefs.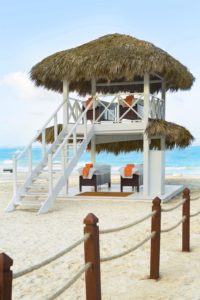 Lastly, the luxurious and posh YHI Spa at Paradisus Punta Cana. A prime destination for weddings, couples getaways and vacation escapes, this location fits the bill.
Finally, the elegant Asian-themed spa offers an extensive facial and body treatment menu. A thermal circuit, featuring a Finish sauna, Turkish bath, cold pools and whirlpools, creates balance easily. Sports and relaxing massages, hot stone massage and Abhyanga are just a few of the items in this luxury location.
In summary, conscious culture welcomes guests in this Caribbean gem.
To sign up for insider tips, luxury destinations and more click here.
Most recent from Travel & Play