Kid-Friendly Spas an Added Treat to the Family Vacation
Published: Tuesday, July 5th 2011
---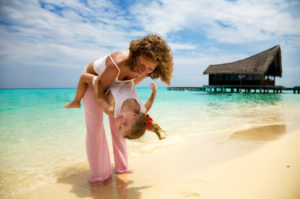 Going on vacation but can't bear to be away from the kids? These family friendly resorts—complete with kid spas—encourage you to bring the little ones along!
With numerous spa treatments and wellness offerings tailored to the younger crowd, these kid-approved travel destinations make keeping the kids entertained easy (and welcome you to find your inner child too). As an added benefit, some of these spas teach the importance of a healthy lifestyle at an early age.
"Visiting a spa is a lifestyle decision to nurture your soul and restore harmony to your body; parents are becoming more aware of this by making health and well-being a priority in their family," says Cecilia Hercik, director of spa sales & operations at Spa Grande at the Grand Wailea. "As a parent myself I've pondered about ways of passing this spa living philosophy to my children." As a result, in 2005 Spa Grande launched a complete menu of spa, salon and fitness services specially designed for the wellbeing of kids and teens, Hercik says, and today, "Spa Grande has become a social venue for multi-generations by encouraging families to spend precious time together by creating lasting family memories!"
Maggy Dunphy, spa director at Stowe Mountain Lodge, did her own investigation into the pressure that can plague today's youth. "In completing some research, I have found that the kids in today's society are just as stressed as their parents," says Dunphy, the brainchild behind the resort's Chillax KidSpa. "Taking the time to stop, do nothing and get some pampering is a positive avenue to allowing children to de-stress.  American Psychology Society did a study to show that 30% of kids suffer from headaches and 30% worry about the family finances.  After realizing what was happening in the world, we felt the need to create this special environment for the kids."
These travel getaways prove that spa-ing doesn't have to be just for the adults!
The Nemacolin Woodlands Resort in southwestern Pennsylvania's Laurel Highlands, is home to the whimsical Spa Voyage Kidz Spa (ages 5-15). Education and relaxation are one in the same at this spa, as children are transformed to the "rejuvenating jungle," "enchanted Arabia," and "Paradise Beach," while experiencing mani/pedis, haircuts and styles, massages and facials.
The spa and surf are a kid's playground at Maui's Grand Wailea Resort Hotel & Spa. Here, menu highlights include the decadent Chocolate-Coconut Scrubs and Wave Massage with warm lava stones at the Keiki Spa (ages 6-12) and the Mud Body Wrap at the Teen Spa (ages 13-17). Make it a family affair by booking Spa Grande's Family Spa Suite for the Malama ka 'Ohana package.
Kids can be a tough crowd, but even they'll be impressed with Stowe Mountain Lodge's Chillax KidSpa, where the following rules apply: You have to giggle; have fun; and chillax. Mini Me Massage and Facial services mingle with the customized Chillax Relaxing Session, which incorporates breathing exercises for a good night's sleep.
Families that stay together, spa together. The magical Schloss Elmau Luxury Spa & Cultural Hideaway, set high in the Bavarian Alps, boasts no less than four separate spas, including the Family Spa, which includes a 24-hour indoor swimming pool and six saunas; there's also an indoor/outdoor gym. At the Springs Resort & Spa in Pagosa Springs, Colorado, families can tap into the healing benefits of water together; 16 of the 23 soaking pools welcome children and there is also a non-mineral family swimming pool and freshwater Jacuzzi. Northern Michigan's Solace Spa at Boyne Mountain celebrates its younger clientele with a Family Night, which includes mini treatments and yoga class, so parents can share healthy lifestyles with their children.
It's hard not to compose a list like this without including Pinehurst Resort in North Carolina and Hyatt Regency Hill Country Resort and Spa in San Antonio, both widely recognized for their kiddie-friendly spas.  At Pinehurst, while the parents golf (there are eight championship courses here!) the kids don't have to tag along – they can head to the Kid Spa (ages 6-11) or Teen Spa (ages 12-17) for services like the  Twinkles Toes pedicure,Fancy Fingers manicure or Teen Tune Up personal trainer session. On the menu at the SPAhhhT Youth Spa at the Hyatt Regency? Yummy treatments like the Dreamy Icy Creamy Pedicure and Chillax-2-the-Max massage.
Most recent from Relationships