Marriot — The Ultimate Pet-Friendly Destination Hotel
Published: Thursday, June 3rd 2021
by Spafinder
---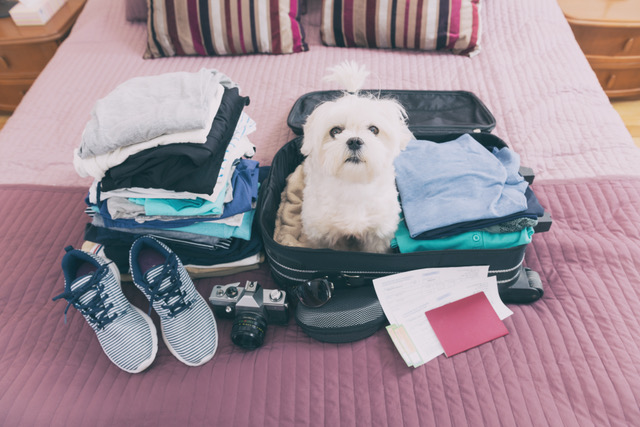 Let's face it, Marriott Hotels have plenty of perks that we've discovered among our travels. These include gorgeous locations, yummy dining experiences, and of course… the pet-friendly hotel policies that let us take our pooch to the most prestigious places. Who wouldn't want to run on the beach in Los Angeles with their dog, or visit a puppy park in Chicago with their best friend? Marriott Hotels understand this all too well, which is why they have over 1,500 pet-friendly locations in the United States.
That's right…just like your pooch sleeps by your feet at home, they can also snuggle up next to you at the Marriott as you indulge in the luxuries of this iconic hotel chain. Spafinder can help you discover the best pet-friendly Marriot hotels near you, and whether your beagle or yorkie fits the weight requirements of your particular location. See a few options for a human-and-pup vacation below!
This wellness haven boasts over 25,000 square feet of amenities — from massage and spa treatments at the Ame Spa & Wellness Collective to group wellness sessions that are boosted by vitamin D from the Florida sun. The only thing that can make it better? Having your pup right next to you as you relax and recharge in this Miami paradise. JW Marriot Miami Turnberry Resort & Spa lets you bring two animals that are a max of 25 pounds… and your chihuahua or French bulldog can even fit in your basket as you ride your bike by the beach!
Calling the JW Marriot a beachfront resort doesn't even do it justice, as this pet-friendly hotel is the epitome of decadence and California dreamin'. When you're not getting a salt mousse scrub or Vitamin A-infused yogurt thermal wrap at the Spa Le Merigot inside the hotel, you can take a walk on the sand with your dog along one of SoCal's most famous beaches. You know how much your golden retriever or black lab loves to swim? JW Marriot allows dogs up to 100 pounds to guarantee a beautiful beach getaway for you and your pup.
Travelling can be a bit stressful, but you can always enjoy a bit of puppy therapy (plus massages!) at the JW Marriot Camelback Inn Resort & Spa with your dog. This award-winning hotel exudes sophistication fused with Southwestern flair. Set in the beautifully landscaped desert at the foothills of Mummy Mountain, the hotel overlooks Camelback Mountain in Scottsdale, AZ. Here you can lounge by the pool, play golf, or even watch TV with your canine best friend between business meetings or outdoor adventures. Arizona is known for the heat, so be sure to bring your swimsuit — and your pup!
Discover more pet-friendly locations and helpful tips here.
Have an occasion to celebrate? Gift Spafinder Gift Cards.