Men's Spas Gain in Popularity, HOMMAGE Debuts Gentlemen's Atelier
Published: Wednesday, April 20th 2011
in Beauty
---
When it comes to the world of spas and salons, it's undeniable that men and women have very different needs…and that the industry tends to favor the females. In response to this imbalance, men's spas and custom barbershops are beginning to punctuate the spa scenes in major cities around the world, like the newly opened HOMMAGE. Luxury men's grooming brand HOMMAGE has teamed up with Julien Farel to create a new kind of gentleman's club, and the April 4th New York City opening of the flagship HOMMAGE Atelier marked a highpoint in the trend of upscale male grooming.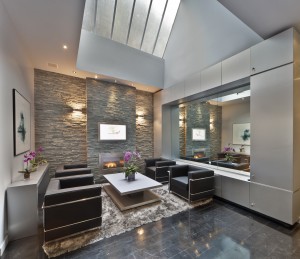 Hovering inconspicuously above the bustle of Madison Avenue, the Atelier combines hyper-luxury and elegant masculinity to create a relaxing experience with an unparalleled attention to detail. Luxury grooming services include a renewing essential shave, a signature black diamond exfoliation treatment, haircuts by the Atelier's master barber or senior Julien Farel stylists, and hand and foot grooming treatments complemented with in-depth reflexology and massage.  From the custom barber chairs to the chic waiting area, where guests may enjoy a single-malt scotch in front of a fireplace and art curated by Lincoln Center, HOMMAGE has an atmosphere of comfort and sophistication.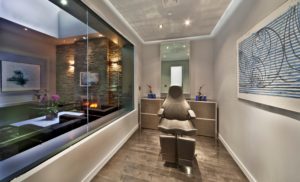 The Atelier's attention to detail extends beyond the refinement of its services. The minds behind this gentlemen's lair have done their research; after discovering that an alarming percentage of men are claustrophobic, the private treatment room was equipped with a one-way mirror that allows solitude without confinement. Express treatments are available for the guy on the go, during which shoes are shined and jackets are steamed, preparing members and guests for the rest of their day or night.
This bespoke barbering trend is extending to all corners of NYC. Man-centric properties with flat screens and men's magazines are popping up from Midtown to Chelsea, giving men all over Manhattan the means to take care of all of their grooming needs professionally, amongst other men.  HOMMAGE and spas like Spiff for Men, Truman's Gentleman's Groomers, and Nickel provide guys with a place to clean up, relax, and bond on any scale. Check out SpaFinder's Men's Spa Guide to learn more about the treatments that guys love.
Do you have a favorite men's spa?  Share it with us in the comments!