Mohonk House Resort Celebrates 150 Years of Wellness, Peace and Beauty
Published: Saturday, July 20th 2019
by Spafinder
---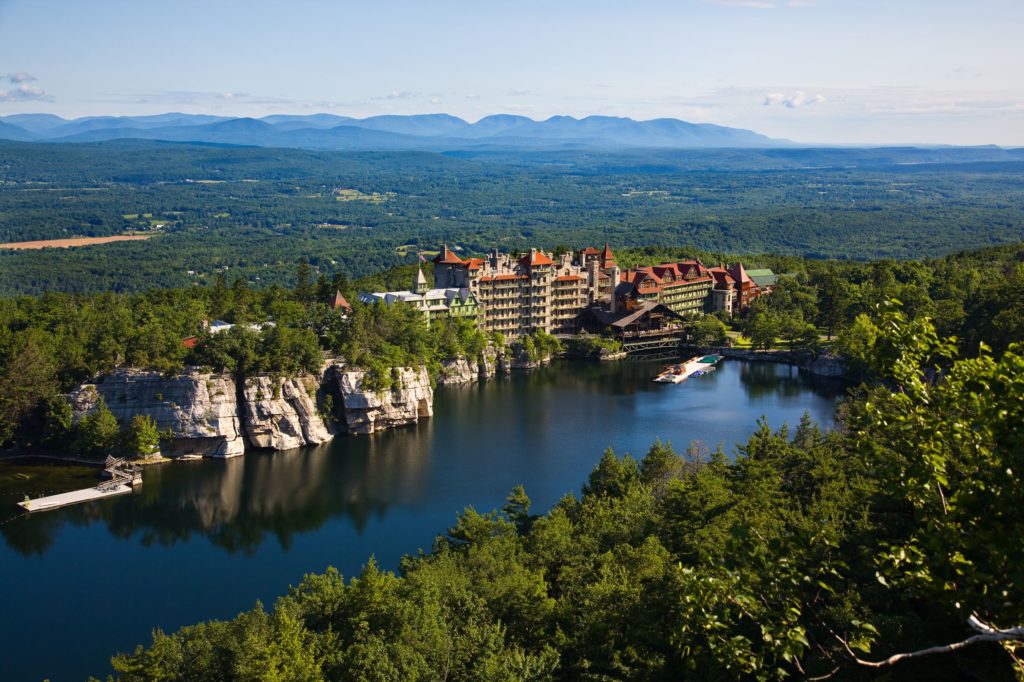 When a legendary wellness retreat is in business for 150 years, it must be doing something right. This year the iconic Mohonk House Resort in New York's Hudson Valley is celebrating its 150th anniversary. We think a large part of Mohonk's success is because this award-winning resort was founded with purpose: protecting nature, encouraging healthy outdoor activities and solving social issues. Of course, over the years, Mohonk House has also provided exceptional spa and wellness services and the latest amenities. But Mohonk has remained true to its commitment to respect the world that surrounds it–a commitment that is especially timely today.
Close to New York City, A World Away from Urban Stress
The Mohonk Victorian castle resort is nestled in the Hudson Valley, only 90 miles north of New York City. Surrounded by 40,000 acres of pristine forest, this National Historic Landmark resort offers farm-to-table cuisine, beautiful accommodations, an award-winning spa and unlimited access to nature and outdoor activities. (Think hiking, canoeing, kayaking, paddle boarding, golfing, tennis, horseback riding, lake and pool swimming, skiing and snowboarding.)
A Fascinating History
According to the New York State Library, twin brothers, Alfred and Albert Smiley, developed the original Mohonk property as a vacation destination. Albert purchased the original 300 acres and a 10-room inn by a majestic glacial lake in the Hudson Valley for $28,000 and "fell in love with the scenery and felt sure of it development."
Although Albert originally wanted Mohonk to be his family's home, he needed to pay back the money he borrowed to acquire the property. Therefore, in the summer of 1870, the Smiley brothers remodeled the original tavern to accommodate around 40 guests. Adhering to their Quaker principals, Alfred and Albert banned alcohol, card playing, and dancing. However, they encouraged activities such as nature walks, concerts, boating, tennis, golf, horseback riding, fishing, and optional prayer and church services. Thus, a legendary property was born.
A Resort with a Purpose
Mohonk prospered and each year Smiley purchased additional land to protect the surrounding forests. By 1879, the hotel and estate grew to three thousand acres and eventually to ten thousand acres.
Albert Smiley was also concerned about solving social problems such as the treatment of American Natives. The New York State Library notes that, "… in 1883, he organized the first annual Lake Mohonk Conference of Friends of the Indian. His Quaker beliefs also made him dedicated to the cause of peace (and) in 1895 he convened the first of many annual conferences on international arbitration." These conferences on peaceful conflict resolution are credited for inspiring The Hague Conference, which led to the United Nations we know today.
Smiley family members continued Albert's traditions, establishing a natural science center, holding conferences on issues related to the environment and bringing nature-inspired programs to guests. (However, today Mohonk serves alcohol.)
Experience History. Discover Wellbeing
Today, 150 years later, you can visit the halls where five U.S. presidents walked, and look out on the same breathtaking views shared by guests since Mohonk's inception. In addition, you will experience the Smiley family's dedication to wellness and wellbeing at the award-winning spa and benefit from immersive experiences including meditation, Forest Bathing and Guided Nature Experiences.
Mohonk's comprehensive fitness center offers Precor® strength, cardio equipment and free weights for fitness enthusiasts. There are also yoga, Pilates, Mosaic Barre and Tai Chi classes, along with private training. The resort's outdoor heated mineral pool features imported Dead Sea salt, and there is an indoor heated pool with underwater music.
The Perfect Time to Visit
To celebrate its anniversary, Mohonk is offering 10 percent off spa services and special spa getaway packages for guests who stay three nights or more–perfect for Girlfriend Getaways. Click here to learn more.