Whistler, BC: Northern Enlightenment on the Slopes and in the Spa
Published: Tuesday, January 24th 2012
by Amy Sung
---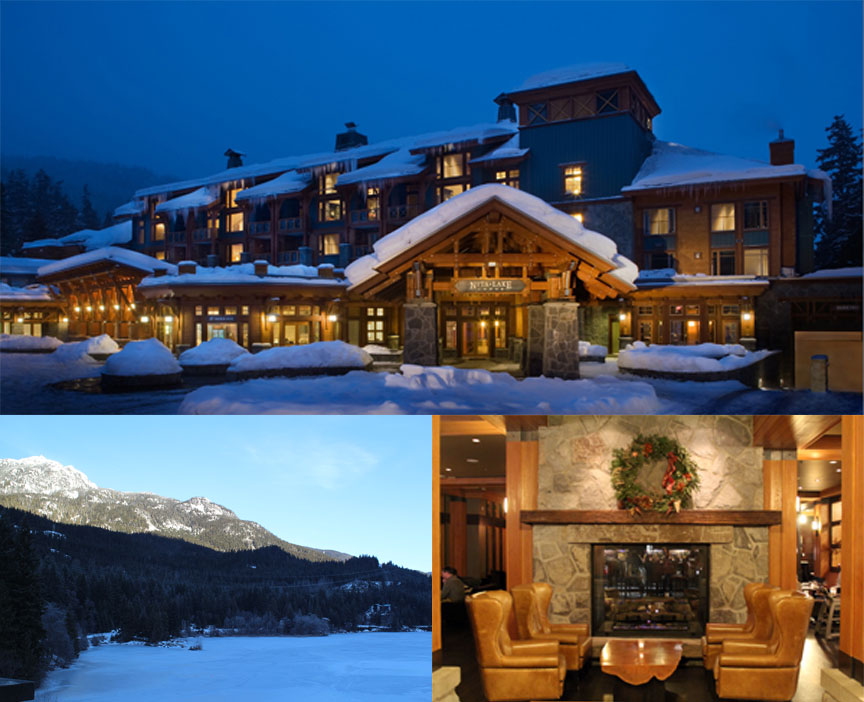 Oh Whistler, how I love thee; your grand mountains, pristine lakes, fragrantly fresh air and now on the list, Nita Lake Lodge. As the only full-service hotel located on the water, Nita Lake Lodge provides a perfect stay for those seeking some solace from the lively bustle of Whistler Village in British Columbia.
Situated by Whistler's Creekside, home of the 2010 Winter Olympic alpine events, and only four years old, Nita Lake Lodge recently underwent new management, which also resulted in a complete makeover. Since March 2010, the 77-suite lodge has featured fireplace-adorned suites, exquisite cuisine and an Ayurvedic spa, in addition to a plethora of other amenities and offerings.
The Art of Ayurveda
Ayurveda, an ancient Indian science of health and healing, is centered around the idea that each individual is comprised of one of three bodily humors, or doshas, that make up one's constitution: Vata, Pitta and Kapha. "Knowing one's dosha is key to making choices that will harmonize well with needs in the areas of food, activities and environment. Health exists when there is a balance between these three fundamental doshas," Nita Lake Lodge says. The word is a Sanskrit compound: ayu, meaning "life," and veda, meaning "knowledge." Sometimes translated as "science of life," Ayurveda lays out a complete mind-body prescription for healthy living that includes a dietetic regimen and a body of herbal healing techniques.
Embracing the Ayurvedic concept as a whole, Nita Lake Lodge recently unveiled its "A Taste of Ayurveda" spa and dining package (on trend, we must say!), which I had a chance to check out this winter during ski season.
Before I even arrived in Whistler, the spa director, Carol Wilson, sent me a short assessment to fill out in order to determine my body-specific dosha; based on this assessment, which asked questions ranging from my hair type to how I react to stress, dinner and the Abhyangam massage and Shirodhara treatment were tailored specifically to me.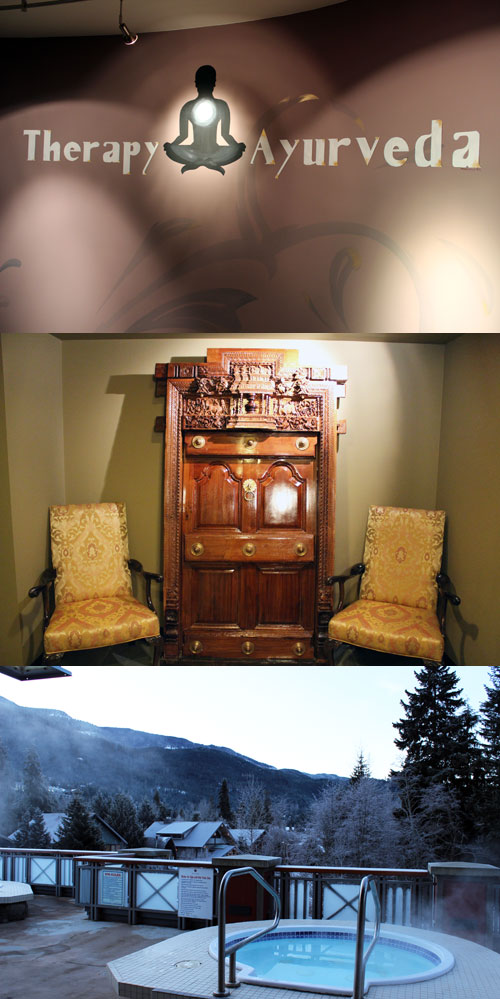 "A Taste of Ayurveda"
Part 1: Abhyangam & Shirodhara at Ashram Spa
As I lay on the droni table, a solid and intricately carved table made of neem wood, in Nita Lake Lodge's four treatment-room Ashram Spa by Therapy Ayurveda, my therapist began the treatment with a calming traditional chant and a scalp massage. Based on ancient Indian principles of Ayurveda and pressure points, Abhyangam massage is designed to heal the body and create a balance between mind, body and spirit. Deep kneading movements combined with long light strokes using sesame and grape-seed oils first worked the left side of my body, and then right. Because of the structure of the wooden table, my therapist explained to me that she would work on my back while I was on it or was slightly adjusted to the side.
After a thorough, full-body massage, it was time for Shirodhara. For 30 minutes, I relaxed on the wooden table with my head positioned strategically at the center of an intricately carved design, which served as a trail for the oil to drip down and off the table and into a copper bowl placed below to catch it. As a continuous stream of warm oil flowed onto my forehead, I began to zone out, which is exactly what the treatment is supposed to do: clear the mind and relax the nervous system, reduce stress and anxiety and induce a profound sensation of calm and wellbeing.
In addition to a comprehensive range of Ayurvedic spa therapies, Ashram Spa, one of Canada's only authentic Ayurvedic spas, also offers yoga and exercise services to help guests and visitors reestablish health, harmony and balance. Outdoor hot tubs are available for spa guests, as is a steam room and locker room.
Part 2: Customized Ayurvedic Cuisine at Aura Restaurant
After a calming and balancing experience at the spa, I hit the slopes until the lifts closed and was famished by the time I got back to the cozy and welcoming lodge. Although the spa experience was behind me, luckily, part two of the package was still ahead.

Based on my responses to the dosha assessment, Executive Chef Tim Cuff created a personalized Ayurvedic three-course dinner at Aura Restaurant for me. With Kapha leanings, I was served a first course salad of organic beets, horseradish, ginger crumbs, ya pears and upland watercress. My second course was a delicious, lightly warmed celery root soup complemented by caramelized corn with apple lightly sautéed, soft boiled quail egg and amarinth, an ancient Aztec grain. Finally, the third course graced me with Steelhead salmon drizzled with a dijon buerre blanc sauce, warm heirloom carrot salad, fried cauliflower, sunchokes, broccoli brussels sprouts and charred meyer lemon and parsnips to the side.
Striving to represent different tastes in every dish, as Ayurvedic custom dictates, guests participating in the "A Taste of Ayurveda" package can all expect a three-course customized dinner. Set lakeside, Aura features a private dining room and an expansive outdoor patio where diners can enjoy seasonal fare while soaking in the breathtaking views of the water and surrounding mountains. Cure lounge is also an ideal place relax by the fireplace and enjoy an après ski drink or savor some small plates (the menu even features drink and small-plate pairings). Fix, Nita Lake Lodge's casual café, features coffee, baked goods, pre-packaged house-made charcuterie, take-home meals and more.
Four-Season Delights in Lakefront Splendor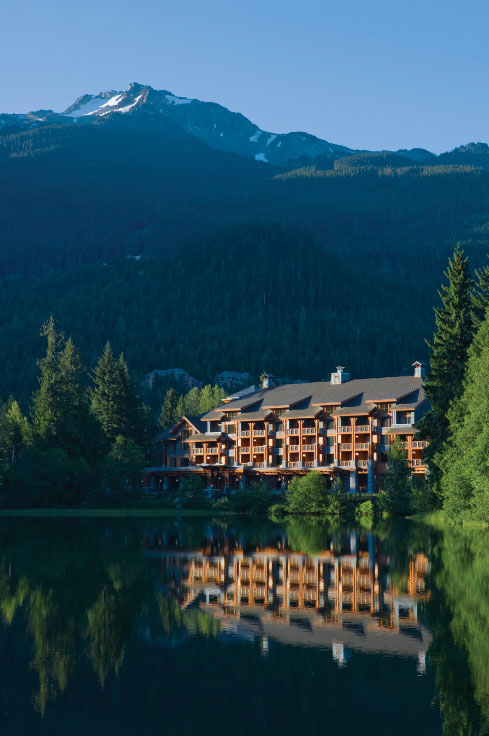 In addition to classy and contemporary cabin-style accommodations, a delicious food and beverage program, an authentic Ayurvedic spa and breathtaking views, Nita Lake Lodge offers guests a number of additional services, including a free shuttle car to transport you either to the mountain or to a night of festivities. During the winter, snow shoes and skates are complimentary for guests to enjoy the outdoors, and ski lockers are available as well. In the summer, the lodge partners with a rafting company; bike and fishing rod rentals are also available, which guests use to fish for trout in Nita Lake, located just feet from the from the lodge. Yoga classes are held out on the lake dock as well, and year-round on-site babysitting services, gym access and circuit classes, which occur six times a week, are complimentary.
If you find yourself in Whistler and love an upscale cabin-like feel with the mountains and lake surrounding you, Nita Lake Lodge fits the bill perfectly, no matter what the season.
If you go, be sure to check out Alta Bistro for lunch or dinner, just a five minute drive from Nita Lake Lodge. Offering very reasonably priced prix fixe menus, this new restaurant features seasonal and local foods and an impressive cocktail menu with innovative drinks you've never seen.
Most recent from Editors' Picks