Whisk Away to Whistler: Long Table Dinners, Outdoor Spa & Awe-Inspiring Views
---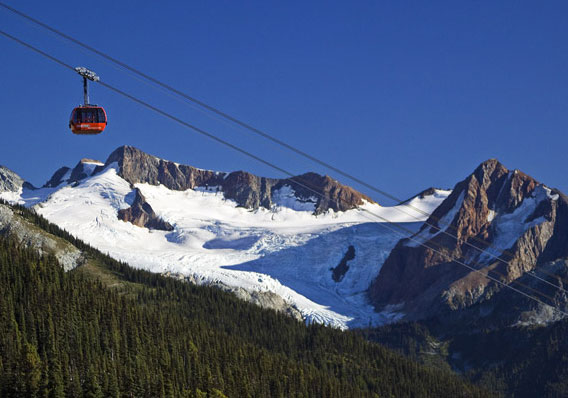 Most widely known as a ski resort, Whistler, which was also the host mountain resort for the 2010 Olympic Winter Games, is much more than just a winter destination. Vast mountains and a nature-loving spirit make Whistler a perfect scenic getaway for any type of traveler, snow or shine. With wide-ranging hiking trails and outdoor activities, farms producing at their peak and relaxation for sore muscles on the rise, active explorers, foodies and of course, spa enthusiasts alike, can all find the cream of the crop in their respective passions here, and not to mention, with some of the most spectacular views serving as a constant backdrop.
Outdoor Spa-ing & Sea to Sky
On our first day in Whistler, we headed straight from the delicious lunch at Christine's (see below for more!) to Scandinave Spa, a five-minute car ride from Whistler Village. Nestled in the woods, we crossed a bridge and walked through a trail to get to the spa. Rustic and clean, we were led to the main building's locker rooms to get changed and head out for some outdoor hydrotherapy. Positioned in a spruce and cedar forest perched on the mountain and overlooking mountain vistas and valleys, Scandinave Spa facilitates hot and cold water therapy with a view. Included amongst the options for hot therapy are an amazing eucalyptus steam room and a spacious Finnish sauna, each located in its own building amidst the hot and cold pools. While the spa makes it clear that silence is the norm, I saw many social spa-ers at the baths, chatting quietly. Whether there's snow on the ground, or the sun's in the sky, a trip to the Scandinave Spa is a must for those seeking traditional hydrotherapy in a unique and extraordinarily serene, picturesque setting.
Another day, another spa, and today's spa treatment was among the best. Recently ranked one of the Top 10 hotel spas in the Americas and Caribbean by Condé Nast Traveler, the Four Seasons Whistler was rightly recognized. While the hotel is sublimely and elegantly rustic, the spa is bright and airy, with a sense of relaxation floating about. Dimly lit treatment rooms and an amazing therapist set the tone for my Sea to Sky massage, one of the spa's signature treatments. It was named after the scenic Sea to Sky highway from Vancouver to Whistler, and integrates the sea with its scrub and seaweed oil, and also features elements of lomilomi massage and the use of lavender, geranium and chamomile essential oils. Hot stones from the rivers and mountains are also used to soothe and melt tired sore muscles from the day's activities. It was one of the best services I had ever had with just the right amount of pressure to feel the benefits of the full-body massage. Spa guests can also make use of the outdoor pool, as well as the lockers, showers and eucalyptus steam room.
Whistler Whets Appetites, Sustainably
The Whistler Blackcomb Peak 2 Peak gondola spans between the shoulders of Whistler and Blackcomb mountains, and we took it to our first meal – lunch on Blackcomb at Christine's, a casual but elegant full-service restaurant inside the Rendezvous Lodge that features classic upscale comfort food and panoramic views. The exhilaratingly beautiful ride breaks three world records, including being the longest unsupported span of 3.024 kilometers, the highest lift of its kind at 436 meters above the valley floor, and it completes the longest continuous lift system on the globe. During the 11-minute ride, we enjoyed the most spectacular views, which can't help but leave you feeling at peace. Once we arrived at Blackcomb, we had a delicious meal of fresh seafood options like the BC Seafood Ciopinno, an organic Pemberton burger, adorable and equally delicious appetizers featuring heirloom tomatoes and charcuterie, and more.
All of Whistler Blackcomb's Food and Beverage department is undertaking new sustainability initiatives and updating its menu, with a strong focus on the 100-mile rule – refraining from sourcing any product from more than 100 miles away. Pemberton's Across the Creek Organics is growing approximately 25,000 Russet potatoes exclusively for Whistler Blackcomb's baked potato stations at Glacier Creek and the Roundhouse Lodge. Steeps and Christine's will be using their Yukon Gold varieties.
And Pemberton's Across the Creek Organics isn't the only farm sourcing to Whistler and Blackcomb area restaurants. Also located in Pemberton, North Arm Farm sources produce to the elegantly delicious Aura Restaurant of Nita Lake Lodge, as well as the famous and reputable Araxi restaurant. Originally inspired by working with Outstanding in the Field, a traveling dinner party focused on recognizing farmers for the food they produce, Araxi now also hosts its own long table dinners at the 60-acre North Arm Farm. It was the highlight of the trip: one long table to seat 160 guests out in the middle of a field, just feet away from the crops of produce we were to eat that night, with a surreal view of a nearby giant mountain creating an expansive backdrop. Four courses were all prepared to perfection and the message for the night, "Food with Friends," seemed to ring true from the minute we were seated. Nita Lake Lodge is also a must-visit – from its house-made charcuterie, black garlic and creative cocktail mixologist, to its Ayurvedic Spa and rooftop garden, this lodge and spa truly is a little slice of heaven on earth.
There are many other attractions in the area to visit as well, such as the weekend Whistler Farmer's Market, which is teeming with delicious local foods and unique crafts, and the Aboriginal Cultural Centre and Museum, which is located just a stone's throw away from the Four Seasons in Whistler's Upper Village. The Squamish Lil'wat Cultural Centre offers a valuable chance to learn about the history of the region, as well as sample some indigenous-inspired fare from the café, like bison sausages, bannock, a delicious Native Indian fry bread, and Nanaimo bars, one of Canada's signature confections.
All in all, Whistler's spirit and beauty alone make it a must-go-to destination. Beyond the plethora of activities to participate in and vast views of mountains, water and sky to soak up, its appreciation for local foods, tradition and natural beauty make Whistler a community that any nature-lover, spa enthusiast and/or foodie won't want to leave.