No Surprise. Breakers Palm Beach Leads the Way in Workplace Wellness
Published: Tuesday, October 9th 2018
by Spafinder
---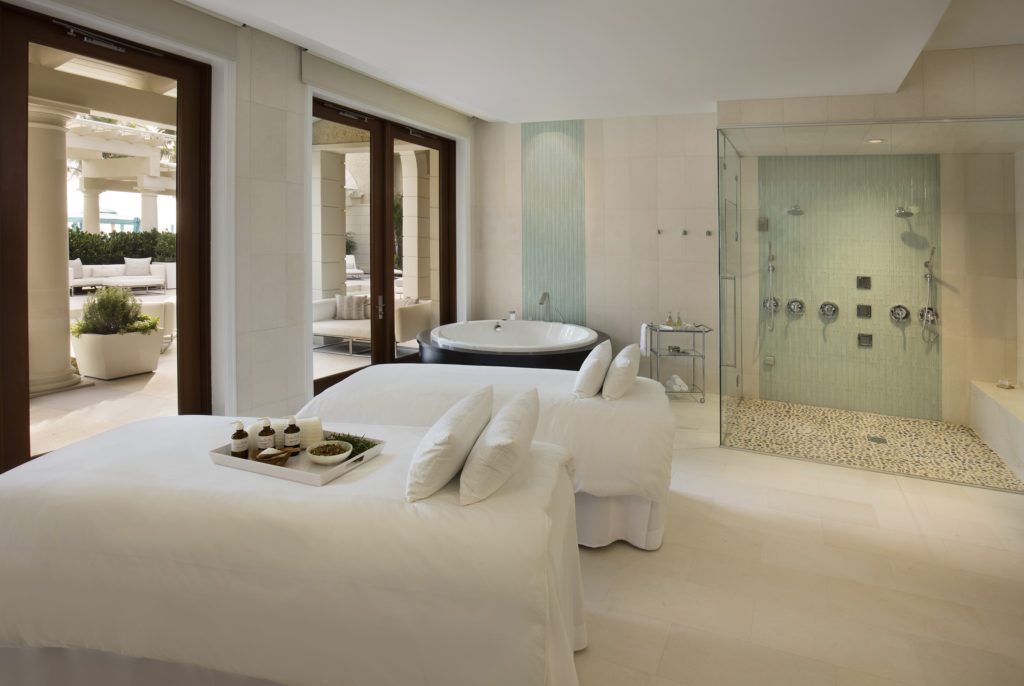 Spas are in the business of helping clients get healthy and feel good. In addition, top Spafinder spas like the Breakers in Palm Beach are extending the benefits of wellness to employees through innovative programs that put people first –and are good for the spa's bottom line. The Breakers is a stellar example of top resorts that give staff and their families the opportunity to benefit from the healthy lifestyle guests enjoy.
Nurturers Need Nurturing
The iconic Breakers Palm Beach is located on 140 acres of stunning oceanfront property in the heart of Palm Beach, Florida and boasts a luxurious spa, nine restaurants, four pools, two golf courses, and an ocean-view fitness center. It takes a lot of employees to care for the guests who flock to the Breakers for relaxation, wellness and fun (2,000 to be precise).  And over 15 years ago, the visionary management at this AAA Five Diamond resort introduced an employee wellness program to attract and retain the best staff. The theory was that healthy, happy employees provide top service and stay committed to their jobs.
A Happy Staff Means Happy Guests
This historic resort has cared about its employees for decades and earned a well-deserved reputation for being an excellent place to work. However, the Breakers' workplace wellness program, introduced 15 years ago, goes far beyond the norm. It provides personal training, lactation support, supportive home care services for children and older parents and more.[1] In addition, Breakers Palm Beach also offers traditional options such as smoking cessation, on-site vaccinations and access to fitness facilities. (Ninety-five percent of Breakers employees take part in the company's wellness programs, a remarkable statistic.)
The Results?
The Great Place to Work survey found 92 percent of employees believe the Breakers is a great place to work and that management supports their health and wellbeing. Moreover, the employee turnover rate is 18 percent, compared with a 32 percent rate for the industry; an important stat in the hospitality business.
The Cycle of Giving Back
According to the same article in Slate, the Breakers also paid employees for 113,000 volunteer hours in community service. Furthermore, research shows that giving to others makes us happier people. And those happiness rewards motivate us to give back again.[2]
Begin with Baby Steps
Not all of us can work at the Breakers, but we can encourage wellness wherever we are employed. First, share the Breaker's example with co-workers or at a staff meeting. If it's appropriate, ask your employer if the company would consider wellness programs. Next, step up and be a wellness leader. Organize weekly lunch hour walks or get permission to invite wellness experts to speak during a lunchtime break.  In addition, you could organize events like vegan potlucks and introduce your teammates to delicious and healthy food. We think management–and your co-workers–will discover a wellness-driven culture helps everyone do their best work and still have time to enjoy life.
Give wellness with a Spafinder Gift Card
[1] Slate, " Not All Workplace Wellness Programs Are Corporate Shams," Leigh Stringer, April 2018
[2] HuffPost, "Want to Be Happier? Give More. Give Better," Brady Josephson, April 2015.