Cool Off in Greater Palm Springs at the Spa or in the Pool
Published: Friday, July 22nd 2022
by Spafinder
---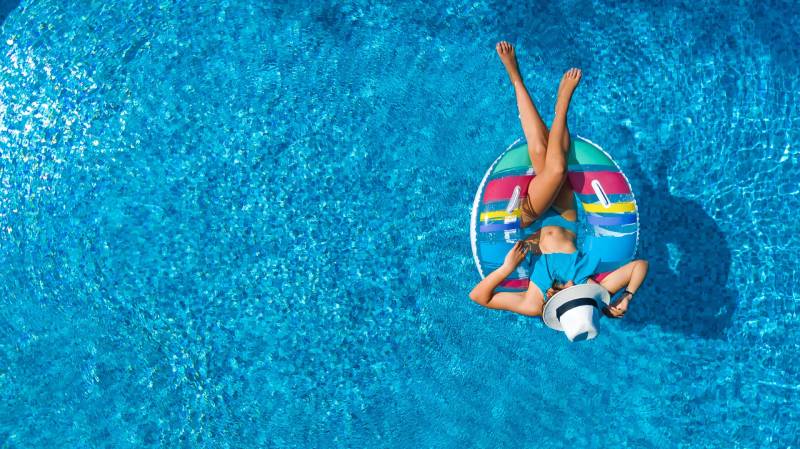 Hollywood insiders know that Greater Palm Springs is once again the cool place to be. It seems like everyone who is everyone is taking advantage of the work at home vibe and moving to the Palm Springs area. The real estate market is hot as design aficionados rediscover desert modernism and the luxury of open spaces in desert communities. Plus, we think the astounding number of gorgeous pools and perfect, year-round swimmable weather is also driving the exodus to Greater Palm Springs. Moreover, many of the world's finest spas are located in Greater Palm Spas. Here you will forget your stress as you enjoy a soothing massage in air conditioned luxury or soak up the sun by the pool. And understand why Palm Springs is the place to be…for a weekend or your new life.
Designed for Outdoor Living
What is desert modernism you ask? Palm Springs has one of the largest collections of mid-century modern architecture in the world. It's tailored to the Greater Palm Springs indoor/outdoor lifestyle. Think minimalist clean lines, bountiful breezes and a seamless view of indoor and outdoor spaces. Famous architects like Richard Neutra and John Lautner designed homes in the Palm Springs area. And numerous homes, hotels and attractions celebrate this design motif. Even the popular tramway, gas stations and a fire station boast this unique style!
Pools and More Pools
As we mentioned above, we are convinced that the amazing number of pools in Greater Palm Springs are a primary reason for the region's year-round popularity. Virtually every home, condo development and hotel sports a sparkling pool. And what could be better than instant access to cool water for swimming laps or lounging.
Top Spas and Healthy Living
The desert lifestyle is all about wellness — and of course that includes access to many of America's top spas. Here are six our favorites.
The spacious and airy Spanish-style Spa at The Westin Mission Hills Golf Resort & Spa features 14,000 square feet of air-conditioned tranquility. Treatments include a range of massage, facials, body scrubs, skin treatments, and salon services. The Spa's facilities also include steam rooms, a Jacuzzi and a hydrotherapy room. Plus they have yoga classes, group fitness classes, personal training, and weightlifting. And there are THREE outdoor swimming pools, one with a 60 ft. waterslide!
The 38,000-square-foot Spa Desert Springs features 47 treatment rooms, including two couple's rooms and two spa suites. It has a menu fusing European-inspired treatments with a local flair and also boasts a fitness center, eucalyptus steam rooms, a coed relaxation lounge, saltwater lap pool, boutique, and full-service salon, lemon grass and lavender hammams, a desert rain shower and the Spa Bistro. (Yes, there a variety of other pools on the spacious property for your wellness pleasures.)
Spa Esmeralda at the Renaissance Indian Wells Resort & Spa features indoor treatment rooms and outdoor cabanas (perfect for massages on summer evenings). The spa garden's cascading waterfalls and tropical flora surround personal treatment areas. And the spa menu includes desert-inspired therapies for the face and body and rehydrating body treatments designed to counteract the effects of the desert sun. Male spa guests enjoy a men-only lounge and a special menu of treatments. In a word – fabulous.
Highlights at The Ritz-Carlton Spa®, Rancho Mirage include 15 treatment rooms, many with private terraces, natural rock outcroppings and outdoor showers. There is also an outdoor relaxation lounge, refreshing plunge pools and a 24-hour fitness center. Not to mention the indoor/outdoor yoga and meditation spaces. This desert sanctuary has a personalized approach to wellness that incorporates nutrition, exercise, movement, stress reduction, and reflection, encouraging the conscious pursuit of living life to its fullest. The exquisite hillside setting embraces the perfect retreat.
This soothing spa oasis combines the aura of a dream destination with a large helping of wellness energy. Inspired by the rejuvenating quality of the nearby natural mineral springs, massage experiences, skin therapies and body treatments are pure bliss for your mind, body and spirit. When you're not relaxing at the Spa, you'll enjoy two resort pools with poolside cabanas, the Fitness Center, and the resort's chic, mid-century Palm Springs aesthetic combined with Margaritaville's casual-luxe island feel.
The Spa at Andreas offers skin care, massages, body treatments and foot treatments. Deluxe couple's treatment suites feature oversized Jacuzzi tubs that add a romantic touch to your spa experience. Located in the heart of historic downtown Palm Springs, a short stroll from the city's shopping and dining, the Andreas Hotel offers the amenities of a Palm Springs resorts (think a beautiful pool), along with relaxing and therapeutic treatments and easy access to this must-visit city's popular nightlife.
How We Palm Springs
Learn more about summer fun and attractions in Greater Palm Springs here. Palm Springs— where days are sunny, pools (and cocktails) are refreshing and star-studded nights are balmy.