Reimagine Restorative Wellness at Top Greater Palm Springs Resorts
Published: Monday, July 26th 2021
by Spafinder
---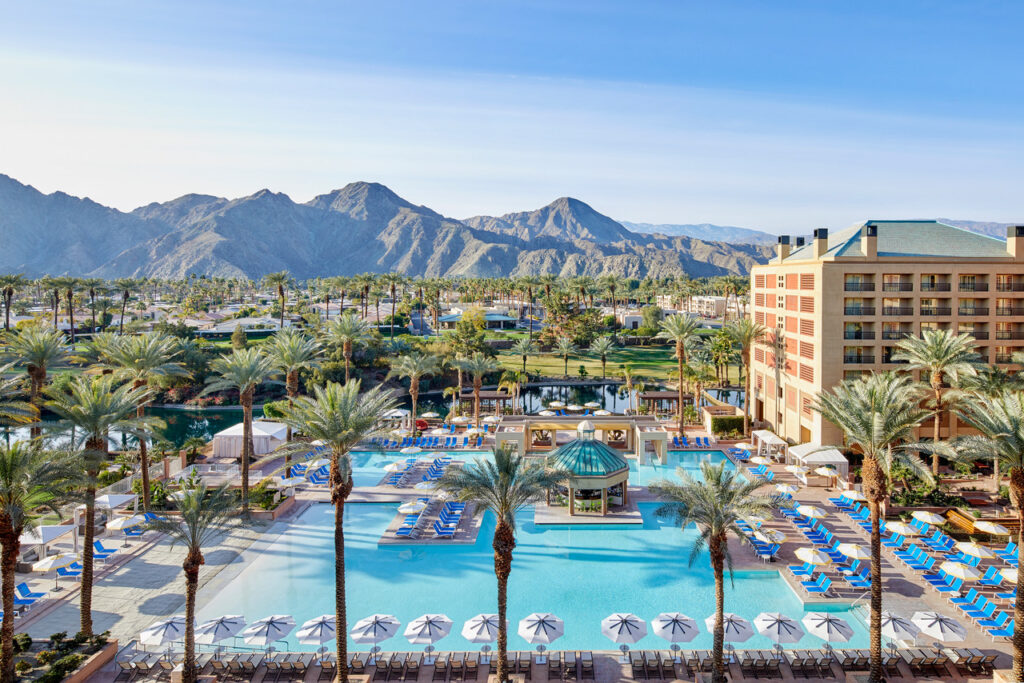 Restorative wellness means finding balance in your life, from what you eat to how you relax. Or to put it another way: restorative wellness is the path to discover your best self. We think you'll agree these top spa resorts in Greater Palm Springs are the perfect place to reimagine restorative wellness in a luxurious setting—sprinkled with a healthy dose of fun. Because after all, isn't that what a blissful life is all about?
Picture yourself driving up the gracious palm tree-lined entrance to the 360-acre Westin Mission Hills Golf Resort & Spa, a true desert oasis located in Greater Palm Springs, California. Of course you've already booked your Welcome Honey Massage and Honey Hydration Body Wrap at The Spa at Westin Mission Hills. (Beekeepers raise bees that provide the resort with fresh, local honey.)
In addition to the Spa, you're ready to enjoy the resort's three swimming pools, two championship 18-hole golf courses, seven tennis courts and the wide variety of indoor and outdoor dining options and cooking classes. Let the restorative wellness begin!
Whether you're planning a work-cation or a weekend escape, we know you'll love Spa Esmeralda. Located within the recently renovated Renaissance Esmeralda Resort & Spa, Indian Wells, this hidden treasure taps into the destination's natural beauty and renewing, spiritual energy, easily putting you in a spa state of mind. (We love the indoor treatment rooms, relaxing spa garden and outdoor cabanas.)
We're not surprised that this four-star, four diamond-awarded property received Forbes recognition. Rich in its surroundings, The Spa at Desert Springs includes 48 treatment rooms, a bistro, a salon, a fitness center and a private saltwater pool, while the resort itself features championship golf courses and five swimming pools, all set on 450 manicured acres of verdant English gardens. If you've yet to try a Hammam treatment, be sure to book this amazing experience. Devour delicious plates at any of seven on-site restaurants.
Indulge in restorative wellness at an extended stay at a luxury resort known for its exquisite grounds, world-class amenities, fine California dining and an unparalleled spa, we recommend The Ritz-Carlton Spa® in Rancho Mirage.
In addition to its spa oasis, The Ritz-Carlton boasts refreshing plunge pools and a 24-hour fitness center. Delve into meditation in the indoor/outdoor yoga spaces. Remote work comes easy with mountain views and wireless high-speed Internet access. Spacious suites offer separate bedroom and living areas with a sleep sofa and one-and-a-half bath.
Restore at the Spa starting with a memorable spa soak. Oversize Jacuzzi tubs and fireplaces add a romantic touch to this Greater Palm Springs spa experience. Sink in. Stay awhile. Linger for 30 blissful minutes in a spa suite combining the pure pleasure of a whirlpool soak with special mineral salts that gently caress and float away the tension and stress of your day.
Casual luxe island feels give way to relaxation and much needed pauses. Sign up for a stay at one of the largest resort spas in Greater Palm Springs and treat yourself to a little inner peace. The St. Somewhere Spa offers a full suite of massage options designed to reduce tension, ease muscles and push stress far, far away. Treat yourself or someone you love to hairstyling and make up during your stay. A little pampering can go a long way.
Greater Palm Springs. Where you'll find everything you need to re-discover a healthy, well you.
Need a gift for a special occasion or just to say Thank You? Spafinder is the answer.