Spa Resorts Try 'Naked Table' Team Building
Published: Friday, October 29th 2010
in Mindset
---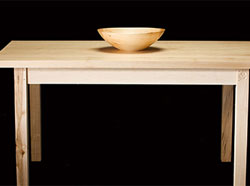 Introducing the "Naked Table Project," coming to a getaway spa resort near you. No, it's not how it sounds. It's actually a hands-on team-building activity where a group constructs an entire table from scratch and then shares a meal together. Vermont-based spa properties such as Stoweflake Mountain Resort & Spa and Woodstock Inn and Resort have implemented The Naked Table Project into their itinerary of group/corporate recreational activities in an effort to encourage social responsibility, sustainable environment, and community camaraderie.
Project Blueprint
Founded in 2009, The Naked Table Project allows groups of 15, with the help of furniture makers, to assemble, smooth, and finish their own tables made of indigenous, sustainably grown Sugar Maple trees before trekking through the woods with a forester to identify a replacement seedling tree. In most cases, the workshop concludes when the team lines up the tables in a long row and sits down for a celebratory meal.
The family-style table (along with the project's objective), is pure, plain and simple, devoid of ego –simply, well, naked.
Image courtesy of The Naked Table Project/Shackleton Thomas