Romance & Spa in Maui: Part I
Published: Monday, January 31st 2011
---
I had heard there's a palpable sweetness that fills the air in Maui, a concept I had tried to imagine before my visit, but could not. Only my own incredible, romantic Maui adventure with my boyfriend could confirm the notion. Sure enough my lungs were to be filled with the island's intoxicating sweetness and the magic of Maui. So much of the island's tranquility and healing culture stems from the lush, blooming, tropical paradise that beckons couples (especially honeymooners), and simply inspires romance.
But, Maui's appeal is more than beauty-deep; visitors love the "far away" feeling, though the island is in convenient proximity to the U.S. Mainland. Maui has been a leading destination for weddings, honeymoons, anniversaries, and other romantic occasions because falling in love here is so easy! There are endless options for couples in this naturally beautiful setting — adventures to be had (snorkeling, zip lining, surfing), scenic vistas to greet and appreciate (Wailea Beach, and the sunrise on Haleakalā, the island's dormant volcano), divine local cuisine to taste (Humu, Feast at Lele, Merriman's), and of course, incomparable spas to experience at the finest hotels (Grand Wailea, Westin Ka'anapali, Kapalua Villas and Honua Kai Resort and Spa).
Destination: Wailea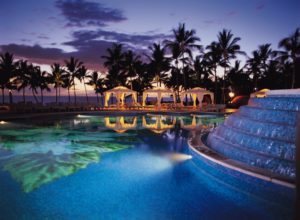 Grand Wailea Resort Hotel & Spa, set on what has often been named one of Hawaii's best beaches, is a frequent SpaFinder Readers' Choice favorite and one of the most recognized names in the upscale Wailea resort area.  Upon arrival, I notice that the hotel's palatial open-air lobby filled with cascading waterfalls is peppered with huge sculptures by Fernando Botero, my personal favorite.
Although the sprawling Grand Wailea, with its 780 rooms and suites, is family-friendly (kids love the 2,000-foot-long river pool and connecting slides, and water elevator), the hotel is also a celebrated spot for romance because of its myriad of couple's offerings.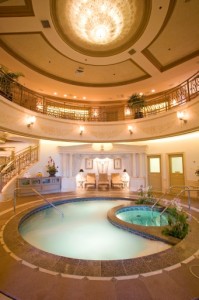 It takes two
Grand Wailea's elegant Seaside Chapel, embellished with stained-glass windows depicting an island-inspired wedding scene, is positioned on manicured lawns amidst gazebos and gardens, overlooking the ocean − perfect for weddings and vow renewals, planned or unplanned. (The resort hosts about 300 weddings annually.)
A lazy drift along the river pool guides guests to the swim-up Grotto Bar, where they can sip tropical cocktails. An architectural highlight of the adults-only Hibiscus Pool is an enormous floor mosaic of its namesake. For active couples, standup paddling, windsurfing, tennis, and golf on three 18-hole championship golf courses are available. My boyfriend and I tried our hand at a self-led kayak-snorkel adventure, (rental equipment is conveniently available on the hotel beach). We sprang out of and climbed back into our kayaks as we explored the crescent-shaped cove; we spotted sea turtles and discovered that Wailea Beach is book-ended by coral reefs, vibrant with underwater life.
Indoors, the resort's magnificent Spa Grande, one of Hawaii's largest spas, occupying 50,000 square feet, offers a vast treatment menu for couples. The Private Suites for Two treatment begins with an dual aromatic bath, a perfect way to unwind. It is followed by honey-mango mini-body exfoliations and side-by-side Pohaku (hot stone) massage, for a two-hour experience. This is one of more than a dozen of the spa's authentic Hawaiian treatments infused with indigenous ingredients, some of which are hand-picked from the on-site gardens.
Prelude to a treatment
Spa Grande combines ancient Eastern philosophy with Hawaiian, offering maximum healing benefits. A complete hydrotherapy circuit, or Termé Wailea, is offered in both the men's and women's spa and is an ideal way to relax before a spa treatment whether with a significant other or solo. The circuit includes a Roman tub, saunas, cascading waterfalls, Swiss jet showers, a Japanese furo, and five specialty baths including mud, limu (seaweed), aromatherapy, papaya enzyme, and Hawaiian mineral salt. A full hour is recommended and the hydrotherapy circuit is complimentary with a spa treatment or available for purchase a la carte.
A Wonder of West Maui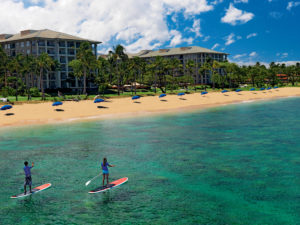 The Westin Ka'anapali Ocean Resort Villas, another SpaFinder Readers' Choice favorite (a 2010 winner for "Top 10 Favorite New Getaway Spas"), is on the North Ka'anapali Beach in beautiful West Maui.  Spacious rooms and villas at this oceanfront condominium resort are simple and contemporary in decor and showcase either scenic mountain views or the unspoiled shorelines of the Pacific.
Romance will be revved up with a spa day at Spa Helani (translated as "heavenly" in Hawaiian, in unison with Westin's "Heavenly Spa" brand). The unique, circular reception area creates an immediate sense of transport into a different, relaxed setting. Many of the body treatments utilize Ola products, a delicious and sweet-smelling, native line produced on the Big Island. For those spending the day at the spa, refreshing spa cuisine including a fresh tropical fruit and yogurt plate, veggie crudités with sweet Maui onion dip, and coconut sorbet is now available. Heavenly, indeed.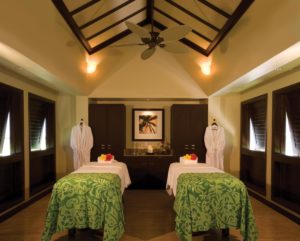 Up, up and away
Romantics who reserve the distinctive, cabana-style "treehouse" suite can indulge in the signature couple's massage, where open windows allow island breezes to blow through while the sounds of swinging bamboo and chirping birds create an unrivaled sense of place without pretense. The Ka'anapali Couple's Ritual Massage features a Polynesian-style technique using pure, virgin coconut oil for the massage, followed by a smooth and creamy coconut crème/frangipani milk bath. I savored my Pacific sea-salt bath soak that followed the side-by-side massage treatment.
Though luxurious relaxation reigns supreme, there are endless resort activities to accommodate all types of couples. In addition to sailing adventures, movie nights, and white tiger yoga on the lawn, there is also poolside barbeque grilling for private picnics, hula, ukulele and lei-making lessons, snuba, water aerobics, a 24-hour fitness center (praised by long-distance travelers), as well as a meditation garden facing the gym. A lazy river pool, serene lagoons, waterfalls, and four whirlpools can be enjoyed, and a paved beach walk connects the hotel to some of the area's best snorkeling spots and open-air restaurants.
The savory side
There are three open-air dining experiences to choose from, or guests can opt to dine cozily at 'home,' since rooms are equipped with full kitchens, affording honeymooners much-deserved privacy. As an impressive convenience, for about $50, the Westin can arrange for groceries to be stocked upon arrival. The Pulehu restaurant, serving grilled Italian fare, is sprinkled with tiki torches throughout and overlooks a koi pond, making it idyllic for a romantic evening to watch the sun go down.
The island of Maui is said to have the power to heal mind, body, and spirit, and has been called the heart chakra of the Hawaiian Islands, a place that opens the heart and calms the mind. Stunningly beautiful and good for the spirit — the island serves as a fitting and flawless backdrop in which to celebrate love.
Read Part II of Romance & Spa in Maui, where we'll visit Kapalua Villas and Honua Kai Resort and Spa
IF YOU GO…
Goofy Foot Surf School – Even the clumsiest (including myself!) will get up on the surfboard. Everybody's learning how. Gentle waves and patient instructors make it possible. A professional photographer is available to capture it all.
Coconuts Fish Cafe – For my first-ever fish taco, I knew I would likely probably never taste another as celestial. These legendary tacos include 17 ingredients!
Lahaina Town – This historic whaling village is just minutes from the Westin Ka'anapali and is a mecca for trinkets (leis, ukuleles, Aloha shirts – you name it). It's also home to lively eateries, worthwhile art galleries, and is a gateway to find providers of excursions like zip lining, helicopter tours, and more.  The Feast at Lele is a festive, oceanside luau experience that features Polynesian dancing and dining with a stunning sunset view.  Another not-to-miss treat in town is the intimate Ulalena show; this moving journey unlocks much of Maui's mysticism, and the performers' talent blew me away.
Most recent from Relationships