Sanctuary Camelback Mountain — The Meaning of Relaxation
Published: Wednesday, December 21st 2022
by Spafinder
---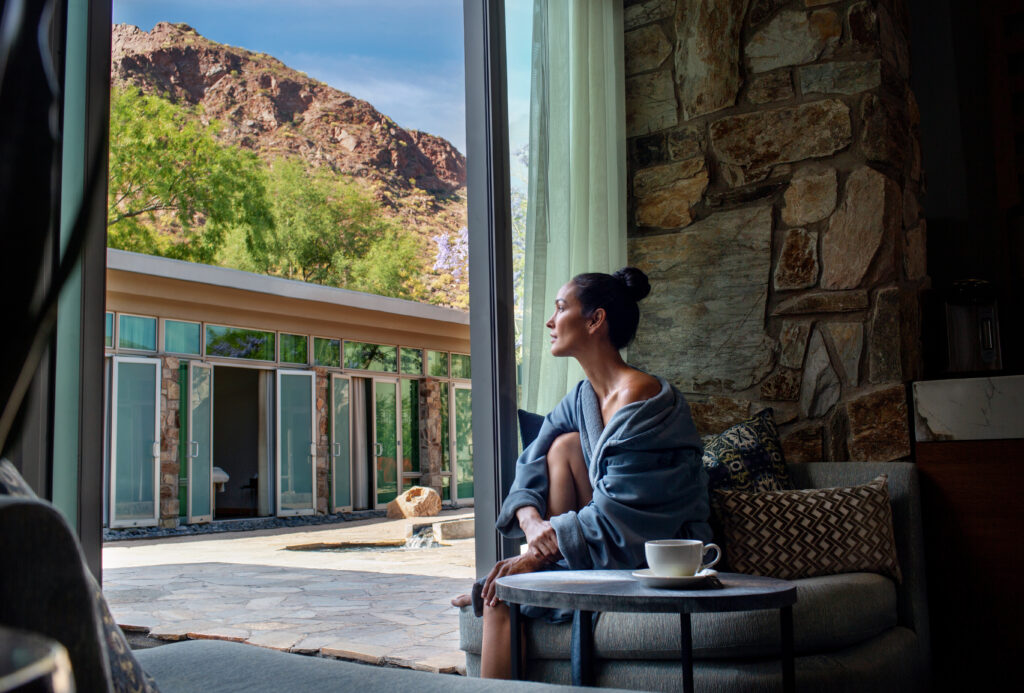 Peace. Relaxation. Haven. Holistic retreat. A world away. These words are just a few that describe this extraordinary boutique spa resort located on the north slope of Camelback Mountain near Scottsdale. Arizona. The stunning Sanctuary Camelback resort features a soothing mix of natural desert and Asian elements, exceptional service, celebrated dining and an award-winning spa and wellness services. (Think championship-quality tennis, rock climbing, biking, fitness classes and luxurious spa treatments.)
Sanctuary Camelback—a serene escape for celebrities and a respite for couples, girlfriends and singles looking to reconnect with themselves and the natural world.
The Air You Breath
The first thing many guests at Sanctuary Camelback notice is the crisp, clean air, which instantly says, "Relax. You are surrounded by wellness." Located in the natural beauty of Camelback Mountain. Sanctuary is set upon 53 acres of lush desert and boasts manicured grounds, gardens and pools. Plus, the casitas, suites and private mountainside villas are designed to take full advantage of the sweeping views. When you are enjoying a soothing massage in the indoor-outdoor treatment rooms at the resort's Sanctuary Spa and your therapist says " just breathe"… it's easy to do so. After all, Sanctuary Camelback is all about the air that surrounds you.
Food Is (Delicious) Medicine
The time-tested saying reminds us food is medicine. But it doesn't have to taste like something you're being forced to consume! Sanctuary Camelback's culinary team, led by Executive Chef Landon Post and Chef de Cuisine Samantha Sanz, offers creative (and delicious) seasonal menus featuring fresh, local ingredients from a network of artisans and organic farmers. The team's specialties live up to Sanctuary's dramatic setting. And the creative menu includes vegetarian and gluten-free options, sustainable seafood and hormone-free meats. Guests are served in a sleek, stylish space that celebrates the beauty of the surroundings.
Fitness Your Way
We know fitness is an essential part of a healthy life. However, it's equally important to find the type of fitness activities you truly enjoy and will continue to do. At Sanctuary Camelback you'll have access to your favorite classes and activities — and you'll be tempted to try something new. Programs include: aerobics, biking, hiking, swimming, rock climbing, golf, horseback riding, tennis, spinning, Pilates, yoga, and personal training. The list goes on…and on!
It's All About the Spa
Sanctuary Camelback is known for its award-winning spa that offers a diverse selection of treatments that will add balance, relaxation and tranquility to your hectic life.  The Asian-inspired spa features indoor / outdoor treatment rooms and a variety of signature treatments including massage, facials, body scrubs, wraps and energy work.. In addition to spectacular treatments, guests can also enjoy the sauna, steam room, pools and fitness activities as well as access to the full-service hair and nail salon.