Southwest Soothing: 6 Santa Fe Spas
Published: Monday, June 18th 2012
---
The city of Santa Fe captures the splendor of the Southwest − a hub of cultures, history, spirituality and the county's Holy Grail of Art at an elevation of 7,000 feet (higher than Denver!). With a population of only 70,000, the capital city of New Mexico, the Land of Enchantment, is the oldest in the U.S., blending Native American, Southwestern and Spanish influences over 400 years. Today Santa Fe is a thriving destination for inspired art, culinary charms and dynamic spas creating a colorful experience for locals and more than one million visitors each year. Our senior editor surveys the spa scene in this stunning place of rich energy, healing and relaxation − a picture perfect setting for a rejuvenating getaway.
Image courtesy: Inn and Spa at Loretto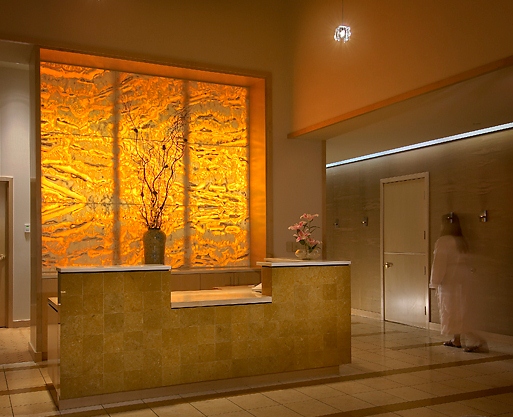 Eldorado Hotel & Spa
Eldorado is in a fantastic location to get centered in the center of it all. It's situated just steps from Santa Fe's historic plaza, performing arts theater, restaurants, galleries and shopping of downtown, and is full of life, artists and musicians young and old. The hotel is named for the "City of Gold" and the gold and copper entry of its lobby-level Nidah Spa honor its namesake. Spa Director Susan Keene, a 30-year spa veteran, hails from Emerson Resort in Upstate New York, and has fused her expertise with a menu of treatments that reflect the Southwestern heritage and classify within the Native American medicine wheel and its sacred directions.
d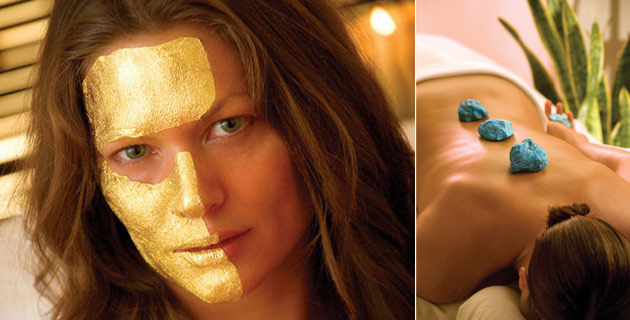 Nidah Spa at Eldorado
Treatments draw on the healing properties of stone, plants and herbs, native to the area for centuries. I experienced the Chili and Honey Wrap (50 min/$135), which was both hydrating and stimulating. The chili originated in Chimayo, and the New Mexican honey (an excellent moisturizer—especially in the desert) and avocado oil creates a natural emollient. Other menu highlights include the En-Wraptured Turquoise Gemstone Body Wrap (80 min/$175), and the Signature "Spun Gold" Massage (80 min/$175), culminating with a 24-karat gold dust body lotion. For those seeking a spa escape, the four hour Nidah Getaway package ($350) brilliantly blends the best of the spa: Spun Gold Massage, Desert Spa manicure, Juniper Berry pedicure and a blow-dry in the salon.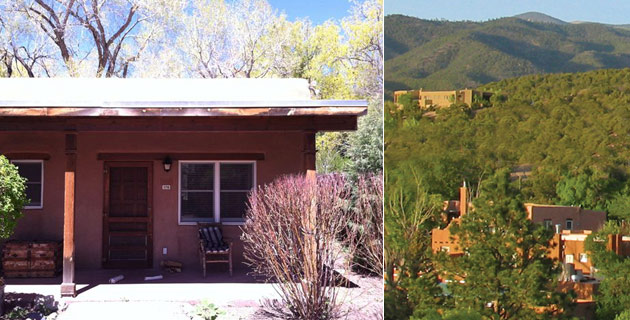 Bishop's Lodge Ranch Resort and Hotel Spa
This sprawling spa resort, just 10 minutes outside of downtown, edges Santa Fe National Park, with a rugged, green Southwestern terrain and a colorful history. Bishop's Lodge is named for the Bishop Jean-Baptiste Lamy, sent by the French in the 1800s to quell the fighting among Indians, Hispanics and Anglo-Americans. The famed Pulitzer family also once owned the majestic property that today draws everything from families to weddings to corporate retreats. Weddings can be held at the preserved chapel (the Bishop's former residence), and bridal parties often rent out the spa before the nuptials. Bishop's Lodge is also a favorite clandestine escape, recently visited by actors Vince Vaughn and William Shatner, and where Jeff Bridges filmed the indie darling Crazy Heart. As the largest resort in Santa Fe by footprint, outdoor activities are plentiful: hiking, horseback riding and mountain biking along dozens of on-site trails, as well as swimming, tennis, skeet shooting, badminton, croquet and a self-mastery/team-building equine program.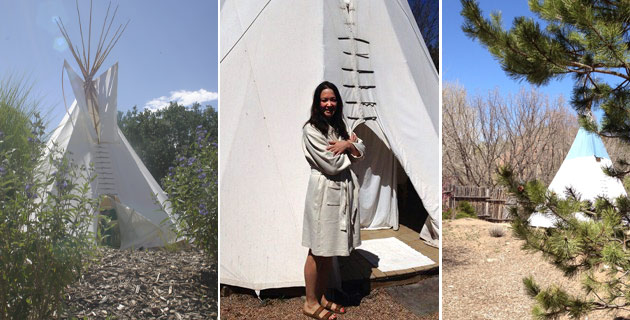 SháNah Spa at Bishop's Lodge
My activity pick, naturally, was spa, and the award-winning sanctuary known as ShaNah Spa and Wellness Center did not disappoint. The seven-room desert-inspired spa features an outdoor watsu pool and massage gardens. I experienced a reinvigorating and re-centering Desert Fusion Massage inside an authentic Native American teepee (50 min/$150) at the hands of Daniel, one of the most passionate therapists I've ever met. Based on our discussion inside the teepee, he created a custom blend of essential oils for my massage that would follow a dry brushing that helped increase my circulation and the effectiveness of the oils. All basic treatments offered are 50 minutes in length and individualized to meet guests' needs in an environment that promotes healing energy. A more Santa Fe-style spa experience could not be rivaled, than with this restorative − both physically and spiritually − treatment, in such a tranquil setting.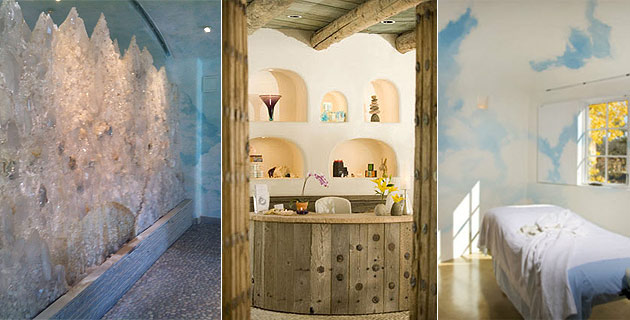 Spa at Hotel Santa Fe
The Spa at the Hotel Santa Fe, its own Land of Enchantment upon entry, with its a majestic wall of crystal said to offer a natural healing energy, welcomes spa guests to the downtown hotel's three-year-old, seven room spa. A happy day on Earth seems to penetrate the space, through both art and design elements. Throughout the spa, murals of the skies add to the bright and cheerful ambience. Fittingly, the White Sage spa ritual treatment (120 min/$220) was simply a slice of spa heaven with an outstanding therapist, combining a delightful, light body brushing and massage with the clearing scent of native sage to wash away muscular tension. The luxurious treatment ended with a detoxifying herbal wrap as I was enveloped in warm aromatic linens. Locker rooms are intimate in size with a modern Southwest feel, with their rock stone floors and simple but all-you-need locker amenities. Treatments range from 30 to 150 minutes and include everything from Ayurveda to Epicuren facials to the native-inspired Moccasin Dance, a reflexology foot massage for the weary traveler.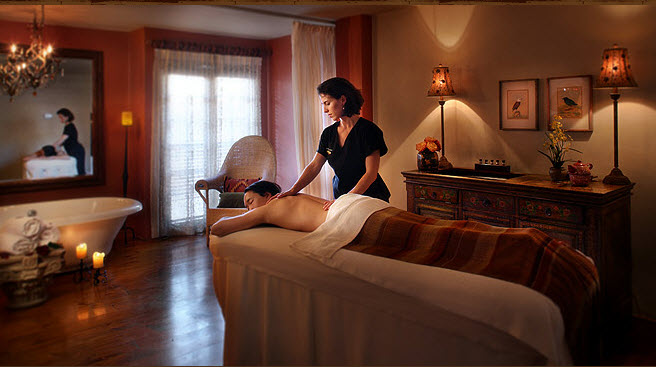 Inn and Spa at Loretto
At the end of the Santa Fe Trail, this 134-room hotel was the site of a girls' school run by the Sisters of Loretto from the 1850s, adjacent to the historic Loretto Chapel (now a museum and popular wedding spot). Today the lively Inn, designed in an ancient adobe style, offers everything from a 24-hour gym to a shopping arcade that includes jewelry, galleries and boutiques to an Artist in Residence Program (local potters, jewelers and painters do demos) and live music in the lobby Living Room on weekends. Southwest-inspired guest rooms and the largely locally sourced restaurant Luminaria are standouts. The Spa at the Inn has a homey but elegant decor with antique trimmings like beaded sconces, hand-carved bureaus and fireplaces in the treatment rooms. While there are no locker rooms, these softly lit individual treatment rooms offer modest, full bathrooms. I experienced the wonderful Signature Organic Facial (80 min/$185) designed to release tension and rebalance, and included a relaxing craniosacral, arm, hand and foot massage.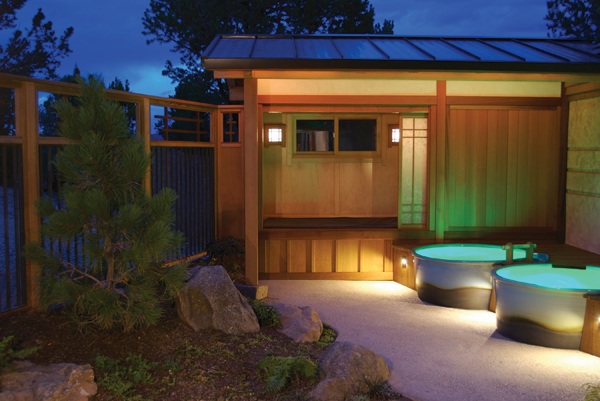 Ten Thousand Waves
This dynamic local favorite, especially for couples and girlfriend getaways, is known for its Japanese-inspired hot springs baths and is the closest resort to the Santa Fe Ski area. "The Waves" began as a small bathhouse more than 30 years ago, before the explosion of spa. The constant has been an emphasis on the beneficial effects of hot water in the Japanese tradition. An uphill, lantern-rimmed path amidst tall pine trees leads guests to the scene of tranquility. The gardens, koi pond, spare locker rooms and overall Zen-like minimalistic design create a transportive atmosphere. Guests are found in thin, white kimonos meandering through the relaxation areas and communal baths ($23.45 per person/unlimited time, open most nights until 10:30 p.m. Not for the modest as baths are clothing optional, except after 8:15 p.m.). Private outdoor baths are also available for up to 115 minutes, depending on the bath selected and group size. A variety of spa treatments are offered, including the Masters Massage (80 min/$175) inside a cozy private bungalow, performed by a therapist with an average 20 years of professional experience, often employing unique non-traditional techniques.

Image: Copyright Deborah Fleig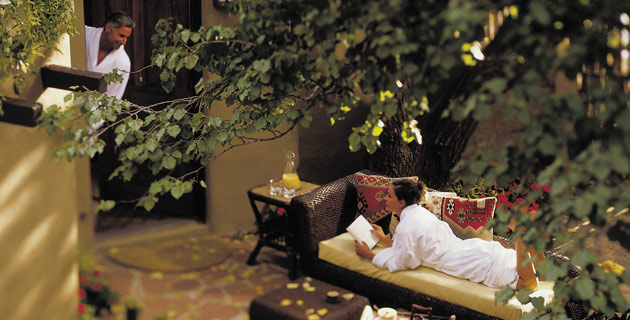 La Posada de Santa Fe Resort & Spa
In the heart of Santa Fe lies the intimate and luxurious La Posada, on six landscaped acres. Sunday morning yoga classes (or private yoga lessons) are held on the lawn, and wine and cheese tastings are offered frequently. This particularly romantic destination offers premier, contemporary dining with its Fuego and Staab House restaurants. And, the modern, elegant spa offers a bright and comfortable relaxation room (where I lingered at great length), a steam room and an array of native-inspired treatments. The delectable Santa Fe Chocolate Chile Wrap (150 min/$139) body treatment hydrates with antioxidants and marine algae. To make a spa day of it, couples, groups and solos can enjoy healthy sandwiches, salads and refreshments al fresco at the Spa and Salon Poolside Grill and Patio.