Say I Do to Fun at This Orlando Resort
Published: Monday, August 30th 2021
by Spafinder
---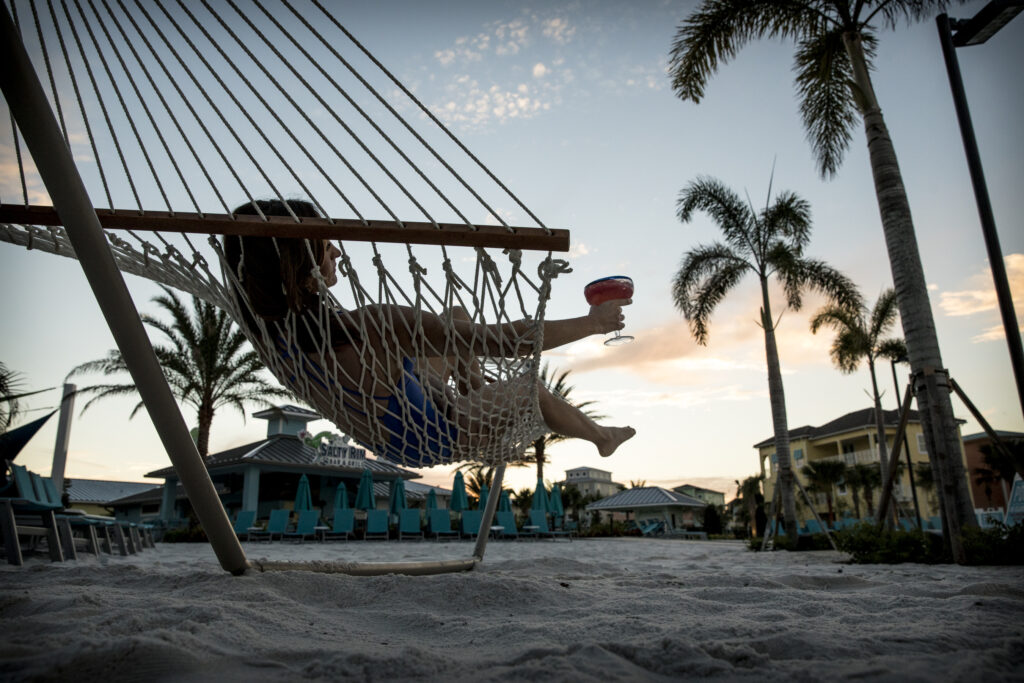 "It's always happy hour somewhere at Margaritaville Resort Orlando." It's a line the award-winning Margaritaville uses (and one that we love)—and this award-winning property proves to be the perfect blend of fun and relaxation. And it is the perfect destination for a fun-inspired wedding, bridal party, bachelorette getaway or honeymoon. With a tropical-inspired vibe and the luxe St Somewhere Spa, it seems to always be "island time" at this Orlando paradise, which boasts a prime location not far from Central Florida's main attractions.
Grownup-Style Fun
Planning a destination wedding or bachelorette getaway? Vacation mode on. Enjoy a welcome cocktail upon arrival as Margaritaville Resort Orlando lives up to its easygoing vibe. Yet the laidback feel mingles with luxe amenities that will excite any bridal party and your guests.
Declare your love for St Somewhere Spa (it's not difficult in the slightest!). This whimsically named resort spa casts immediate "I'm on vacation" vibes, with a lagoon-style pool and tropical-inspired spa treatments. Might we suggest the body bar for sumptuous treatments? Tap into "The Tiki Bar Is Open," a fresh scrub concocted with one of four delicious flavors: mint melon; coconut mint; fresh pear; and raspberry mint. We can't think of a better treat for your bridal party!
Feeling a bit jet-lagged from travel or lethargic from a late night out? Recharge in the Vitamin Lounge, where you'll be administered intravenous hydration drips, shots and more.
Say yes to sumptuous guest accommodations. Bask in Floridian rays from your private balcony and marvel at impressive property views from floor-to-ceiling windows.
Pledge to try all of the on-site dining establishments: every. single. one. Euphoria Fish House and Salty Rim Bar & Grill both offer live music yet distinct ambiences. The former presents seafood fare in an upscale atmosphere, the show kitchen is a dynamic design detail! The poolside eatery, a tropical hideaway, serves frosty margaritas. The aptly named On Vacation hotspot, open Friday and Saturday evenings, provides laughs from comedy acts. 
Who said weddings have to be serious! Vow to visit Island H2O Live! water park. Interactive, high-tech touches allow you to customize and post your experience on social media. 
Add on bonus. Head to Sunset Walk for supreme shopping, dining and entertainment at the Promenade.

Family-Style Fun
Child friendly wedding? This tropical-style resort accommodates families flawlessly, featuring a host of activities and services that thrill guests of all ages.  
Declare your love for Island H2O Live!, an immersive, high-tech water park. Neighboring the resort, water lovers will enjoy slides, a lazy river, wave pool, interactive splash zone and a designated children's area.
Say yes to the resort's premium cottage accommodations; these secluded, spacious, standalone homes come fully equipped with kitchens, dining and living spaces and spa-inspired bathrooms. Some even show off their own private pools. 
Take advantage of the resort's close proximity to Orlando's most beloved sightseeing spots; Walt Disney World, Universal Orlando and SeaWorld Orlando. Complimentary shuttle service is available.
Vow to spend the day at the Fins Up Beach Club. Explore our on-site experiences and start planning your days in paradise
Say I do to Margaritaville Resort Orlando. Where it's always time for relaxation, pampering and fun!
Need a gift for a special occasion or just to say Thank You? Spafinder is the answer.