Spa Innovation at Scrub Island
---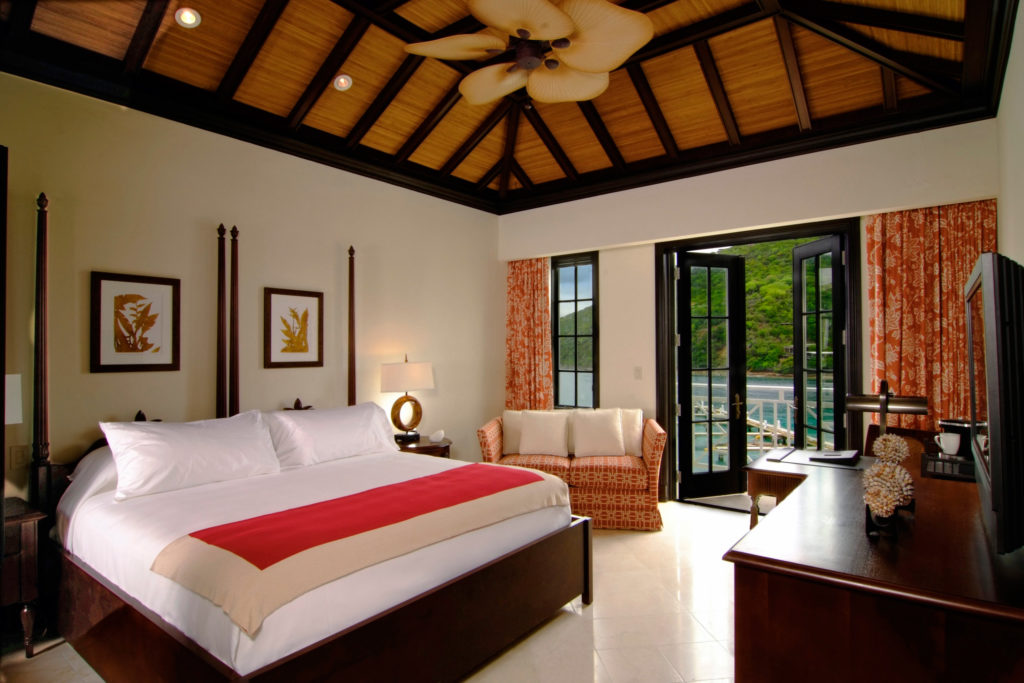 Prepare to be stunned by the postcard vistas of Scrub Island, a remote destination in the British Virgin Islands. Icy blue water laps at soft sand beaches as you gaze across the horizon, where sea meets the green-top mountains that appear to sprout from the ocean floor. Lush tropical foliage forms the frame for the photos you will be snapping between naps in a palm-shaded hammock or private beachside nook.
Generous rooms and villas, filled with warm, rich woods and bold Caribbean colors, encourage lazy mornings on your outdoor terrace. There are three beaches at Scrub Island, each offering something different. North Beach features 1,000 feet of shoreline, beach chairs, private huts, a sparkling pool and one beach bar, which serves food and drinks. North Beach feels incredibly private, and you typically won't see anyone else nearby. If you like the action of kayaks, a water trampoline and paddleboarding, head to Pavilion Beach beside the marina. Honeymoon Beach is accessible via kayak only. Enjoy a private afternoon on this intimate, quiet beach.
Many resorts promise relaxation, but Scrub Island is the zenith of chilled-out bliss. The Ixora Spa, set on a hill that overlooks the clear Caribbean, features a full-service spa menu of treatments, an outdoor Jacuzzi and a relaxation deck. We had the wonderful opportunity to sit down with Ixora's new spa director, Raja Mannar Chinnaraju. Find out what's in store at this lovely oasis.
 What plans do you have for the Scrub Island spa?
We are so excited to introduce Ayurveda to Ixora Spa this fall. Ayurveda is the world's oldest holistic healing system—it brings balance to the mind, body and soul. Our spa will feature an extensive menu of new Ayurvedic treatments, therapies and packages, which will establish our resort as a wellness retreat.
How long have you been at Scrub Island?
I have been with Scrub Island Resort for six months.
What was your previous experience?
I commenced my career as a holistic wellness consultant & yoga specialist at in-patient hospitals, and then extended my knowledge by working for various outpatient clinics, health resorts and in the corporate health, spa and wellness industries. My knowledge of naturopathy, Ayurveda, wellness and yoga brought me to the British Virgin Islands. I had been working with Bitter End Yacht Club and Peter Island Resort & Spa as a wellness consultant and offered my hands-on experience to their clients with techniques such as stress management capsules, holistic yoga, traditional Ayurveda panchakarma and lifestyle coaching, along with the tactile therapies.
Why did you decide to come to Scrub Island when the spa is smaller than at your previous resort position?
 I learned a lot in my previous positions, however, when I came to Scrub Island to interview, I visited Ixora Spa and fell in love with its location, energy and the prospect of elevating its services. As the Spa Manager, I have been given the freedom to introduce innovative ideas and new treatments that will greatly enhance our overall guest experience. Personally, this is a wonderful growth opportunity, and I can't wait to see the positive results from our efforts.
What are you most excited about at Scrub Island?
Interacting with the staff and guests, both of who come from all over the world. Many visit Scrub Island for relaxation and to discover the beauty of the BVI.  Now, we can add a whole new dimension to their travels.
When will the new spa menu begin?
We are planning to launch the new spa menu in November 2016.
Can you give us hints as to what will be on the new spa menu?
We are planning to introduce new signature treatments, Ayurvedic wellness treatments, exotic body scrubs and express spa treatments. As a sneak preview, Abhyanga is the "mother of all massages" and incorporates herbal oils customized to your body type to detoxify, nourish and revitalize.
Tell us about the new scrubs you're introducing.
We will be using locally grown and organic products for our new body scrubs, which will give guests a fresh and tropical touch. The new scrubs will mainly focus on cleansing, rehydrating and re-energizing the skin. Some examples include an Exotic Coconut and Frangipani Body Scrub and a Papaya and Mango Body Scrub.
 If you could choose one spa treatment to book at Ixora Spa, what would it be and why?
 I would book the Thai Massage. A Thai massage is like a passive yoga where you can get a full-body stretch, which helps to balance the energy levels in the body, mind and soul. It will also give you intense relief for muscular fatigue and complete relaxation.
If you could choose to give one famous person a spa treatment, who would it be?
 My father. He's never been to a spa even though I have been in the spa industry for more than 10 years. He is my hero, which makes him a celebrity in my book!
What do you love about the BVI?
The diversity of the islands, the warmth of its people and the dramatic scenery. Volcanic islands, coral reefs that glitter with colorful fish, deserted beaches and the spectacular crystal water make it a beautiful place to live with your family or to visit. Simply put, it's paradise.
What's your favorite thing that the chef at Scrub Island prepares?
The food at Scrub Island is heavenly. While most may favor the Anegada lobster that's perfectly grilled, I have to confess my favorite is the Jerk Chicken Wrap from Tierra! Tierra!