Spa Spotlight: Caviar Facial at La Prairie Spa at The Ritz
Published: Friday, June 25th 2010
in Beauty
---
In the ever-advancing world of skincare I'm always fascinated by treatments that remain rooted in natural ingredients that you might be able to find in your refrigerator or pantry.   While I don't stockpile caviar in my fridge, when I hear "caviar facial," I immediately imagine hundreds, perhaps thousands of dollars of delicious fish eggs spread across my forehead and cheeks – and who wouldn't be turned on by that?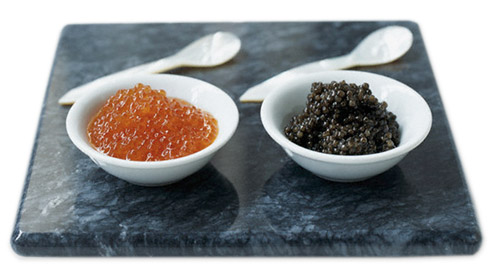 So when it came time to experience my caviar facial, I did just enough research to find the perfect place to try out this luxurious skin treatment, which led me right to the La Prairie Spa at The Ritz Carlton in New York City.  When it comes to luxurious treatments La Prairie is top notch and comes highly recommended for their caviar facial.

Upon arrival on a sweltering Sunday in the city I was able to cool off in the relaxation room.  After unwinding I chatted with my aesthetician and selected the music to be played during my treatment.  Figuring Enya and caviar complement each other perfectly, I climbed into the nicely tempered sheets on the treatment table and settled in for my delectable treatment.  I immediately felt foolish for assuming that my technician Lisa would be smearing fish eggs on my face as she discussed La Prairie's fabulous skin care line with me and enlightened me to the rejuvenating properties of caviar.

I requested that Lisa tell me everything she knew about the caviar-infused La Prairie product line.   While she was incredibly knowledgeable about the proteins and amino acids that were plumping my under-eyes as she spoke, ultimately it's difficult to pay attention to anything while you're tremendously relaxed.  I did learn that caviar has a cell structure similar to that of human skin cells and collagen and that fish eggs are packed full of vitamins A, D, B1, B2 and B6, which benefits the skin's resilience, stimulates the production of collagen, and provides hydration.

The most readily noticeable result of my facial definitely came from the caviar eye lift, which left me looking fresh as a daisy and fully recovered from a busy week followed by a couple of late weekend nights.  It's no wonder this treatment is a pre-event favorite for celebrities.

Am I disappointed that I wasn't covered in sturgeon roe?  Not in the least!  The treatment was delicious without it!