Villagio Inn & Spa: A Mom & Me Weekend in Napa
Published: Friday, February 11th 2011
---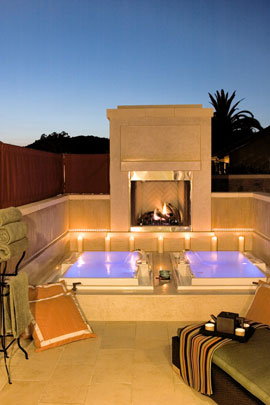 The Consummate Mother−Daughter Spa Weekend in Napa
If you're lucky enough to actually enjoy spending time with either parent, I can't say enough about how special it is to take a spa weekend together, especially at such a one-of-a-kind place like the Villagio Inn and Spa.  My mom and I recently enjoyed a long weekend at this luxurious retreat in Napa, California.  Northern California remains my favorite region of the U.S., and wine country − particularly Napa Valley − is a perfect setting to slow down and experience the flavors of fine wine, exceptional cuisine, and rejuvenating spa treatments.
The Villagio is barely an hour's drive from San Francisco and plays host to many Bay Area locals and visitors alike (as well as an ever-growing number of repeat guests) seeking a romantic weekend getaway, a girlfriends' escape, a bachelorette party, or an easy day retreat.
The centrally located, Tuscan-inspired estate makes it easy to park your car and escape on foot.  Villagio means "village" in Italian, and the 23 acre-property (including the French-inspired Vintage Inn, its sister property) lies in the heart of Yountville, a town of 3,000.   Yountville is about one mile long and impressively boasts the most per capita Michelin-star rated restaurants than anywhere in the world – restaurants Bouchon, Hurley's and Bistro Jeanty are a foodie's dream and merely steps away.  The world-famous French Laundry restaurant, celebrated for gastronomic delights by Chef Thomas Keller, is but a short stroll.
Each of the Villagio's 112 rooms and 26 suites is pleasingly appointed with a wood-burning fireplace, private patio, espresso maker, and personal in-room wine cellar with limited-release boutique selections from the Napa Valley, as well as sumptuous Molton Brown bath products around a sunken bathtub.  My mom and I were delighted by many of the extra touches − a bottle of Sauvignon Blanc and chocolate truffles upon arrival, daily afternoon tea, complimentary daily spa access (no bathhouse fee!), and the Villagio's signature free champagne breakfast buffet – omelets made to order, California dates, local cheeses, pastries, mimosas, and more – which left me eager for each tomorrow.
Soothing fountains and gardens are found throughout the property and stucco buildings with Spanish-style red terra cotta clay roofs suggest a Mediterranean feel.  The neatly groomed and ultra-landscaped property is peppered with olive, douglas fir, cypress, and mire lemon trees.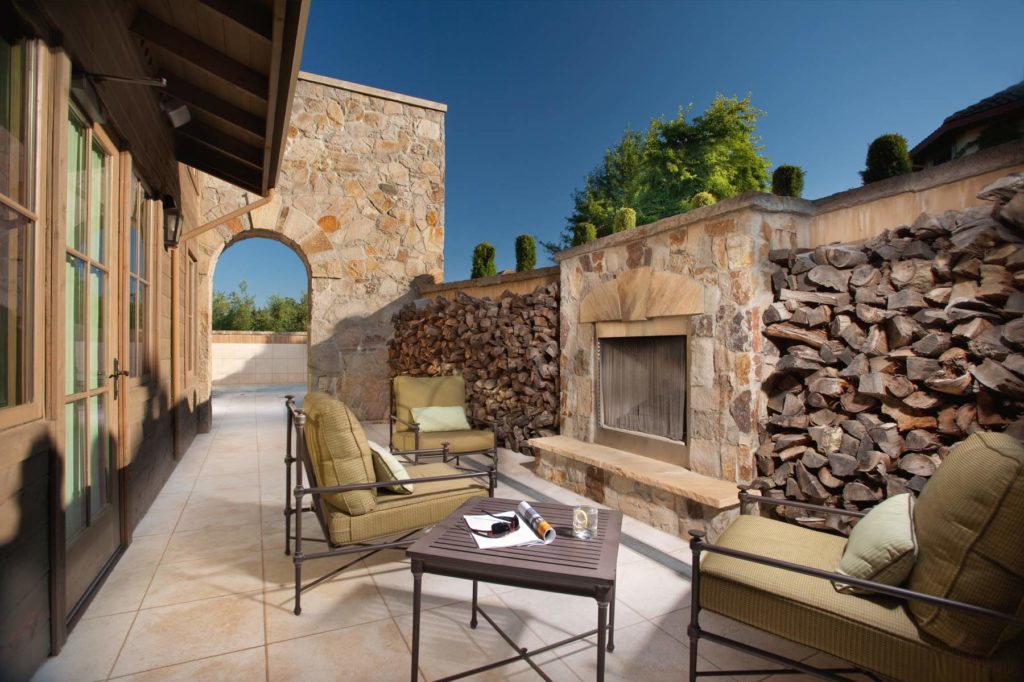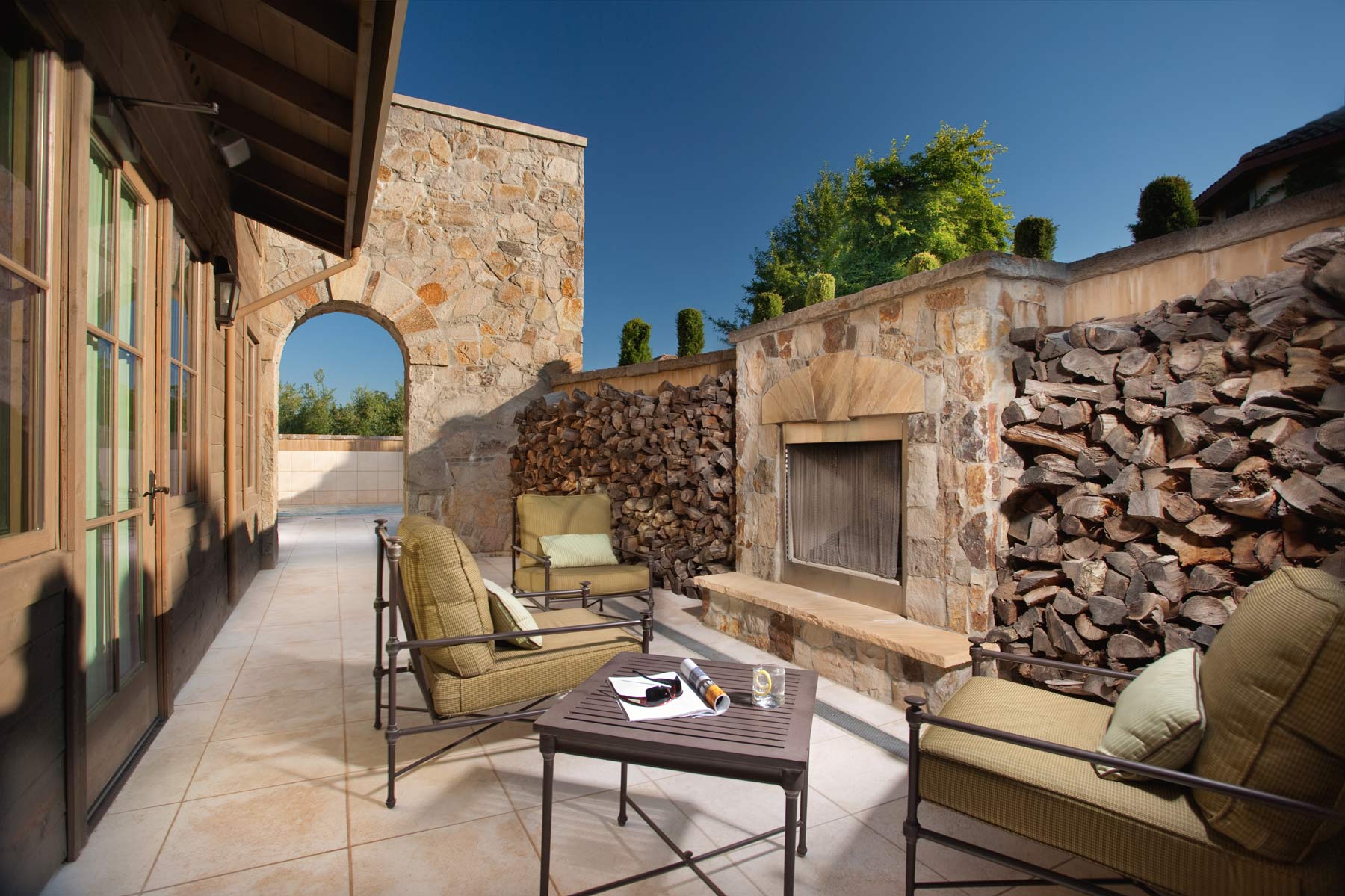 Nothing could top the spa day with my mom at Spa Villagio.  When we arrived at the 13,000-square-foot spa, a friendly concierge greeted us in the reception atrium (like a large but cozy cabin living room crafted in rich woods), and offered us a delicious cranberry ginger hibiscus drink.  (I got hooked on this stuff!  And with complimentary spa access for all guests, all the time, I often stopped in for a tall glass.)
A cheery locker room attendant guided us through the array of amenities in the women's locker room, which included a lemongrass-scented steam room (a humectant that is very binding, she explained), a dry sauna, and Swiss experience showers, as well as an outdoor thermal soaking tub.  In the cozy relaxation lounge was a lit fireplace, soft spa music playing, and tailored sofas.  After a dip in the outdoor whirlpool to conclude my spa day, I returned here to find my mom in a sound snooze.
But, I'll start back at the beginning.  Our mother-daughter spa day was filled with indulgences and bonding that began at the scrub bar, which Villagio Spa had launched just weeks earlier.  The Vichy room, adjacent to the locker room, was where we formulated our own custom scrubs later used in the body treatments that preceded our massages.
First, we selected our own desired exfoliant from French sea salts, Himalayan salts, and Dead Sea salts, or organic sugar, oats, or ground coffee; next, we picked a moisture base of wild honey, grape-seed oil or olive oil; followed by a customized scent of Neroli, lavender, sandalwood, rose, lemon eucalyptus, peppermint, or jasmine.  Lastly, we chose one enhancement ingredient from an offering of peppermint leaf, green tea, spearmint leaf, and lavender flower.  Each ingredient is displayed in apothecary jars on shelves until the therapist takes each one down and custom blends the ingredients.
After enjoying our own body scrub experiences followed by massages, mom and I reconnected in a spa suite, to enjoy a dual aromatic bath, outdoors. The five spa suites are elegantly appointed with fireplaces, indoor and outdoor oversized sunken infinity tubs, steam showers, wet bars, day beds, and flat-screen televisions with Bose sound systems.   Next we enjoyed a delicious spa lunch (turkey wrap, chocolate mousse, and a bottle of wine) at our leisure on a private patio – it was 3.5 hours of absolute spa paradise.  As I was told by the staff, Spa Villagio is "not the 'deprivation spa.'"  No, I'd call it a pleasure mecca.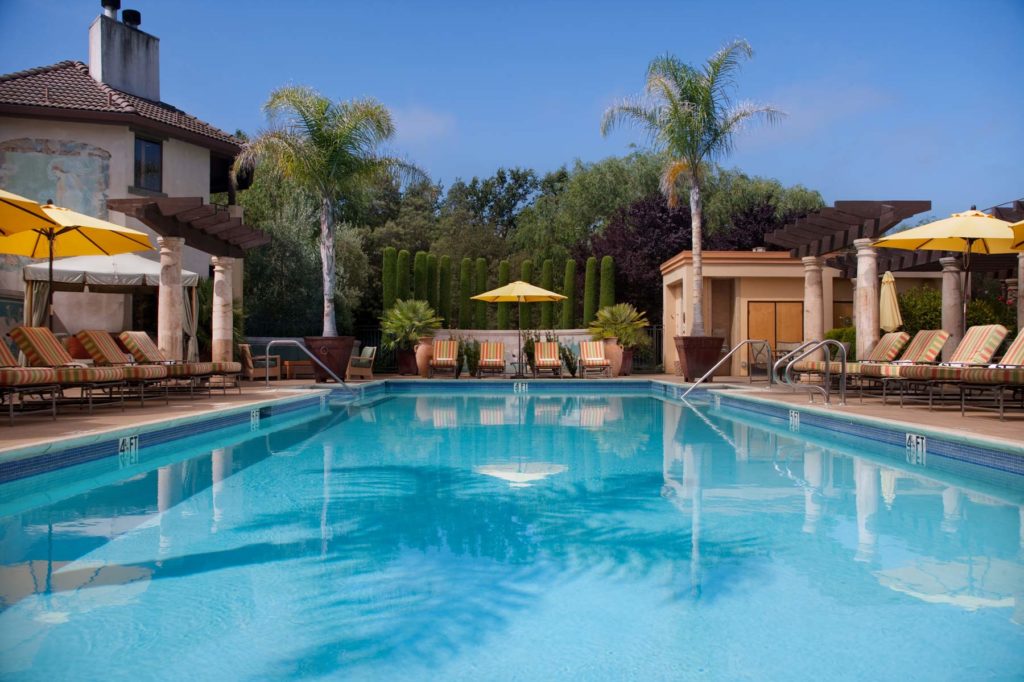 Unique spa treatments range from Monticelli Mud (imported from Italy and great for eliminating toxins) to the Absolute Pearl Facial (luxurious and oxygenating) to the Aromasoul Mediterranean Ritual (a restorative 100-minute massage great for jet lag), but classic manicures, pedicures and more are available at the Studio Salon, which features copper pedicure bowls and zero-gravity chairs that take all pressure off the spine. Wine, champagne, and espresso are available to sip.
Those not spending the day spa-ing can enjoy tennis and bocce ball courts, outdoor pool, or Yountville Pilates (classes are complimentary for guests), as well as the V Marketplace (housed within the 140 year-old historic Groezinger Winery, one of the largest in its day.), which features art galleries, gourmet foods, specialty gifts, clothing and home décor boutiques, as well as sommelier tastings available at the V Wine Cellar.
Learn more about Villagio Inn and Spa on SpaFinder.com
Most recent from Relationships