From the Sparchives: Sumerian Baths
Published: Thursday, September 13th 2012
by Amy Sung
---
Welcome to our second edition of From the Sparchives! Read on for some fascinating facts about this photo from Rancho La Puerta in Baja California!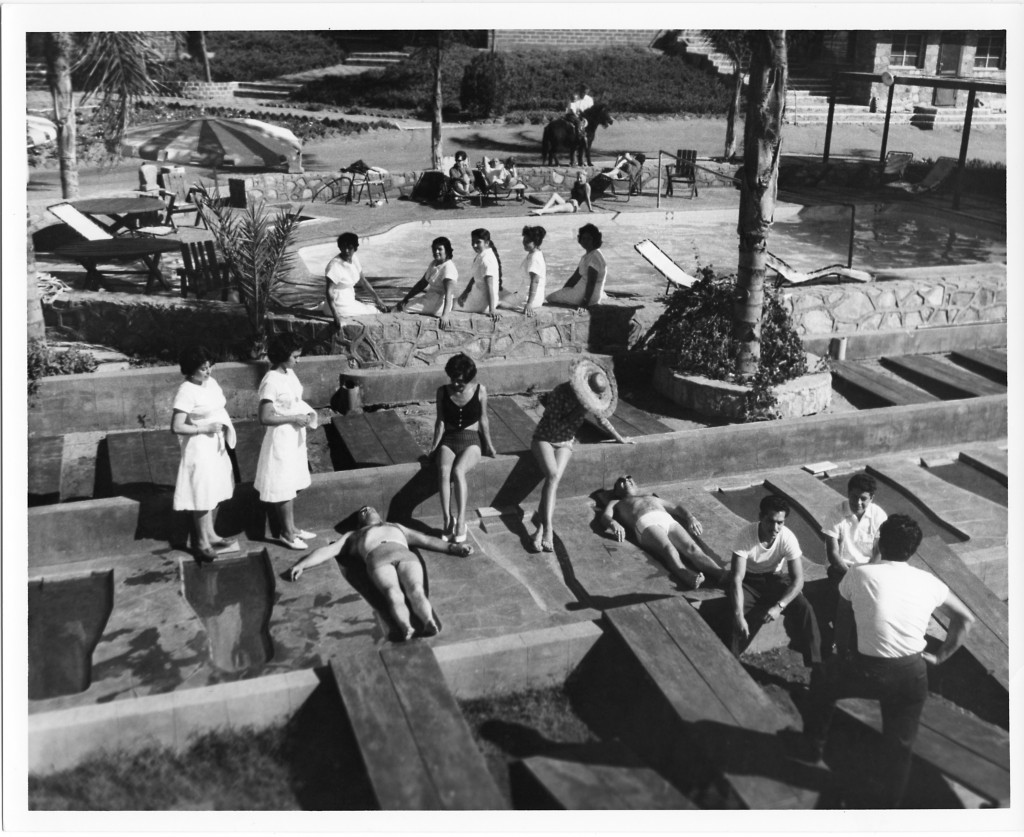 Taken in the early 1950s, this publicity shot for Rancho La Puerta was definitely posed to allow the photographer to show as much as possible at once – it is true, though, that there's always a lot going on at the Ranch.
In the foreground, several white-shirted fitness attendants are lounging in the slant board area where guests could do inclined sit-ups. Adjacent, a man and woman lie in shallow concrete depressions, which, when half-filled with water, served as the Ranch's "Sumerian baths," so-named by founder Edmond Szekely, who studied Middle Eastern archeology and customs extensively. Guests could lie in an inch or two of sun-warmed water for their daily dose of Vitamin D – but the rule was no more than 20 minutes (10 minutes per side!). Despite the ministrations of attendants, and towels for headrests, these Spartan concrete "beds" proved too uncomfortable and the practice died out, despite its other reputed benefits of a sped up metabolism and heart rate.
Further back, we see several spa attendants sitting on the wall (strictly for the shot), and in the background, the Ranch's main swimming pool at the time. Today there are four, two of which are large exercise pools.
And just for a little added interest, a pony ride! While it is true that the Ranch at one time offered horseback riding, it has been many years since this was part of the program.
Read more about this historic retreat (and one of our 25 Pioneer Spas):
A Golden Birthday: Spa Pioneer Deborah Szekely Turns 90
The Pioneer Spas: Rancho La Puerta