Spas in Wine Country: 3 Sonoma Spas to Savor
Published: Wednesday, June 8th 2011
---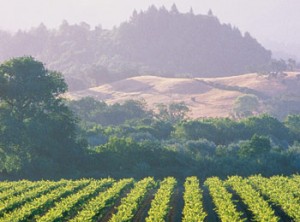 California wine country beckons not only wine buffs, but also those in search of an easy, rejuvenating weekend getaway. Sonoma Valley, in particular, is less than an hour north of San Francisco and captures all the key ingredients for supreme relaxation. Fine wines? Check. Gourmet cuisine? Check. Gorgeous scenery? Check.  Outstanding spas? Check, plus! Spa lovers have found innovative, traditional and vinotherapy-inspired treatments in Sonoma.  Get a taste of the region through three savory Sonoma spas: Fairmont Sonoma Mission Inn, MacArthur Place and the Lodge at Sonoma, all SpaFinder partners.
Wine Country Charm: MacArthur Place
MacArthur Place is a 35-room historic country inn a short walk from the Sonoma Plaza with several dozen restaurants and shops.  A manor house full of history, a barn, a library, a restaurant, six new cottages and a very special Garden Spa comprise the property.  Offerings at the garden-set spa include over 30 types of massage, facials and body treatments, which utilize elements from the garden, only steps away, to embody the farm to massage table movement.
At the spa, for treatments like the Garden Spa Body Polish, guests can select a natural emollient of Sonoma olive oil, rose petal, eucalyptus, lavender, pomegranate, citrus or grapeseed.  The signature treatment called Rose Garden is 100 minutes in length and includes a rose petal bath, rose petal body polish and a rose essential oil massage, and is sure to leave a guest smelling sweet.  The spa is open to hotel guests as well as day spa visitors, affording them use of the hotel pool and fitness center and of course the co-ed steam room.
Healing through Waters: Fairmont Sonoma Mission Inn & Spa
For hundreds of years, Native Americans bathed in the thermal mineral waters that are located on the site of the present-day Fairmont Sonoma Mission Inn.  When a bathhouse was built there in the l840s, the springs became a destination for San Franciscans, and in the l920s, an elegant, Spanish mission-style inn was constructed to accommodate them. Today visitors flock here not only for the healing waters but also for the luxurious amenities and conscientious services that are a hallmark of the Fairmont brand.
The 40,000-square-foot spa is uniquely one of the only luxury spa resorts in the country with its own source of thermal mineral water. Guests at the spa can take part in a self-guided signature bathing ritual in the Fairmont's coed bathhouse.  The bathing ritual features an exfoliating shower, two mineral water soaking pools, herbal steam, dry sauna and cool down showers. In addition, the spa also offers the use of swimming pools, and an outdoor Jacuzzi, as well as an expansive spa menu of massage, facial and body treatments.  The luxurious Fango mudbath and a pressure-point massage performed on a flotation table are some of the signature treatment highlights.  Most treatments incorporate local products or draw on local traditions, creating an authentic Sonoma experience.  It is suggested that spa guests allow at least 60 minutes before any treatment to enjoy the thermal mineral Bathing Ritual.
Fairmont describes The Bathing Ritual Experience in detail:
Exfoliating Shower – Use the supplied rosemary eucalyptus shower gel to exfoliate and cleanse your skin.
Warm Bath (Tepidarium) – Ease into the 96- to 98- degree warm mineral bath.
Hot Bath (Caldarium) – Relax in the 102-degree hot mineral bath with jets.
Re-hydrating Drink – Enjoy a tall glass of water, which is vital for re-hydration.
Cool Shower – Cool your body with a brief shower.
Herbal Steam – Rest in the herbal steam room.
Sauna – Enjoy a few moments in the dry heat of the sauna.
Re-hydrating Drink – Enjoy a tall glass of water, which is vital for re-hydration.
Cool Shower – Cool your body with a brief shower.
Rest – Recline in the serenity of the relaxation lounge as your body renews and restores.
Sophisticated Elegance: The Lodge at Sonoma Renaissance Resort & Spa
The Lodge at Sonoma Renaissance Resort & Spa combines the charm of wine country with modern sophistication.  Plus, it is within minutes of award-winning wineries and creates an intimate ambience, catering to couples and romantics.  The Lodge has over 80 guest rooms in its main building and 102 private guest cottages, situated near the pool area in a village-like setting. Room furnishings like deep soaking tubs and cozy fireplaces along with private balconies or patios overlook picturesque Sonoma views.
The resort's Raindance Spa features a wide selection of therapeutic treatments, as well as a spa suite with a hydrotherapy tub, fireplace and Swiss shower. The spa garden oasis is one of the resort's defining traits, and according to the spa director, is one of the biggest draws.  The garden is highlighted by soaking pools, hot tubs and cabanas. Day spa guests are able to lounge and snack in the spa garden if they wish.
Treatments range from standard offerings to sumptuous vinotherapy body treatments like the Grape See Rosehip Mud Wrap and the Grape Escape, a polish/mud/steam/shower/massage combo.  More recently, the spa has begun offering healing energy treatments, including Chakra Balancing, the Gemstone Journey and even an Astrology Reading.
Sonoma caters to those seeking tranquility and beauty of this environment, which is echoed throughout these exceptional getaway spas.
Related: