A Unique State of Consciousness: The Taiz Sensorium
Published: Thursday, February 16th 2012
in Mindset
---
Guests of Miraval Resort & Spa are feeling the good vibrations.
The Tucson-based spa's Taiz Sensorium treatment has become instantly popular with spa-goers, and for good reason: The therapy, which packs a punch by integrating a rich cascade of vibrational medicine, music therapy, gentle human touch and aromatic oils, releases and relaxes tension to engage all senses. The Taiz was also recently highlighted in the "Vibration, Sound, Music, Light and Color Therapies" trend in SpaFinder's 2012 Spa Trend Report.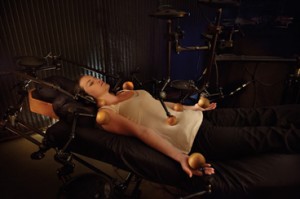 What is the Taiz Sensorium?
If the image (to the left) is any indication that the therapeutic Taiz is unique, you're in for an added treat — it can even lead to sensory overload.
You'll nestle in a heated flaxseed support system as Sensorium creator Kephart Taiz uses aromatherapy oils, gentle human touch (including contact with pressure points), live instrumentation and tactile sound points, from the didgeridoo to gongs.
Layered compositions of music, in snippets of 10-12 minutes, from base rhythms of rock music to natural sounds like jungle rain and waves crashing, unfold, flow and massage into the body.
"You become engrossed in the music, through the sound, the vibrations and feeling it," says Michael Tompkins, general manager of Miraval. "The music itself becomes different — for the first time, you're not just experiencing it through your ears, but your whole body, so it becomes a feeling."
Many spa-goers experience "a lightness of body and clarity of mind that invites pleasant dream-like journeys and non-ordinary states of consciousness often found in meditation and peak experiences," according to Miraval. They've described sensations that "range from 'floating peacefully in the sound and waters of the womb' to 'soaring superman-style to distant galaxies.'"
Tompkins has his own take on the treatment. "What I think happens is that your body relaxes, and because you're using sound and some aromatherapy, when listening and feeling the sound in your body, it's an experience that most people haven't had before," he says. "It brings them back to being in the moment. The external world doesn't matter."
Why the Taiz Sensorium?
High-tech experiences, designed to release people from both stress and self, are aimed at plunging them into "new experiences of space, time and consciousness," the SpaFinder Trend Report says. These include the Taiz Sensorium, which takes spa-goers to a heightened sense of awareness.
"It's a sense people aren't used to so it creates an experience between the mind and body, and that's what spas are all about: that mind-body connection," Tompkins says. "One of the benefits of the service itself is that you come away from the experience more relaxed than when you come in.
"Because of the fact that you are in such a relaxed state and concentrating on the sound, it has to lower blood pressure," he continues. The Taiz offers some of the same benefits as massage as well: reducing stress and getting in touch with the physical self.
Makes sense to us!
Know before you go: Spa-goers indulging in the Taiz Sensorium are asked to wear loose, comfortable clothing.
50 mins, $250