Top 10 Pet-Friendly Spa Resorts
Published: Wednesday, March 31st 2010
---
When your travel plans include an overnight stay and you can't bear the thought of leaving your pet off the packing list, these resort and hotel spas welcome you to bring along your furry friends—with indulgences that spoil the four-legged loved ones as much as they do the pet lover. Some resort spas offer treatments for your animal (a pampering massage, perhaps?), while others offer pup-tailored packages or amenities to make Rufus's stay more comfortable.
For a pawsitive and relaxing trip, it's good to note that certain weight and breed restrictions may apply, as well as fees; advance booking may also be required.
EPIC Hotel – a Kimpton Hotel
Miami, Florida
Photo courtesy of Epic Hotel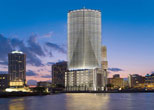 Tails will be wagging for EPIC Hotel's EPIC Pet Getaway, a two-night package that includes a pet bed, welcome amenity, complimentary Paw Treat hour, continental breakfast for two (for the animal owners, that is), and your pick of two woof-worthy treatments: pawdicure and shampoo service; 60-minute daily dog play time; 60-minute daily dog walk at Flamingo Bark park; and 90-minute massage for two (for the masters). Plus, we give two paws up for Exhale Spa's canine wellness program; on its service menu is a dog massage and 30-minute doga session, combining meditation, massage (for the pup), and yoga (for the pet owner).
Hyatt Regency Scottsdale Resort and Spa at Gainey Ranch
Scottsdale, Arizona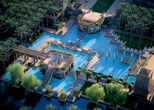 Like many Hyatt properties, the Hyatt Regency Scottsdale Resort and Spa at Gainey Ranch is pet friendly, offering the 4Paws program for man's best friend. Animals receive a welcome letter from Uno, the 4Paws pet ambassador, and receive amenities catering to the canine, cat, and companion alike. These may include gourmet treats, beds made by Labor of Love, food and beverage saucers, clean-up bags and litter boxes, and walking route recommendations. When it's chow time for your chow, the 4Paws Beastro menu serves delicacies like the Canine Veggie Bruschetta and Seafood Parfait.
Hotel Monaco
Alexandria; Baltimore; Chicago; Denver; Portland; Salt Lake City; San Francisco; Seattle; Washington, D.C.
Photo courtesy of Kimpton Hotel & Restaurant Group, LLC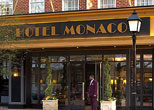 Part of Kimpton Hotels, which has its own Hospetality program, Hotel Monaco locations across the country are designed to be animal friendly, where VIP stands for "Very Important Pet." Pet amenities vary at each property but include features such as Doggie Happy Hour, "In the City," "It's Reigning Cats and Dogs," and "Best Friends" packages and the two-year-old bichon frise, Charlie, director of pet relations at Hotel Monaco Alexandria. Those without a pet needn't feel left out—Hotel Monaco's "Guppy Love" program provides a complimentary companion goldfish in your room.
The Inn at Palmetto Bluff
Bluffton, South Carolina
Photo courtesy of Auberge Resorts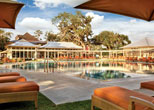 It's a dog's world at the Inn at Palmetto Bluff, just one of the Auberge Resorts that is pet friendly. Canine pals enjoy Italian linen-trimmed beds, pet walking, sitting services, and baskets filled with toys and treats. Spend a dog day afternoon boating along the May River, playing catch on the sandbar, or going on a nature walk.
Las Ventanas al Paraiso, A Rosewood Resort
Los Cabos, B.C.S., Mexico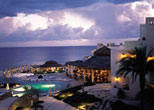 The Pets' Luxury Program at Las Ventanas will have furry friends feeling as spoiled as hotel guests. Feline and Canine Delights menus will leave pets licking their whiskers (made-to-order delicacies are also an option!), while massage treatments at the Spa at Las Ventanas, along with in-suite and beachside pet cabanas, are sure to bring on a cat (or dog) nap. Walking services are also available.
L'Auberge Del Mar
Del Mar, California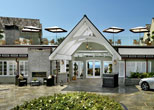 The L'Petit Pooch leisure package for petite pups at the L'Auberge Del Mar offers features like a 10% discount off of the best-available room rate and a tasty treat from the Three Dog Bakery. Plus, a donation will be made to Second Chance Dog Rescue organization—a l'petit price for a great cause! The dog days of summer can be celebrated year-round here, with everything from nearby dog beaches to the annual Surf Dog Surf-A-Thon.
Loews Coronado Bay, San Diego
San Diego, California
Photo courtesy of Loews Coronado Bay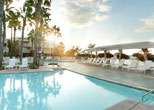 Dogs staying at Loews Coronado Bay will make a splash at Su'ruff Camp—this pet package includes lodging, a one-hour surf lesson for your pup at the Coronado Surfing Academy on Coronado's Dog Beach, a Surf & Turf doggie meal, board shorts, and a bandana. Surf's up!
Mandarin Oriental, Miami
Miami, Florida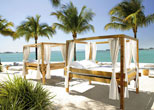 Doggie delights and kitty treats can be had at the Mandarin Oriental, Miami. The Mandarin Oriental Pet Program is a perfect fit for Fido and Felix, with comfy bedding, in-room dining, turndown service (did we mention this was for just for the pets?), a gold collar tag, and dog-walking. But what animal owners will really love is Doggie Boot Camp, which provides a personalized fitness experience for you and your pooch.
Miracle Farm Bed & Breakfast, Spa & Resort
Floyd, Virginia
Photo courtesy of Miracle Farm Bed & Breakfast, Spa & Resort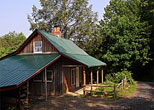 This eco-conscious Miracle Farm Bed & Breakfast, Spa & Resort, tucked away in the Blue Ridge Mountains, splits its 25 acres with the nonprofit Miracle Farm – A Sustainable Living Center/Animal Sanctuary, which we animal lovers adore (a portion of the B&B's revenue is also donated to Miracle Farm). Pets are invited to this rustic resort, which features organic, vegetarian breakfast, private house, cottage, and cabin accommodations, an abundance of nature, and spa and fitness amenities.
Nemacolin Woodlands Resort
Farmington, PA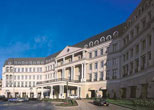 While their masters play, four-legged guests can be pampered at the Nemacolin Wooflands Pet Resort and Spa, an enterprise of the 3,000-acre Nemacolin Woodlands Resort, located in western Pennsylvania's Laurel Highlands. The animal spa and daycare center offers animal-friendly amenities such as "luxury suite and condo" accommodations, a grooming salon, outdoor exercise areas, daycare services, massage modalities, and more. Animal care services are also on-site.
Plus, check out the several North American lodging venues that have been stamped with the Pets Can Stay certification, where criteria include fair kenneling policies, no arbitrary pet fees, and a safe environment.
Most recent from Relationships