Top Spas for Bridal/Bachelorette Getaways
Published: Thursday, May 27th 2010
---
Bringing your bridesmaids and best friends together for one final fling before tying the knot has long been a beloved tradition. Ahead of your walk down the aisle, celebrate your upcoming nuptials with a trip to some of these top spas for bridal party/bachelorette getaways.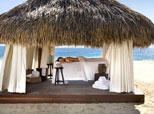 Cabo Azul Resort
San José del Cabo, Baja California Sur, Mexico
You'll say "I do" to a visit to Cabo Azul Resort, and your bridesmaids will too. Reserve the Crystal Champagne Terrace Suite, a private rooftop oasis with a crystal whirlpool tub, a rock-walled dual shower, and massive daybed, where you and your friends can spend the day celebrating and enjoying treatments like jade facials and hot stone massages from PAZ Spa.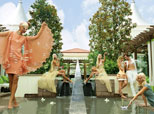 Eau Spa by Cornelia at The Ritz-Carlton, Palm Beach
Manalapan, Florida
Before walking down the aisle, you're walking on air. Share that feeling with your friends at Eau Spa by Cornelia, a 42,000-square-foot spa wonderland. Swing in birdcage-inspired chairs suspended above reflecting pools in the lounge garden, indulge in champagne and mini-cupcakes in the relaxation room, or stop by the Scrub and Polish Bar—just some of the magical elements that make up the spa's whimsical design.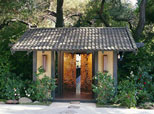 Golden Door Spa
Escondido, California
If you're looking to slim down before your big day, sign up for the usual weeklong stay at the legendary Golden Door Spa, located in northern San Diego County. Designed for women, the 40-room Golden Door offers each guest an all-inclusive customized program in fitness, nutrition, and beauty. Enlist your friends as well and turn your bridal/bachelorette party into a weeklong body-shaping bash.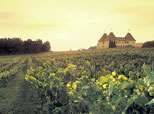 Chateau Elan
Braselton, Georgia
An 'I do' is in order when it comes to a stay at Chateau Elan before your wedding. Gather your maids for a Massage, Nail, or Facial Party, available any day of the week at the European-style health spa. Added treats (depending on the package) include bubbly, chocolate-covered strawberries, fruit and cheese plates, and red or white wines from the resort's award-winning vineyard.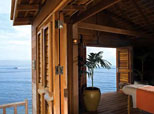 Half Moon
Montego Bay, Jamaica
Half Moon vows to give you and your loved ones a fabulous bachelorette (or bachelor) party. The resort can arrange a spa weekend, special theme parties, or a weekend of golf, tennis, and water Olympics. Why expect anything less from a resort that has its own Romance Concierge on staff?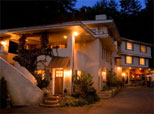 Lakeview at Fontana
Bryson City, North Carolina
Celebrate your last days of single life with your BFFs at Lakeview at Fontana. The intimate boutique-style property specializes in spa packages such as the Girls' Night In offer. The glorified "grown-up girls' slumber party" package includes three- or five-night accommodations, spa treatments of choice, daily breakfast, yoga classes, and more.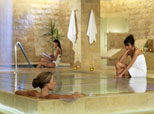 Qua Baths and Spa at Caesars Palace
Las Vegas, Nevada
Get your girls together for a high-energy weekend in Sin City. With its upscale shopping, action-packed casino, and location along the Strip, it's a safe bet you're going to have a good time. High-rollers can also head to the luxury Qua Baths & Spa, where the concept of spa-ing and socializing simultaneously is complemented by the communal bath pools, laconium sauna, and arctic ice room.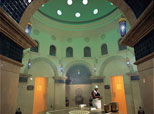 The Residence & Spa of the One & Only Royal Mirage, Dubai
Dubai, United Arab Emirates
For a true destination vacation, whisk you and your gals away to The Residence & Spa at the One&Only Royal Mirage. Mirroring the magnificence of old Arabia, the luxury One&Only Royal Mirage includes the Health and Beauty Institute, home to a traditional Oriental hammam, where, in the days of the Sultans, brides-to-be and their close friends would spend hours hanging out and receiving spa treatments.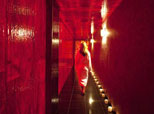 Reflections Spa at Grand Cascades
Hamburg, New Jersey
Located one hour from Manhattan, Reflections Spa at Grand Cascades Lodge calms the pre-wedding jitters of brides and their maids in the stylish Bridal Suite, which boasts mani/pedi, makeup, and hairstyling stations. Grooms can take advantage of the Gentlemen's Corner and relax with a facial, massage, haircut, shave, or manicure.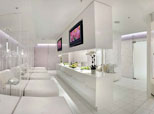 The Ritz-Carlton, Los Angeles
Los Angeles, California
The Ritz-Carlton, Los Angeles spotlights your special day in high style. The hotel can arrange bridal showers at afternoon tea, and its spa can help tailor packages for special events. Combining elegance with a bit of old-Hollywood glamour, the Ritz-Carlton Spa, Los Angeles will leave you and your friends feeling like celebrities, with sumptuous treatments such as the Glowing Gold Facial and the Red Carpet Ready package.
Most recent from Relationships