Warm Up This Winter at Spa Merge
Published: Thursday, January 20th 2011
---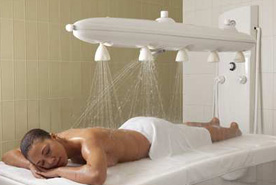 While some may be trying to slough off extra pounds gained around the holidays, we're likely all in need of sloughing off a layer of dry, dead skin that is unavoidable no matter how diligent our moisturizing regimen.
Spa Merge's "Winter Warm Up" treatment, consisting of a relaxing body scrub and wrap, complemented by a moisturizing pedicure, is especially appealing on a sub-freezing winter day, giving a whole new meaning to "shedding your winter coat".  The lemongrass salt scrub, followed by warm Vichy shower (my first experience with a Vichy shower) was so relaxing, leaving my skin feeling utterly cleansed, and was then complimented by the application of a rich Shea butter cream that felt like, well, butter!  The hydrating wrap and moisturizing pedicure are the perfect cure for the dry digits that have been hiding in your winter boots.
Combining science and nature to create signature treatments with the perfect balance of relaxation and invigoration, Spa Merge's menu is growing constantly with new and innovative services that will surprise even the most seasoned spa goers.
The Winter Warm Up is a perfect seasonal treatment (though equally welcome in the summer months—the scrub left my skin looking perfectly even) and is only one of the innovations that Spa Merge is dreaming up.  Spa Merge will also be debuting a paraffin-alternative treatment, introducing its clients to an all-natural paraffin substitute that will be incorporated into hand a foot treatments, and a fabulous new massage.
Stay tuned for more information about this inventive new treatment and other ahead of the curve services from Spa Merge!