Say OM at the International Yoga Festival!
Published: Wednesday, January 4th 2017
---
International Yoga Festival Rishikesh, India For one week, participate in over 60 hours of varying yoga classes led by world-renowned masters, complemented by lectures guided by some of India's premier spiritual leaders, as you celebrate with thousands of like-minded wellness enthusiasts from 60-plus countries. On the banks of the Ganges River in the lap of the Himalayas with revered Saints, Yogis and global Yoga experts, deepen your practice, discover your soul and expand your consciousness.
IYF is grounded in the authentic origin of Yoga. Practice and learn from masters from traditional yoga lineages of India, as well as masters of international yoga schools and styles. Classes include Ashtanga, Raja, Bhakti, Kundalini, Iyengar, Vinyasa, Bharat, Deep, Shintoh and Somatics Yoga to name a few! There will also be classes in meditation, mudras, Sanskrit chanting, reiki, Indian philosophy and much more! Plus every evening there will be cultural dance and music performances highlighting the culture of this Himalayan region as well as music from around the world.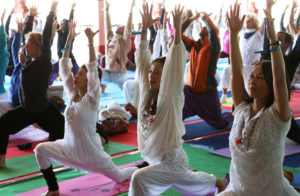 The International Yoga Festival explores the eight limbs of Yoga and how they apply to our lives regardless of culture or spiritual tradition. IYF takes place at the spiritual haven that is Parmarth Niketan Ashram – the largest ashram in Rishikesh. It provides its thousands of pilgrims who come from all corners of the Earth with a clean, pure and sacred atmosphere as well as abundant, beautiful gardens. With over 1000 rooms, the facilities are a perfect blend of modern amenities and traditional, spiritual simplicity.
Register for tickets for 2017 now! Special discounts for group bookings! www.internationalyogafestival.org
Like yoga festivals? Here are a few more festivals for you:
Monthly Festivals/Different Destinations
What started as a single event in Squaw Valley in 2009 has evolved into a collection of festivals celebrated in the U.S and Canada. This "all-out celebration of mindful living" encompasses elements like yoga and meditation classes for all levels (some accompanied by live DJs), guided hikes or paddleboard classes, musical performances, mindfulness lectures (past speakers have included Deepak Chopra), and local, sustainable cuisine—all designed to solidify a feeling of a wellness community.
BaliSpirit Festival | Bali, Indonesia
Yoga, dance, and music take center stage at this festival in Ubud, Bali, as wellness enthusiasts from across the globe engage in yoga (classes run from 8 a.m.-5 p.m.), dance and martial arts seasons, all-night concerts, and seminars tailored to specific talks: vedic astrology, spiritual nutrition, yoga, etc. "Healing Huts" showcase healers in the practices of cranial sacral, reiki, Balinese traditional healing, chakra balancing, and Esalen massage; participants can also attend healing workshops such as yin yoga and breath work.