Say Om…To These Yoga Retreats
Published: Tuesday, May 24th 2011
in Fitness
---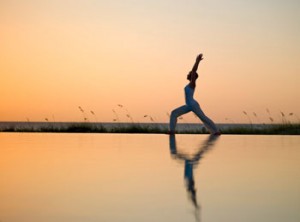 Child's pose. Check. Warrior pose. Check. Mountain pose. Check. A more rejuvenated sense of self. Check.
What are your plans this summer? Whether you're looking to expand your knowledge of the yogic practice or you're ready to jumpstart this discipline into your lifestyle, embrace the opportunity to focus on your wellbeing this season. It's difficult to dedicate time between the summer camps, family BBQs, vacation plans and other commitments, but scheduling a "time out" for yourself via a yoga retreat is the best way to renew – and grow.
Whether you're a beginner, a daily devotee or somewhere in between – whether you prefer Ashtanga to Power to Vinyasa Flow – there's a yoga retreat (and a yoga type) out there for you.
We've rounded up just some of the several upcoming getaway escapes to ensure that you will find the best one that suits you, from the beautiful private island of Parrot Cay to the majestic mountain landscape of Ananda in the Himalayas.
Which poses just one more question: Which one will you choose?
COMO Shambhala Estate – Bali, Indonesia
Strength and Surrender: A Journey Into Balance by the Curry Sisters
Inclusions of this five-day/six-night retreat (October 30-November 5, 2011):
•Six-nights' accommodation
•Daily breakfast and brunch
•Welcome and farewell dinner
•Five days of yoga practice
•Services of a personal assistant
•Complimentary use of steam and sauna facilities and 25-meter lap pool
•Return airport car transfers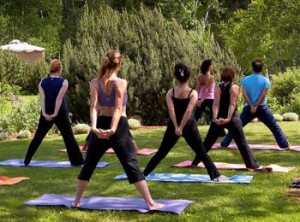 Grail Springs Health Spa & Wellness Center – Bancroft, Ontario
The 'Practical' Yoga Retreat! with yoga instructors Tanya Mahar and Andrea McLellan
Inclusions of this weekend retreat (May 27-29, 2011):
•Healthy meals
•Afternoon nature walks
•Horseback riding
•Yoga, including "Yoga for a Great Night's Sleep," "Top 10 Yoga Poses to Love" and "Just Breathe Yoga!"
•Spa Time
•Special meditation presentation with meditation guide Judith Onley
Esalen Institute – Big Sur, California
Esalen's 7th Annual Yoga Festival: The Way of Love: Yoga and Gratitude with Saul David Raye, Janet Stone, Sianna Sherman, and Bill Mahoney
Inclusions of this weeklong event (June 12-17, 2011):
•Yoga asana
•Pranayama
•Thai yoga
•Kirtan mala
•Meditation and satsang gatherings
•Dance
•Time in the Esalen baths overlooking the Pacific
•Massage services
•One workshop daily
*There's also a Silent Yoga & meditation Retreat November 6-11, 2011.
Parrot Cay – Providenciales, Turks and Caicos Islands
The Art of Attention with Elena Brower
Inclusions of this six-night yoga retreat (November 13-19, 2011):
•Six-nights' accommodations at Parrot Cay
•22.5 hours of Yoga practice
•Daily breakfast
•Daily lunch and dinner from a specially prepared COMO Shambhala Retreat Menu (beverages not included)
•Welcome and farewell dinner
•Round-trip airport transfers
•10% service charge and 11% government tax
Ananda in the Himalayas – Uttaranchal, India
Ananda Yoga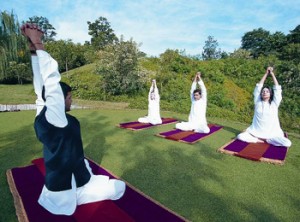 Inclusions of this package (available May 1-October 15, 2011):
•Accommodations
•Personalized yoga consultation
•Body scrub, Thai massage, reflexology, aromatherapy massage, Aroma Cocoon, signature Ananda Touch ritual, Himalayan Honey and Rose/Sandalwood Facial
•Personalized yoga session per room
•Personalized pranayama and meditation session per room
•Chakra dhara
•Shirodhara
•Tibetan ritual
Paya Bay – Roatan, Honduras
The Immersion at Reflections: Stepping into the Heart of Yoga with Paula Tursi and Reflections Yoga
July 21-August 18, 2011: Come for a week or stay for the month
•Group satsang
•Yoga philosophy
•Thai massage
•Meditation
•Classes five days per week
•Accommodations
•Two vegetarian meals daily
An additional sample: