Artné Spa: The Art of Relaxation in Portland Maine
---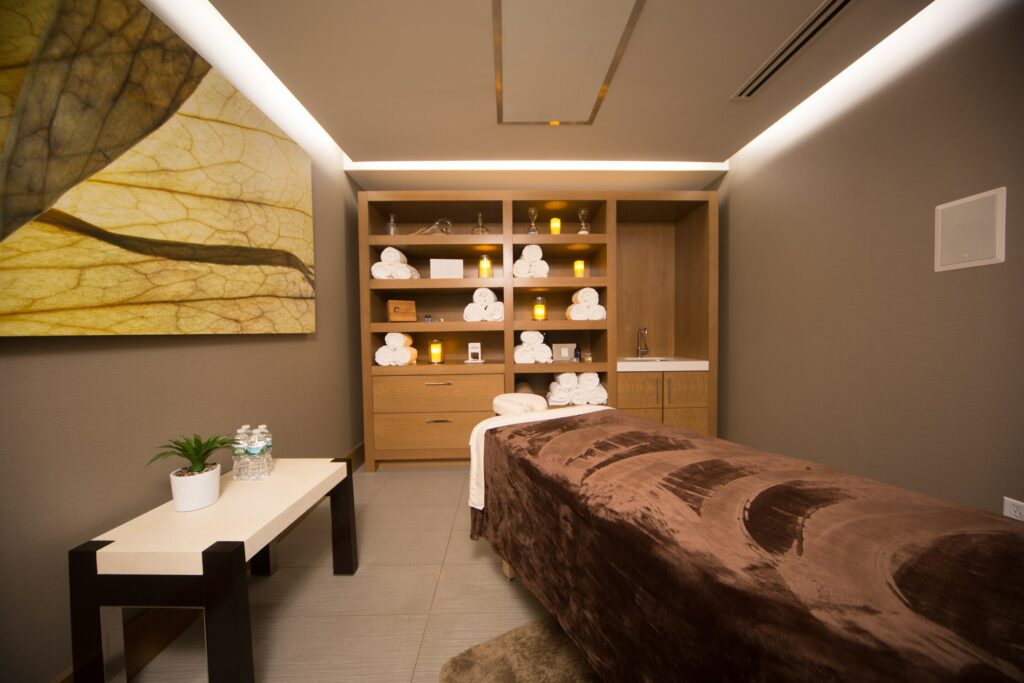 The art of relaxation. It's a concept we can all get on board with, 100%. But for most of us, moments of tranquility are either fleeting or few and far between. And that's where a wellness retreat such as Artné Spa steps in: Helping us stressed-out, anxiety-ridden, need-some-me-time souls feel a sense of calm.
Relaxing with Artistic Flair
The art of relaxation is something Artné Spa embraces—and excels at. And does so with artistic flair. How, you ask? For starters: This spa and salon, situated in the restored Westin Portland Harborview, a hotel whose history dates back to the 1920s, pays tribute to its prime location: Portland, Maine's historic arts district.
Trendy spa interiors stylishly contrast dark and light tones throughout to fashion both a dramatic or airy feel, depending on the room or treatment space. The relaxation gurus at Artné Spa designed everything with one goal: to spotlight the stunning, vibrant artwork that adorns the walls.
And, while the spa's design esthetic is superb, the treatment menu is Artné's true masterpiece.
The Art of Sublime Treatments
May we propose the five-phase Le Grand Classique Facial. This 80-minute customized skincare service aimed to purify and hydrate is a staple on the spa menu. There's also the Time Resistant Facial anti-aging facial (50 mins) or the Excellence Code Facial (50 mins), targeting firmness, fine lines and regeneration. (Men, Artné Spa doesn't forget about you: The Rejuvenating Gentlemen's Facial [50 mins] tailors to your complexion goals, need they be purifying or anti-aging.)
Since you're already feeling relaxed, tack on a mini-"enhancement" like a scalp massage, firming eye service or CBD treatment, to already scheduled appointments. Or, try the spa's new detoxifying Total Body Wellness Journey (50 mins). Begin with a sugar scrub that first sloughs away dull, dry skin cells before it softens into a milk-like substance (hello, silky skin!). A re-balancing massage quickly ensues.
Facial and body treatments celebrate the prestigious (and beloved by spa-goers and skincare enthusiasts, alike!) Yon-Ka brand. There's also massage, nailcare, salon services and bridal or girls' day packages to book. Express spa treatments accommodate those who want to unwind but need to do so in a timely manner: 40-minute pedicure; 30-minute manicure; 25-minute massage; and 25-minute facial.
As a thoughtful touch, complimentary valet is available to day spa guests.
The art of relaxation. We feel calmer already.
P.S. On April 1, from 4-7 p.m., Artné Spa will celebrate its third anniversary with food, wine and discounts on spa retail and spa mini-treatments.