What's It's Like To Get Massaged With Corn On The Cob
Published: Friday, June 10th 2016
in Spa
---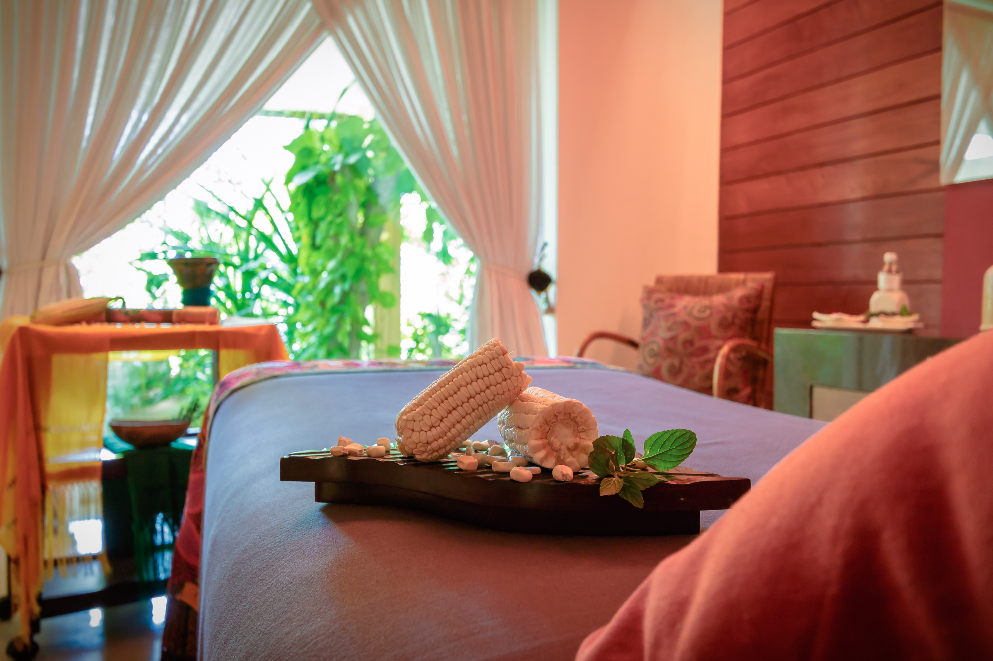 By Sarah Greaves-Gabbadon
In Mexico, corn has been held sacred by the indigenous Maya for thousands of years, prized for its ability to sustain tribes through periods of food shortage. Stateside, the summer veggie is iconic and packed with vitamins A, B, and E, as well as fiber. (June 11 marks Corn on the Cob day, which means you have a nationally sanctioned excuse to indulge in an ear (or more) of this seasonal staple.) According to Mayan mythology, the god of maize is decapitated at harvest time and miraculously reborn at the start of the crop's growing season.
You might feel reborn, too, when you try the Bacal Massage, an a-maize-ing therapy (sorry, I couldn't resist) offered at Tulum, Mexico's Grand Velas Riviera Maya Resort. The 80-minute treatment begins with a traditional Mayan blessing honoring the elements. First, water was poured over my hands, then heated stones (representing fire) were applied to my neck and shoulders and a wooden bowl of fragrant copal (incense made from the resin of a tree Mexicans use for medicinal purposes) was wafted around my head to cleanse the air.
Next came an exfoliating body scrub made with ground corn and Mexican honey (harvested from the stingless melipona bee, kept by the Mayans for centuries), which my therapist, Maria, applied with long, sweeping strokes. At the start of my treatment she'd set half a dozen ears of raw corn in a cooker to be tenderized in clouds of copal-scented steam, and once I'd rinsed my now-velvety skin clean, I lay back on the table for the corniest rubdown ever.
The bumpy cobs were firm yet yielded slightly as Maria masterfully rolled them over my flesh, from neck to ankles. The best way I can describe the sensation is to say that it felt like being purposefully kneaded with balled fists, but in the most delicious sigh-inducing, muscle-melting way. Within minutes of her expert ministrations, I was transported to that blissful place between consciousness and sleep.
And when Maria finally roused me with a gentle hand on my shoulder, I surfaced content and, if only for a moment, absolutely carefree.
The ancient Mayans would have been pleased.