Increase Intimacy With a Couple's Massage
---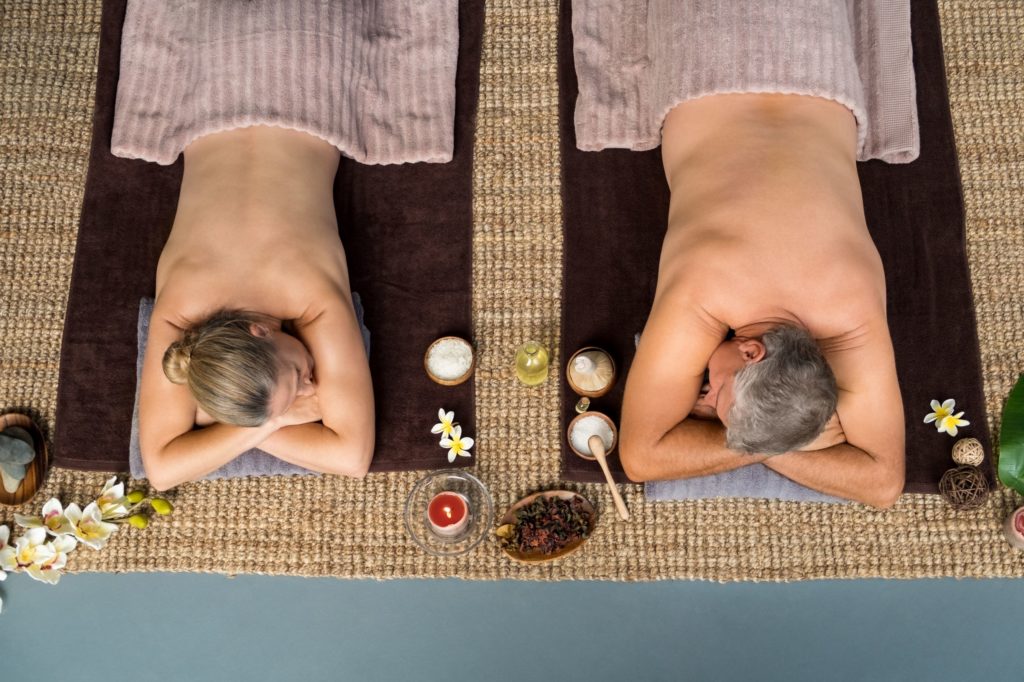 Looking for something fun and to do with your BAE? Tired of the usual dinner and a movie routine? Is the stress of daily life undermining your alone time-and your intimacy? It might be time for a couple's massage.
A couple's massage isn't just for your honeymoon. This intimate and relaxing spa treatment is a great way to reconnect with your partner while also de-stressing and decompressing yourself. Here are a few helpful hints that will make your couple's massage an intimate experience that will last far beyond the massage table.
The Do's:
Do Arrive Early – It will allow you and your partner to relax into the spa experience and shake off the stress of the day. If the spa offers additional amenities like hot tubs, saunas or stream rooms, take advantage of them during your spa visit–especially if they are coed.
Do Leave Your Cell Phone In Your Locker – Spas are a chance to reconnect with your partner and shake off those real world problems. We promise you'll survive a few hours without a mobile phone, even if you start to feel withdrawal symptoms.
Do Tip – A couple's massage takes planning and coordination on the part of the spa and the massage therapists, so definitely budget a tip. Twenty percent is appreciated.
Do Talk, If You Want – Feel free to check in with your partner during your massage or not. It's your experience so shape it in a way you would like. Some partners like to talk a little during their massage and others just like to stay quiet and relax. It's up to you. But this is also probably not the time to get into a serious conversation, so keep the check-ins to just a few words.
Do Read Our Guide to Couples Massage – Check out our handy guide for more tips on how to enjoy a couple's massage, along with featured spas and exclusive offers.
The Don'ts:
Don't Get Intimate At The Spa – A couples massage might put you in the mood but wait until you're home to get frisky. A spa is a welcoming oasis of peace and relaxation and the staff doesn't want to bounce you for inappropriate behavior.
Don't Get Beat Up – For a couple's massage, maybe skip the deep tissue massage that can potentially leave you a little beat up. This isn't the time to attack those mega knots in your back but rather to get a relaxing Swedish style or hot stone massage that will still sooth but won't bruise.
Don't Worry About Your Partner – While this is a couple's massage and can improve relationships, you are not responsible for your partner's enjoyment. Focus on your own body during the massage, which will allow for you to better relax. Just because your partner is there, doesn't mean you don't have to get a little selfish.
Don't Rush Out – Post massage bliss can be easily erased by the stress of daily life. Enjoy some time with your partner at the spa if you can or even go out and spend some quality time together outside of the spa. Just don't immediately head to a bar–massage releases a lot of toxins and you don't want to pair that with alcohol until you've rehydrated your body first.
So treat you and your partner to a couple's massage any day of the year. They are a great way to relax and decompress together and can reignite your relationship in ways a great dinner cannot.
A couple's massage makes a great wedding present. And it's easy to give with a Spafinder gift card.