Mineral and Thermal Springs Spas are Heating Up
---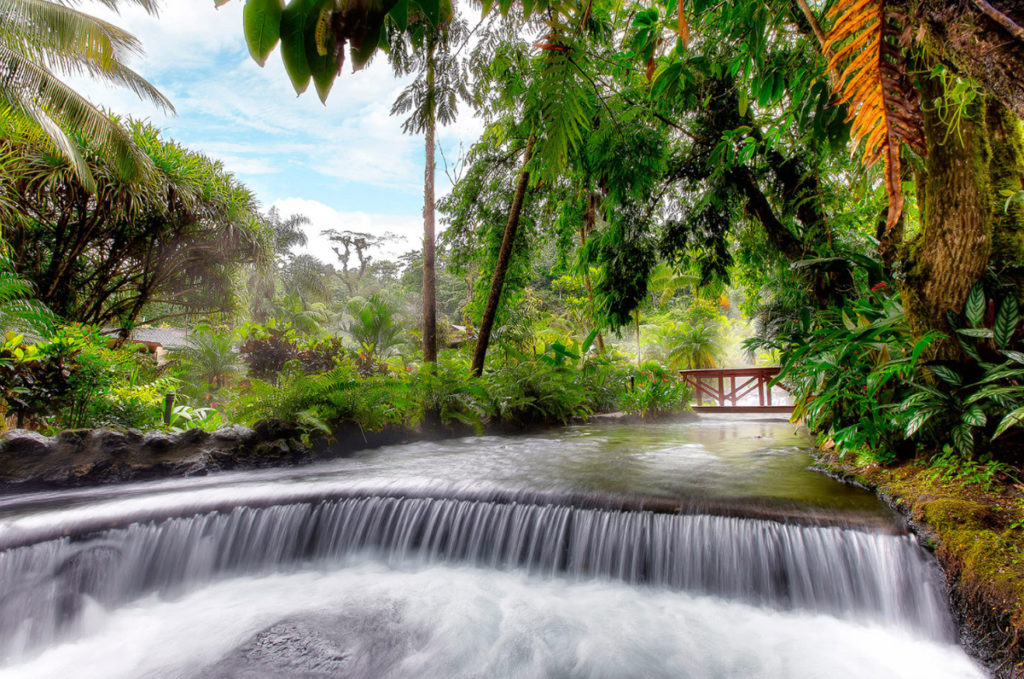 From Reykjavik to Tabacon, mineral and thermal springs are hot, hot, hot for good reasons. Hot and mineral springs occur naturally in virtually every country in the world, making them easy to find.  People of all ages at all times have visited natural springs to improve health, connect with nature or just to socialize.
Natural and thermal hot springs are a popular tourist attraction in many countries. Nestled in one of Costa Rica's rainforests, Tabacon Thermal Springs is one of the countries most visited attractions. Many locals and tourists alike find lodging nearby just to sit in the springs within breathtaking landscapes.
Mineral or Hot Springs: What's the Difference?
For those who love warm water, hot springs or thermal springs usually 100+ Farenheit or hotter fit the bill.
Mineral springs are natural springs that produce water with minerals that may change the taste or give the water therapeutic properties. Mineral springs may not be warm. If the temperature of a spring is important to you, be sure to ask.
Why So Popular?
Besides it being a natural wonder, there are travel, economic, social and medical trends that make hot and mineral springs popular around the world.
Medical evidence indicates that relaxing in a hot mineral spring not only feels fantastic but also does our bodies good. One study indicated people who spent time at hot springs spas had fewer hospitalizations, sick days off work and pharmacological drug use.
Hot springs are an authentic, local experience.
Mineral springs are great places to relax and connect with friends and family.
"Taking the waters" at a mineral or hot spring can be very affordable.
"Take the Waters" in Luxury
Towns in Italy, England, France, Bulgaria, Hungary, the Czech Republic, Germany, Switzerland, Austria, and even America have thermal spas that are a social and wellness hub for residents and tourists. Terme di Saturnia Spa & Golf Resort, located in the rolling hills of Tuscany, is famous for the nearby thermal waters that stay at a temperature of 98.6 degrees. The luxurious spa specializes in treatments based on the natural hot springs, including mud therapy, inhalations, and baths. Guests can "take the waters" in one of Terme's four pools, which have waterfalls and whirlpools.
Originally built in the 1800s, The Gainsborough Bath Spa offers exclusive privileges to the Bath's mineral-rich waters. Inspired by Bath's thermal, mineral waters and the age-old practice of social bathing, treatments are reminiscent of Roman times.
Willow Stream Spa at The Fairmont Banff Springs in the Canadian Rockies is famous for mineral baths that can be enjoyed on their own, as part of a spa ritual, or in conjunction with a visit to the spa's Aquatic Center.
Making a Day Of It
A day at a natural hot or mineral spring spa is a terrific way to enjoy a spa-like experience often at a bargain.
Near San Luis Obispo, California, the Avila Hot Springs is an attraction. Visitors enjoy camping, bike trails, an outdoor swimming pool and access to the beach, and an all-day pass costs $12.
Hot Springs National Park, Arkansas has been described as one of the most magical places in the United States. [2] Visitors and residents line up at five public fountains offering hot and cold natural spring drinking water.
Springs and spas can be found around the globe and are a fascinating way to explore a new culture.
For spas near you, click here.
To sign up for insider tips, luxury destinations and more click here.
[1] The Bender Report, 2013
[2] Huffington Post, "Hot Springs, Arkansas: The Best Kept Secret In America," Christina Buckley, January 2011.