Mohonk Mountain House – An Upstate Escape with Relaxation on Its Menu
---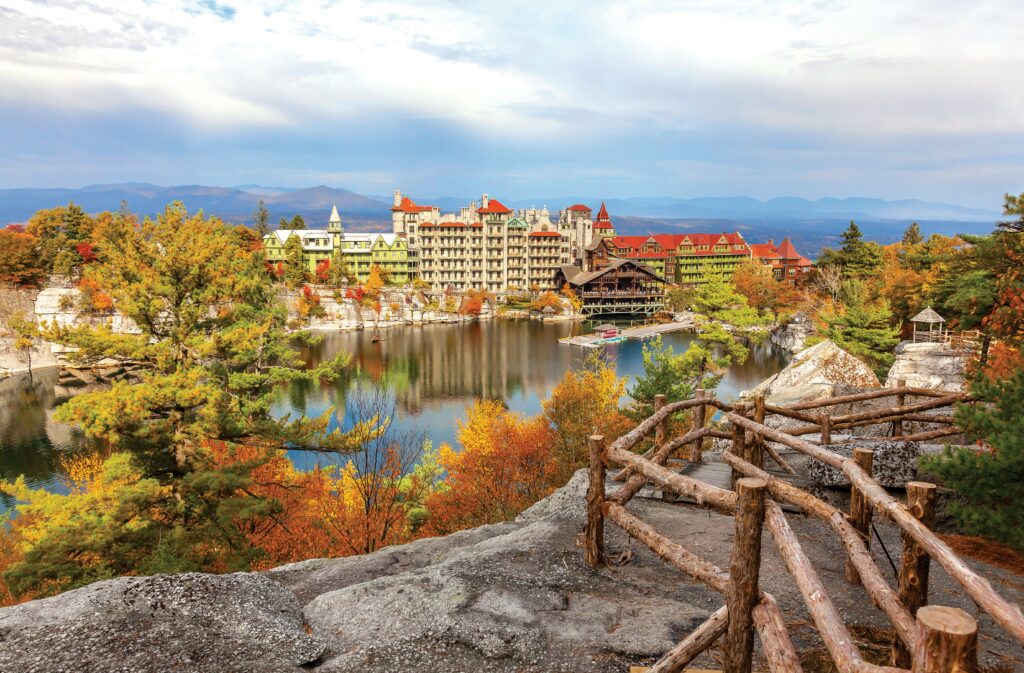 Let's dish, shall we? For those seeking to step away from the Big Apple for a bit, we have the perfect recipe: It's a certain upstate New York spa that holds National Historic Landmark status. We're referring to Mohonk Mountain House, of course, a beloved, family owned resort since its 1869 inception. 

Mohonk Mountain House is a mere 90 miles north of NYC, but in terms of respite, this Hudson Valley mountain sanctuary may as well be a million miles away from the hustle and bustle of its metropolitan neighbor. No, really. Forget the hubbub of the big city and be immediately swept away by the serenity and picturesque surroundings—a Victorian castle-like property embraced by 40,000 forested acres and sparkling lake waters. This pristine Catskill resort beckons adventure, luxury, and, yes, leisure. And they play a pivotal role in every guest experience.

Hiking Trails, Horseback Riding and Water Sports

At Mohonk Mountain House you'll discover 85 hiking trails, horseback riding, tomahawk throwing, golf or tennis. Fancy water sports? Splash around in Lake Mohonk, paddle board, fly fish or kayak. Browse the resort's event schedule for inspiration and plan a stay around various pastimes like music and arts, nature, food and wine. And, bonus: Mohonk Mountain House offers a bevy of inclusions with overnight stays. 

Looking for a spa and family getaway? Watch the video.

Farm-to-table Fare & Cozy Accommodations

Marvel at views of the Catskills while sharing farm-to-table fare bursting with fresh Hudson Valley bounty. (Find dishes including Mohonk Mountain Salad with local artisan lettuce; potato gnocchi with forest mushrooms; and grilled local chicken breast.)

Rest easy in thoughtfully designed guest accommodations (think cozy accoutrements like woodburning fireplaces, private balconies and clawfoot tubs, depending on the accommodations reserved). Or, consider reserving Grove Lodge, with its six guest rooms and "Great Room," impressively built with exposed wood beams, cathedral ceilings, a five-foot wrought-iron chandelier and a 15-foot stone fireplace.

Melt Away Your Stress with Signature Rituals

And of course, at Mohonk Mountain House you will melt away any stress. The award-winning luxury NY spa also capitalizes on its beautiful landscape in sophisticated fashion. Select signature rituals incorporate native ingredients sourced throughout the grounds, such as witch hazel (Mohonk Red Massage; Mohonk Red Facial) and moss (Moss Hydrating Body Mask), while mountain vistas inspire as the backdrop of the relaxation verandas and solarium. Side note: With 80-plus spa and salon treatments listed on the menu, you're certain to find the soul-nourishing service that suits your physical and mental wellbeing. (We also suggest scheduling private sessions with Nina Smiley, Mohonk's director of mindfulness programming.)

Memorable days filled with body- and mind-revitalizing activities. Starry nights surrounded by nature's symphony…

Like we said, the perfect recipe.