Nail Down The Perfect Manicure with Frenchies
---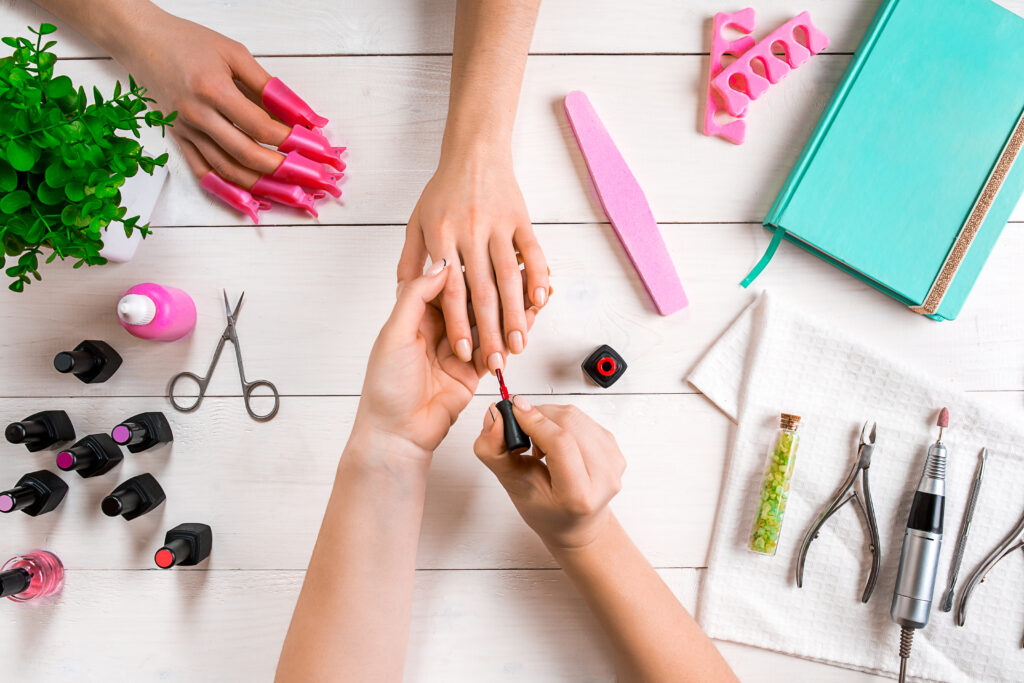 The only relationship more precious than that of a beauty enthusiast and the nail technician she's been going to for years is the partnership between Frenchies and Spafinder! We've joined forces with this first-of-its-kind nail studio to deliver even more innovation, expertise and empathy with every visit. Walking through the door at Frenchies guarantees you so much more than just a gorgeous manicure or pedicure. It's also a super-clean and smile-worthy spot for self-care. Want to learn more? Here's why Frenchies is the real deal in the world of nails.
Unmatched Expertise
You're always in the best hands with the nail experts at Frenchies, who ensure quality service every visit. We're not just talking about a manicure masterpiece or a perfect pedicure, but also quality conversation and nail health tips to transform your beauty routine. Frenchies' technicians take the time to understand your personal style — whether you're a fan of natural-looking nails, a colorful polish queen or anything in between. And you'll become the ultimate Frenchies fan due to the personal nature and powerful expertise within the franchise.
Accessibility and Affordability
You may be thinking…"a set of nails this stunning must be pricey, right?" Nope! Frenchies prides itself on being one of the most affordable and accessible nail salons in the country. All are welcome in this light and airy space that serves as a celebration of self-care and confidence. From a simple manicure to more advanced nail art, the Frenchies nail technicians always deliver top-tier work at the best prices.
One Word: Aesthetic
Sure, aesthetics aren't everything…but you'll be blown away by Frenchies' look from the moment you step into the waiting area. The walls are adorned in calming colors such as blue and white to help you instantly unwind, and Frenchies serves as a much-needed oasis of tranquility. This isn't just a quick nail touch-up, but a mini-vacation to help you rejuvenate and relax in your throne. AKA, your salon chair. And trust us when we tell you that the aesthetics and vibes are always immaculate at Frenchies' locations nationwide.
Franchise Expansion
Frenchies Nails is so much more than just a nail salon; it's a thriving franchise with a vision. In 2022, they reported a remarkable 30%+ increase in systemwide revenue. This growth trajectory is a testament to their commitment to excellence and the trust they've gained from clients. With plans to award 10 additional units by the end of 2023, it's clear that Frenchies is on a mission to redefine the beauty industry. And Spafinder is so excited to be a part of it!
Health and Safety
You know that you can trust a nail salon when their slogan is "We Love Clean™"! Frenchies prides itself on being the gold standard for safety with an unparalleled cleaning and sterilization process. What does this consist of, exactly? Every location has a certified 3-step cleaning technique for stainless-steel tools. Meanwhile, all files, buffers and accessories are used only once for maximum hygiene, with many of them later recycled for sustainability. Want to know more about Frenchies' super-reliable safety measures? You can read all about them here.
Loyalty and rewards
If you need yet another reason to treat yourself, just read up on Frenchies Polish Pass™! This program offers the lowest prices on nail services, discounts when you shop, the best perks, referral rewards and more. And did we mention that there's two membership levels to suit your lifestyle, plus the chance to redeem monthly fees for a free manicure or pedicure? Frenchies wants to ensure that all their customers feel valued and very beautiful. And you'll get both and so much more when you sign up for a Polish Pass™.