Sauna–It's Getting Hot in Here
---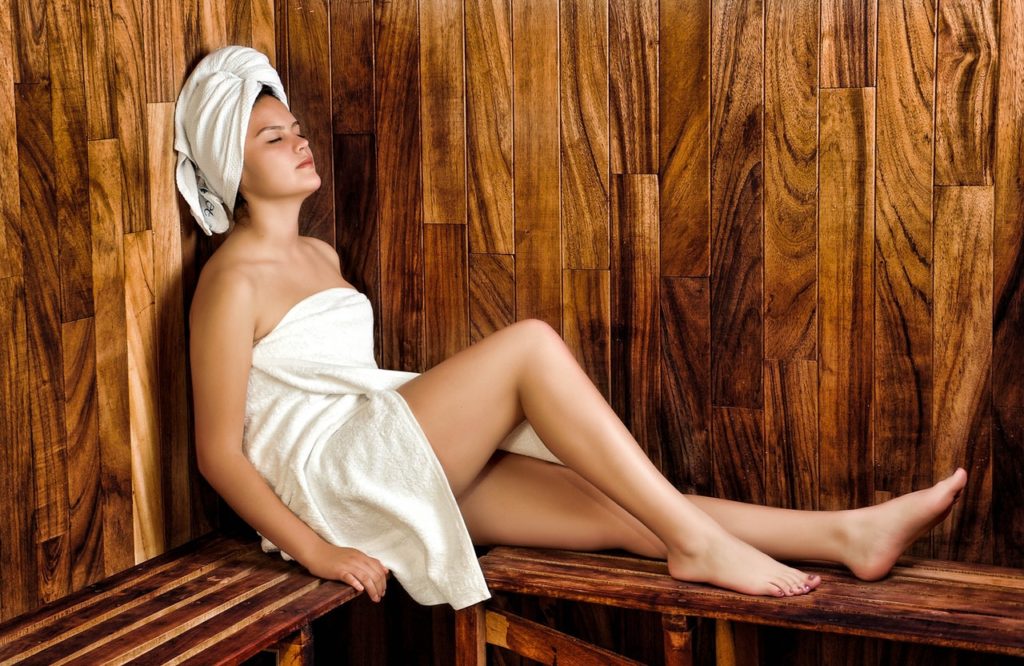 Walking into a sauna feels like a rite of passage. You open the door, step onto the warm wood and breath in the dry, hot air and you immediately feel your body transforming in the warm glow of the coals. According to some movies, saunas are where men garbed in nothing but towels and sweat make powerful deals. However, savvy Spafinders know saunas have proven health benefits and are gaining new popularity as people discover there is real magic in a sauna.
Far More Than Sweat

According to Finnleo, the Finnish sauna website, saunas can play a big role in stress reduction. In fact, some researchers say using a sauna two to three times a week reduces the risk of fatal heart disease and can reduce blood pressure. Plus, all that sweat removes toxins from your body. (Bye, bye lead, copper, zinc and mercury.) Moreover, regular sauna use is said to protect against illness and cleanse the skin.
In addition, the toasty heat in a sauna can help your body recover from intense physical activities and soothe aches and pains.  Restore Cryotherapy offers infrared saunas and cryotherapy at 12 locations across the U.S. so you can get the benefits of heat and cold.
Social Sauna

Saunas are one of the rare communal spa experiences. And with loneliness on the rise and more of us glued to our electronic devices, we are on the search for that welcoming "third place" where people can gather that's not work or home. Saunas at Korean spas are open twenty-four/seven, allowing you to take a sweat at any time of the day or night with your friends. So when the bars close and you don't want to go home, you can hit up a sauna for some after hours wellness.
Sure you can sauna alone but we think it's better with a friend. That's why in Finland, where the sauna was invented 2,000 years ago–and in most European countries–saunas are creative, unique and deeply social.
Sauna and a Show

According to the Global Wellness Summit 2017 Trends Report, saunas are also reinventing themselves as entertaining experiences: "…in Northern/Central Europe sauna has evolved into a true event (called "Sauna Augusts")…Sauna-misters (use) complex towel rituals to circulate heat, humidity and infusions. This is all played to large, lively sauna audiences in spas across Austria, Germany, Italy, Finland and Norway."
And some saunas are turning into massive performance spaces where 50-300 people can sweat communally. These saunas/clubs include music, food, bars and lecture series (like a TED talk in towels).
Polar Bear Sweat

To get the true sauna experience, Finns recommend contrast therapy, meaning you jump into a cold (or snow) plunge immediately after. Then pop back in the sauna and repeat again and again. The hot cold treatment really gets your endorphins pumping.
Saunas bring the social into spas and provide health benefits. Perhaps it's time to introduce a little sauna action into your life?
Find saunas near you at Spafinder.
Send love with a Spafinder Gift Card.