Spafinder Spa Guide: Chair Massages
---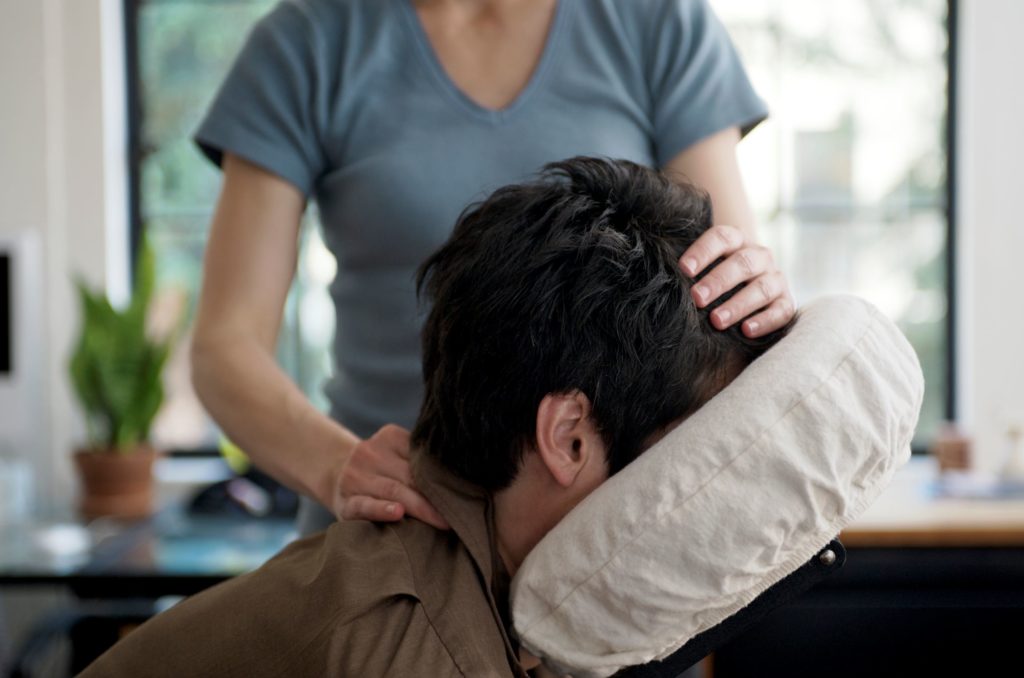 We all love a good massage but sometimes there isn't time for a traditional treatment or a spa break. Help is on the way: a 15-or-20-minute chair massage can be an effective solution for your aching neck and tired muscles. And sometimes this quick and casual massage when you're out and about is exactly what you need.
So what is a chair massage? (It's different than a massage chair)
A chair massage is a quick stress release for people on-the-go. You can find chair massages across the U.S. in a variety of locations. Basically, the massage therapist massages your neck, shoulders, back and hands while you sit in a special chair that has a downward angle and a cradle for your face.You will be fully clothed and you are massaged over your clothes without the use of massage oil.
Conversely, a motorized massage chair, which you may have tried, uses motors and gears for a massage effect. A chair massage from a trained professional is more personal and can provide greater relief and healing.[1]
Okay, so is a chair massage effective?
Many of us work at desk jobs, hunched over computers and desks 40+ hours a week. And when we leave work, we stare at our phone screens and laptops, adding to the tension in our shoulders, arms and necks. Even if we don't feel severe pain, our muscle stress can cause tension headaches and a poor night's sleep. A chair massage can be an effective way to release this tension and provide immediate relief. It's also a reminder that the hours we spend on our computers and phones are taking a toll on our health.
But is a chair massage safe?
Like many things in life, the answer is, "It depends." If you receive your chair massage at a trade show or your office, the person performing the massage will probably have a license and be trained. However, if you grab a quick massage at your local farmer's market or mall, the person may be good at what he does but not professionally trained or licensed. At these locations, check to see if the set up looks clean and sanitary and if there are a lot of customers. You can even ask a person who had a massage if it was done well.
In addition, chair massage therapists should use disinfect wipes and disposable paper covers for the face cradle.
Hair and nail salons often offer neck and shoulder massage (without a chair) but the person rubbing your shoulders is probably not licensed–but she will be more closely supervised than a guy with a chair at an open air market. However, the individual performing a chair massage at an airport usually works for a spa chain like Xpress or Enroute Spas and is typically licensed.
We told you it was confusing!
Our Conclusion
A chair massage can be a great–and inexpensive–way to take care of yourself and add a spa break to your weekly routine. They are relatively inexpensive (the charge is often $1.00 a minute). Plus they can reduce pain and muscle strain, alleviate symptoms of depression and boost your immunity–and all you have to do is sit there. We think that's a pretty good deal.
---
[1] TripSavvy, "What's a Chair Massage?" Anitra Brown, May 2019