In Spain, A Spa Treatment With Wine
Published: Wednesday, July 6th 2016
in Spa
---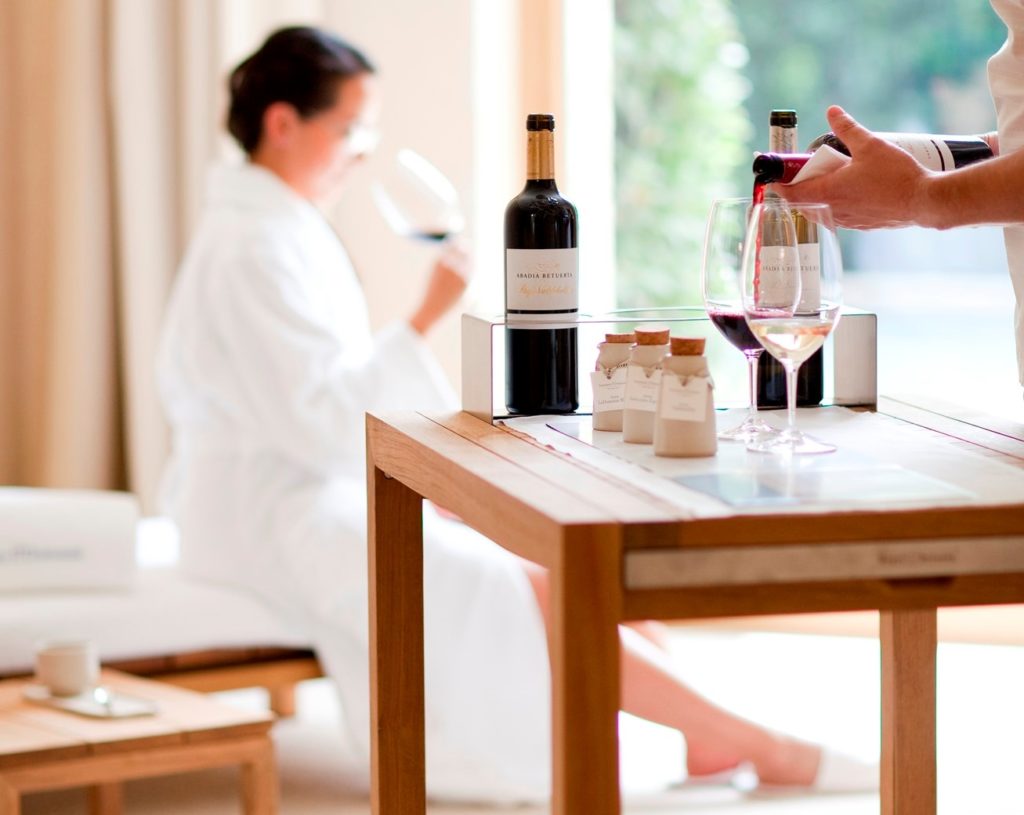 By Peggy Sijswerda
Any sentence that includes the words wine and spa gets my attention. Which is why I couldn't wait to visit Spain and try the new "Spa Sommelier" experience at Santuario Spa and Wellness, located near Valladolid in a luxurious wine estate called Abadia Retuerta LeDomaine. The estate is an ancient abbey that has been painstakingly renovated and transformed into a five-star luxury hotel. When my husband and I arrive, we pretend to be lord and lady of this grand estate, and that's exactly how the staff treats us.
Santuario Spa opened in 2015 to rave reviews, and I can see why. The decor mirrors the architecture of the abbey—huge stone walls and soaring ceilings—yet the spa maintains a warm, welcoming vibe. After unpacking, Peter and I are ready for our first two treatments, including an age-defying facial and La Sélection du Sommelier, the massage I've been waiting for.
"Would you like to taste some wine?" asks Sonal Uberoi, the Spa Sommelier, after Peter and I change into fluffy robes. She pours a splash of LeDomaine White, a refreshing blend of mostly Sauv Blanc with citrus and oak notes. An award-winning red follows—Selecion Especial, a spicy, rich blend of Tempranillo, Cab Sauv, and Syrah. Next, we sample Pago Valdeballon, a deep-red Cab Sauv with fruit and mineral notes.
Decisions, decisions. Which do I like best? I like them all, but choosing is the whole point since each wine pairs with a customized oil blend the therapist will apply during my massage. I finally pick Selecion Especial as my favorite and love the corresponding cedar oil blend, known for its grounding, anti-stress benefits. Peter selects the white wine, and his oil blend—featuring Yuzu, an exotic fruit from Tibet—which is balancing and uplifting.
Uberoi, who created the Spa Sommelier concept, explains that each massage is personalized to match the chosen oil and the wellness needs of the client at that particular moment. "We combine techniques from all over the world to make these massages unique, different, and effective," she explains. The treatment is all that and more. I feel grounded and completely stress-free when it ends.
Following our blissful treatments, we float to dinner at Refectorio, LeDomaine's Michelin-starred restaurant, for a culinary journey. Our nine-course tasting menu, a parade of dreamy flavors and textures, is paired with limited production (and amazing) wines from the Winemakers Collection. LeDomaine's other restaurant, Vinoteca, is also divine. One day for lunch Peter and I share white asparagus simply prepared with olive oil. This decadent asparagus grows in the nearby town of Tudela de Duero and tops any I've ever had.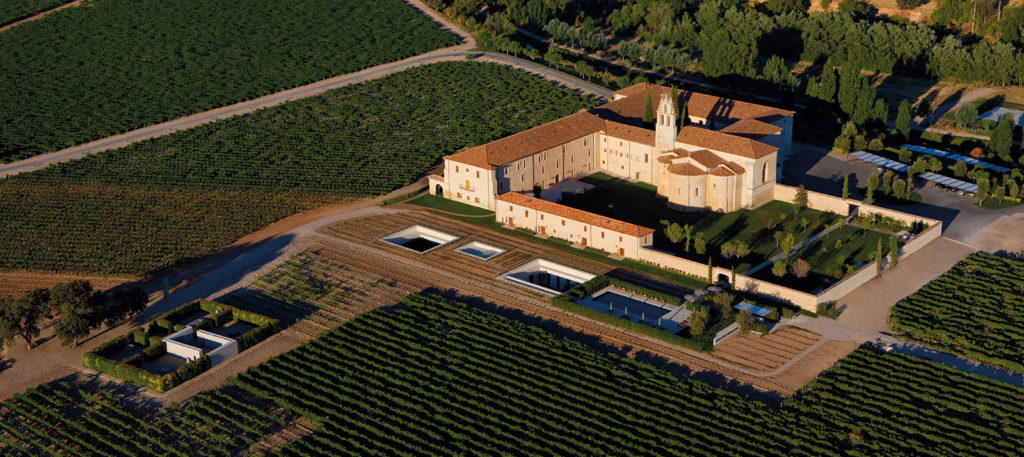 We mount beautiful Spanish steeds one afternoon for a horseback ride along the Duero River. The horses are energetic, and when our guide asks if we want to canter, my Palomino glides into a smooth lope. Another morning Peter and I ride mountain bikes on trails bordering the wine estate, and birds serenade us with springtime melodies.
I return for more spa treatments at Santuario, including the Grand Cru, a heavenly two-hour treatment, which features an invigorating grape seed body scrub and a regenerating red grape body wrap. I leave feeling balanced and supple.
Each evening we unwind in our gorgeous suite with windows overlooking the estate grounds and vineyards. The view extends for miles, plotted by rolling hills, green valleys, fertile fields, pine forests, and neatly tended grapevines. Soon bunches of grapes will appear, destined to be transformed into magnificent wines that I hope you may taste one day.
Peggy Sijswerda covers spa destinations, as well as culture, travel, food, and spirits, for print and online magazines. Her mantra is "Seek adventure, and you will find it." Visit her website for inspiring stories about travel and loving life: www.ifyouseekadventure.com