Sports Massage: Improve Sleep, Posture & Performance
---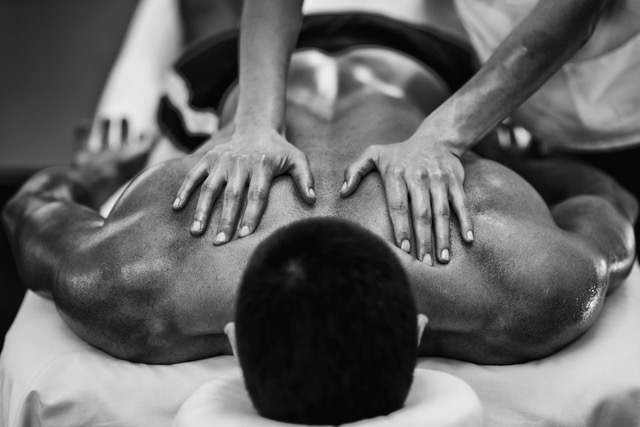 Nothing ruins a workout high more than next day aches and pains. Sometimes they are so intense, they stop your momentum and makes you winch every time you have to get up or sit down. But don't let that stop you from achieving your fitness and health goals. To combat those sore muscles or to enjoy one of the many other benefits, look into getting a sports massage.
What is a Sports Massage?
A sports massage is a massage especially designed to target those muscles and parts of your body that are working the hardest. A cyclist is probably going to be feeling  sore in their thighs than in triceps, and a heavy lifter might be feeling the opposite. The sports massage uses a combination of various massage techniques such as Swedish style massage, effleurage (stroking), petrissage (kneading), compression, friction, tapotement (rhythmic striking), vibration, gliding, stretching, percussion, and trigger points. The idea is to minimize your chance of injury and speed up your recovery time.
Benefits of a Sports Massage
A sports massage might have sports in the title but its benefits spread way beyond the confines of the gym. Physically you might feel an increase in your flexibility and range of motion as well as a decrease in muscle spasms and tensed nerves. And mentally, you'll feel an increased sense of wellbeing. Plus, you will enjoy better sleep, which in turn has massive health benefits.
The massage has been reported but not scientifically researched (yet) to increase blood flow, eliminate lactic acid (which causes sore muscles) and decrease your chance of injury.
Sports massage therapist Kim Moore explains the wellness benefits in this "Breakfast Television Toronto" segment.
What to Expect
According to Shape magazine, during a sports massage the therapist will begin by asking about what type of sports and activities you enjoy. She will then focus on the muscles that are most affected by that exercise. For example, if you are a distance runner, she will work on your hamstrings. And if you are into tennis, your arms and shoulders will get extra attention. What to expect? "The various techniques range from stretching and manipulating muscles to getting deeper into muscles with intense pressure."
You can benefit from a sports massage before an athletic event or to aid your recovery post-activity. However, no matter what, if you are pushing your body physically, you want to occasionally slow down and give your muscles some TLC. They deserve it.
Find A Sports Massage Near You
Search the Spafinder.com database to find a sports massage near you. Or, for a more at home approach, check out the Hypervolt Massager or Rad Roller in the Spafinder Shop. These items are designed to give your muscles some much needed relief in the comfort of your own home.